We Designed Nike Soccer Jerseys For Every NFL Team
Football is America's No. 1 sport, while soccer (football) is America's fastest growing sport. We brought the two together to create NFL soccer jerseys for all 32 teams. Would you buy one?
The National Football League kicks off its 2018 season Thursday night as the Atlanta Falcons take on the defending Super Bowl champion Philadelphia Eagles. There are always a lot of story lines going into the NFL season, but we're here to tell you that these classy soccer jerseys for every NFL team should be the conversation going into Thursday's game — not the new hit rules, not if Nick Foles can keep the Eagles train going and not Nike's ad with Collin Kaepernick being played during the game (though if you're one of the people throwing your Nike stuff away, I'm a size medium and 9.5 shoe).
Behold! Here's a soccer jersey for every team in the NFL. Now ask yourself, would you rock the actual jersey of these NFL teams, or would you rather rock the soccer jersey we created for them? 
AFC EAST 
Buffalo Bills:
The Bills will likely be trash this year, but their fans will not. Bills Mafia would be looking sweet in our New Era 2010 USMNT-eque sash kit. Don't worry Bills fans, I hear Josh Allen is big and tall. He'll work out for sure.
Miami Dolphins:
The Dolphins probably have my favorite uniforms in the NFL, and our soccer rendition is right up there with the best on this list. My take on the Dolphins is they will probably go 8-8 because Ryan Tannehill is their QB.
New England Patriots:
Under Armour man Tom Brady wishes he could wear our Nike New England Patriots jersey, and I kinda wish I could too. Maybe we'll get this puppy made if enough crazy Boston sports fans tell us to. Let's all hope the Pats finally don't make it to the Super Bowl this year.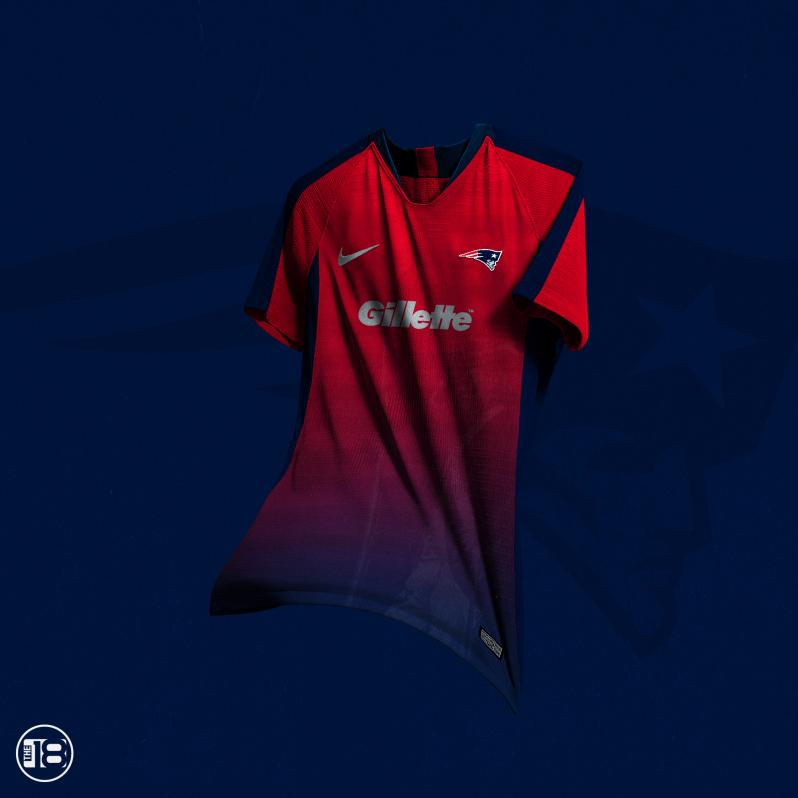 New York Jets:
J-E-T-S, JETS, JETS, JETS! We brought the camo pattern out for rookie Sam Darold and company. The only thing missing is Joe Namath's fur coat. God speed in New York, Sammy boy. We'll see if you can handle the bright lights of the Gran Manzana.
AFC West 
Denver Broncos:
The Broncos defense from Super Bowl 50 has lost some peices, but John Elway finally has a quarterback in Case Keenum. Was last year a fluke for Case? I don't know, but I do know these can't-miss orange kits would look good on anyone.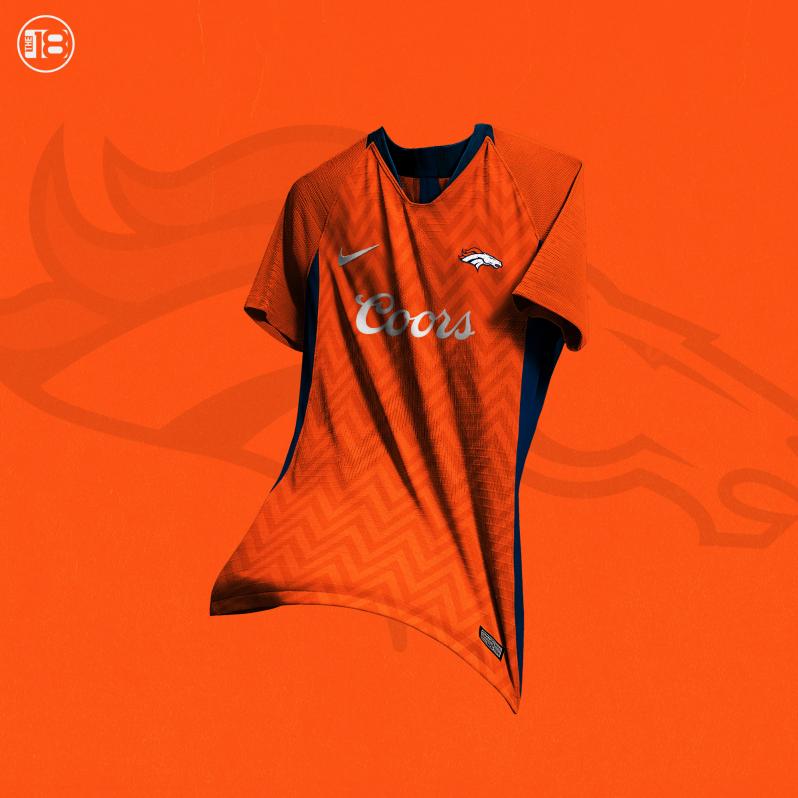 Kansas City Chiefs:
Classic look for The Chiefs, or "The Chefs," as I like to call them. They're rolling with Patrick Mahomes this year, so I expect a lot of interceptions and a lot of touchdowns. And a lot of Andy Read messing up clock management.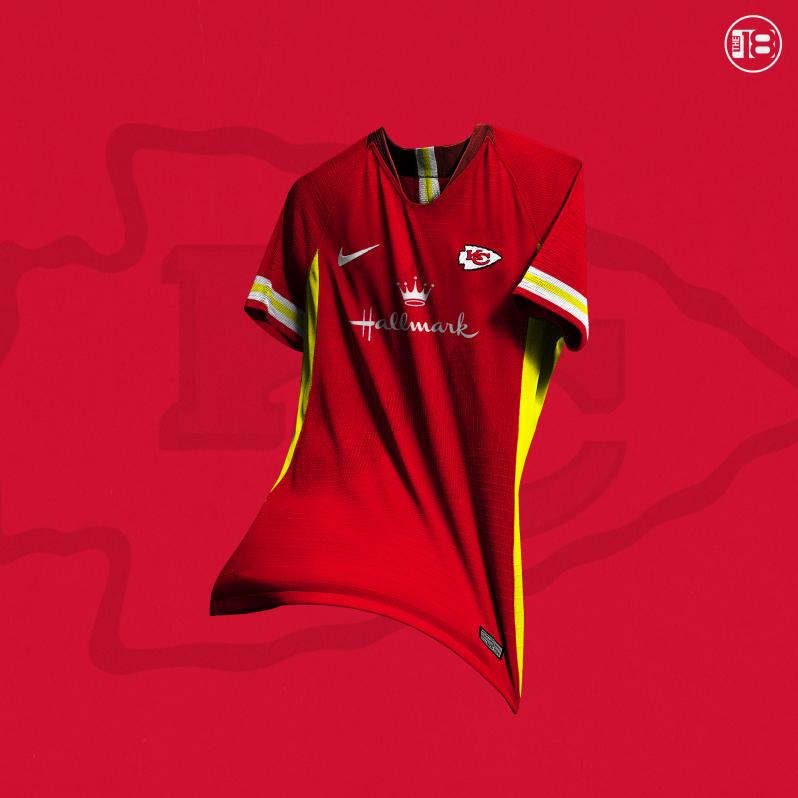 Los Angeles Chargers:
Having lightning bolts on your sleeves is always cool, so the Chargers kit is up their as one of my favorites. It's a big year for the team and expectations are high. It will all depends on Penelope...I mean Philip Rivers.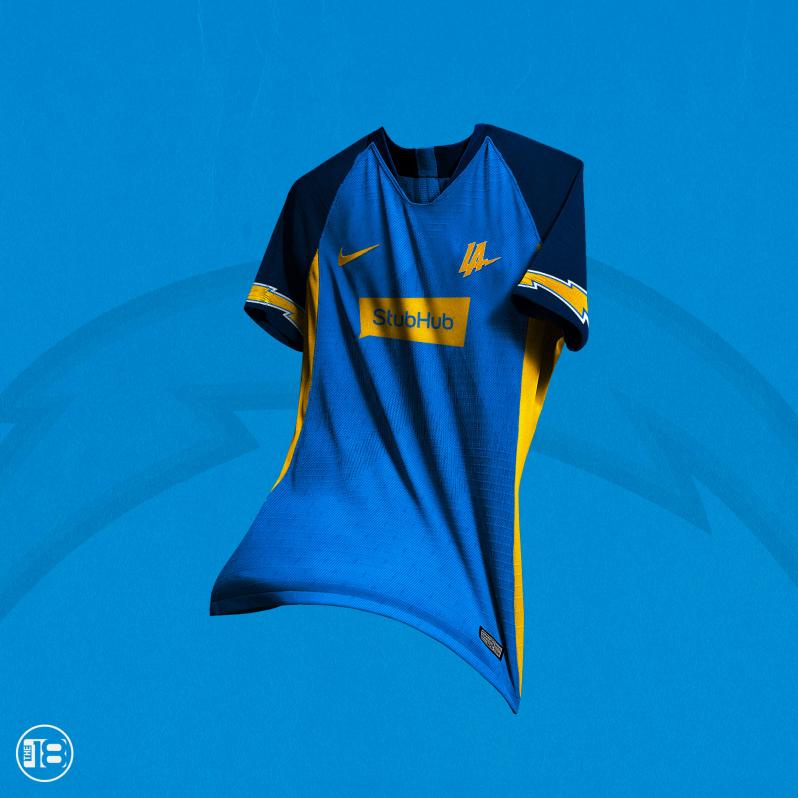 Oakland Raiders:
All black for the black hole that is the Oakland Raiders. They just traded their best player in Khalil Mack and will probably suck this year. The only good thing about the Raiders is every NFL fan can go to Vegas when their team plays them. Marshawn is a keeper too.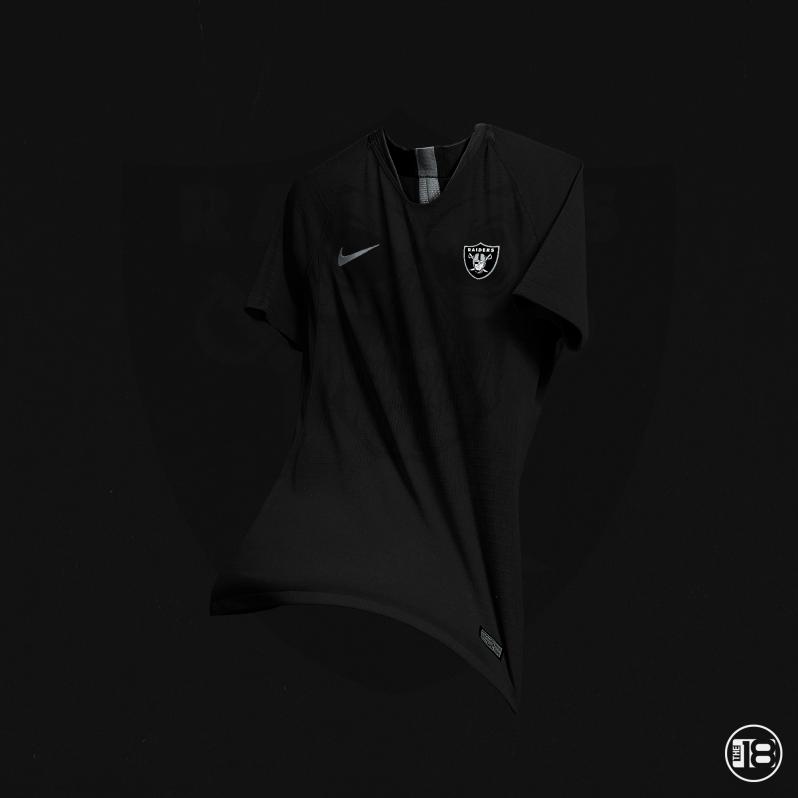 AFC North
Baltimore Ravens:
These jerseys remind me of when Barcelona had their kit split in two (still one of my favorite Barca kits). I dig the look for the Ravens and I would dig the actual Baltimore Ravens more if they played Lamar Jackson this year instead of NOT ELITE Joe Flacco.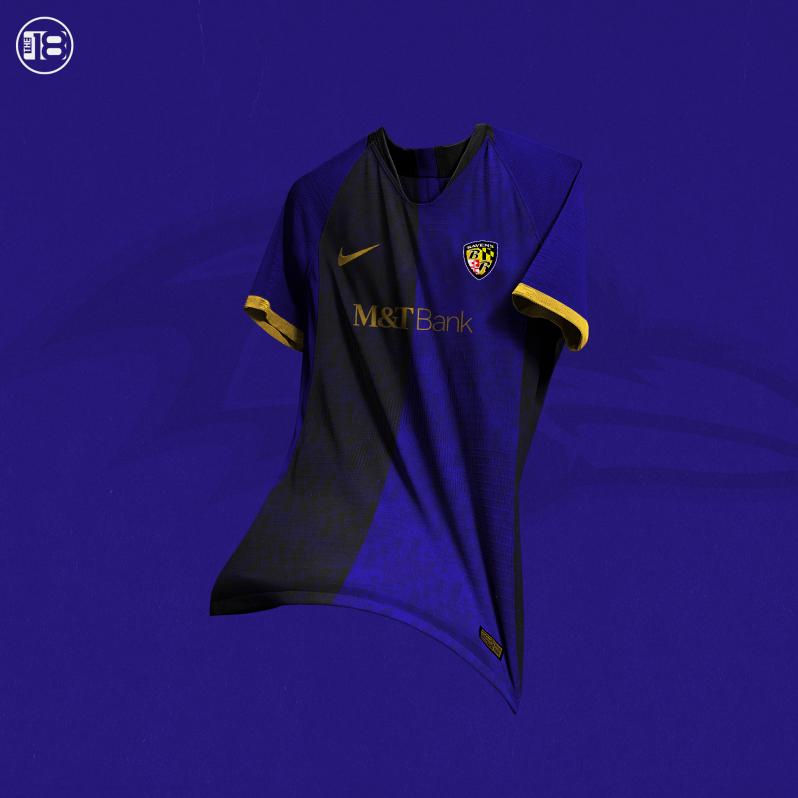 Cincinnati Benglas:
The tiger stripes was an obvious play here. It's just about as obvious as the Bengals having another mediocre year and keeping Marvin Lewis as their head coach.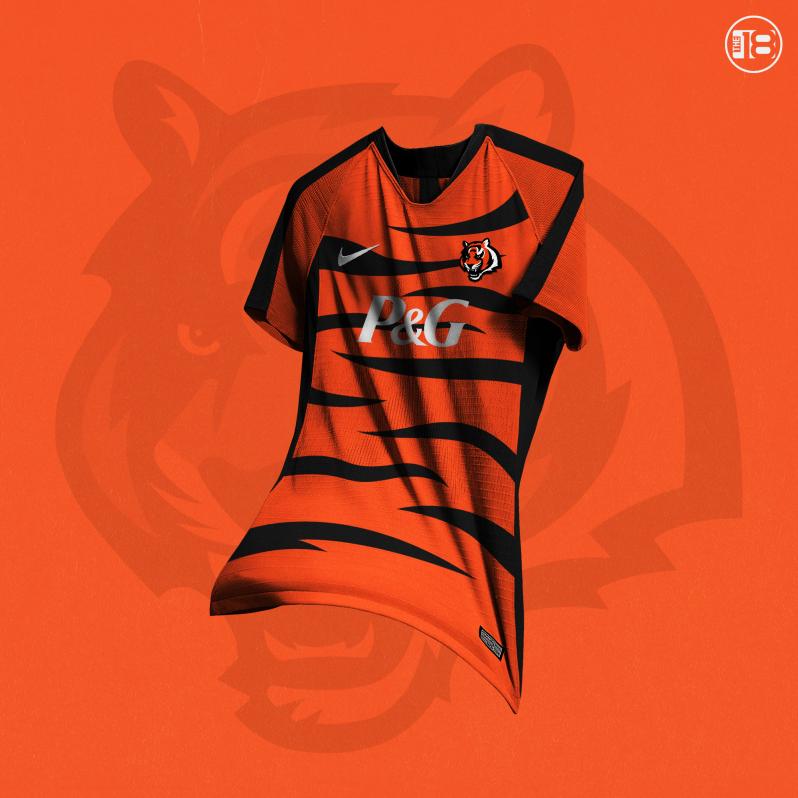 Cleveland Browns:
If you watched Hard Knocks this season, you are probably feeling like an honorary Browns fan this year. All I have to say is Bless 'Em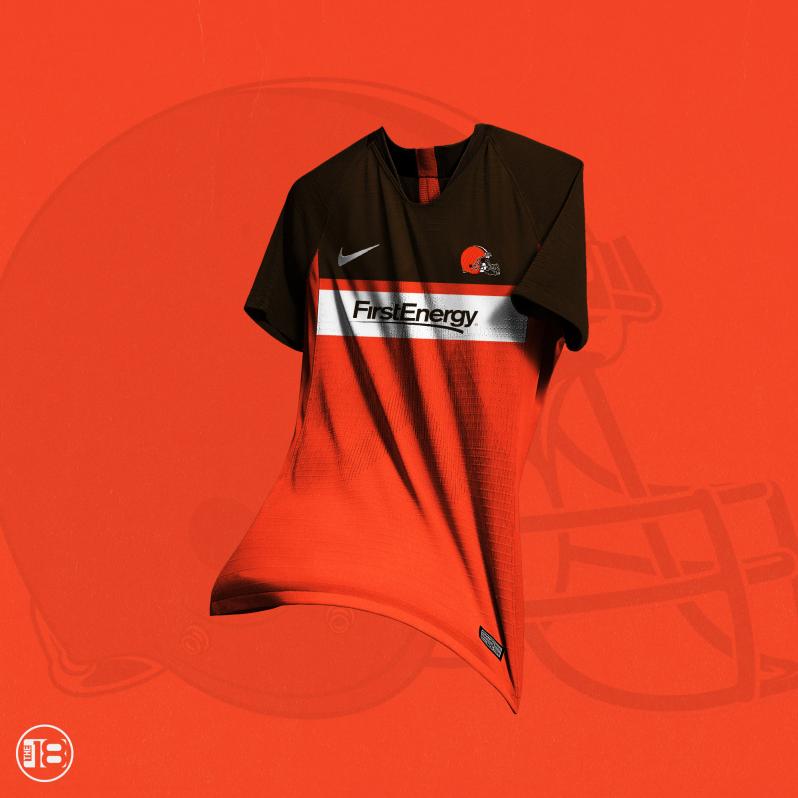 Pittsburgh Steelers:
Don't worry Steelers fans. You may not have Le'Veon Bell, but you could have super sweet soccer jerseys!   
AFC South 
Houston Texans:
Deshaun Watson was looking like an MVP caliber player last year before tearing his ACL. These soccer kits are as clean as they come and would look sweet on Bill O'Brian singing Rick Ross.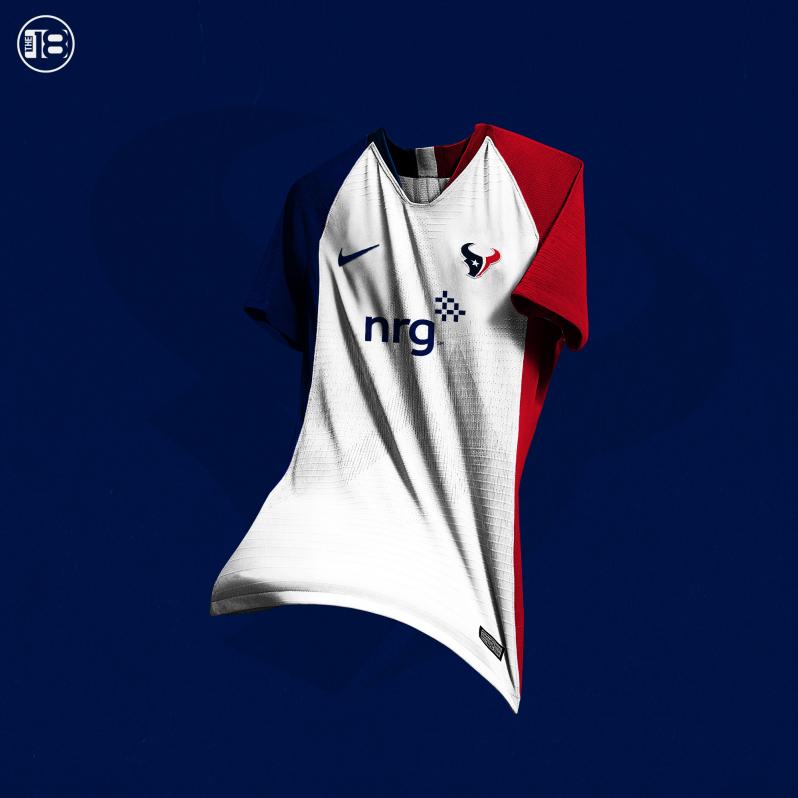 Indianapolis Colts:
Is Andrew Luck healthy? Are the Colts uniforms the most boring in the league? I don't know. But I do know that Andy Luck likes soccer, so he's OK in my book.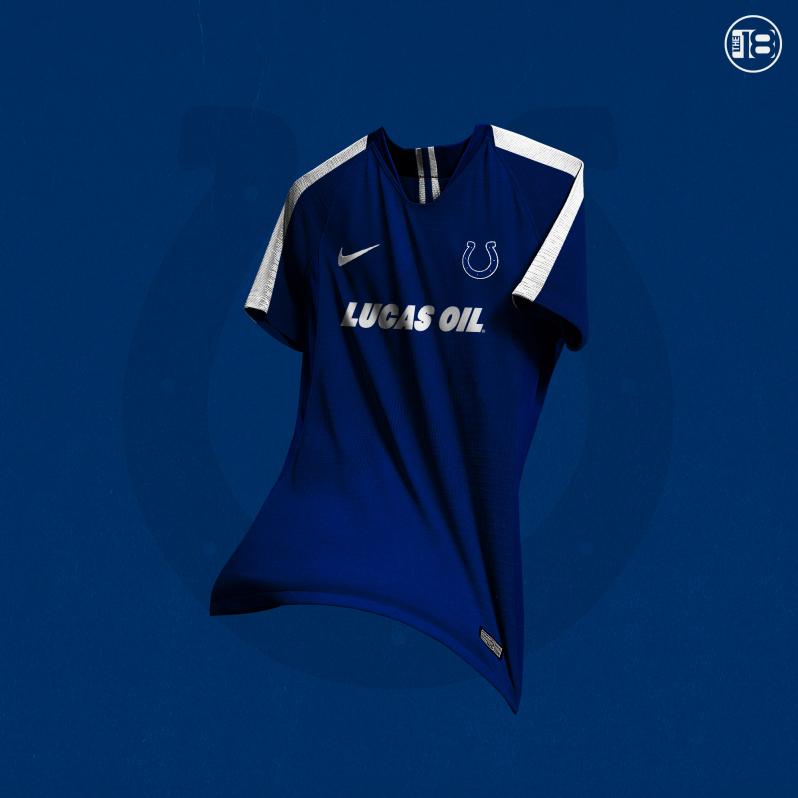 Jacksonville Jaguars:
Jalen Ramsey is dope. Bortles service is dope. Going from being one of the consistently worst teams in the NFL to the AFC Championship and almost beating Tom Brady is dope. And our faded kits for the Jags are dope.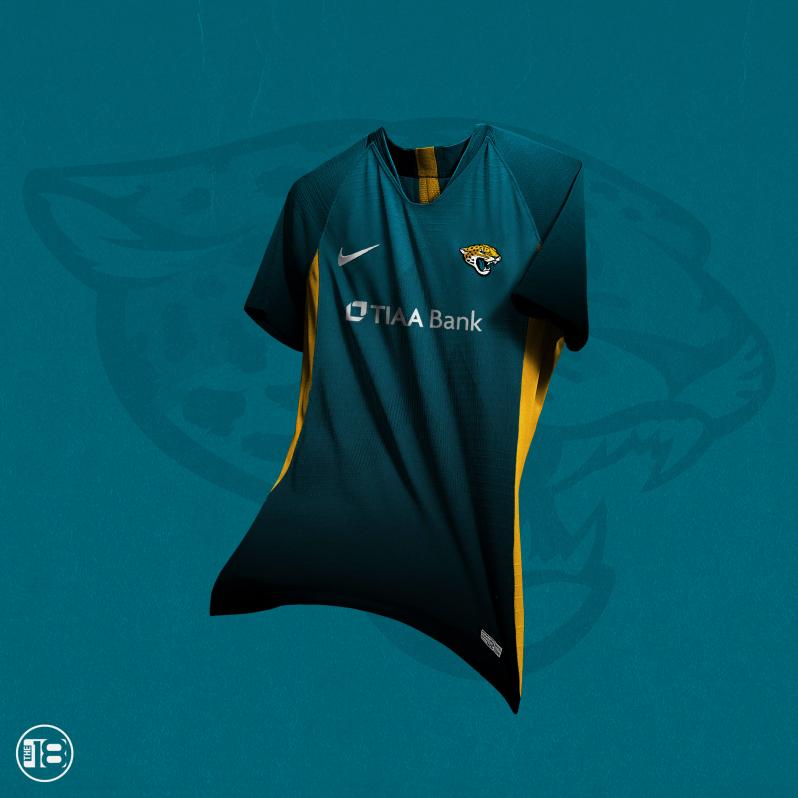 Tennesse Titans: 
Tennessee Titans: After a rough year due to injury, Marcus Mariota still helped the Titans get to the divisional round vs. the Patriots. The Oregon alum credits soccer to his development as a quarterback, so we're all in on Marcus. Plus, he's one of only two players to catch their own pass for a touchdown. Cool stuff.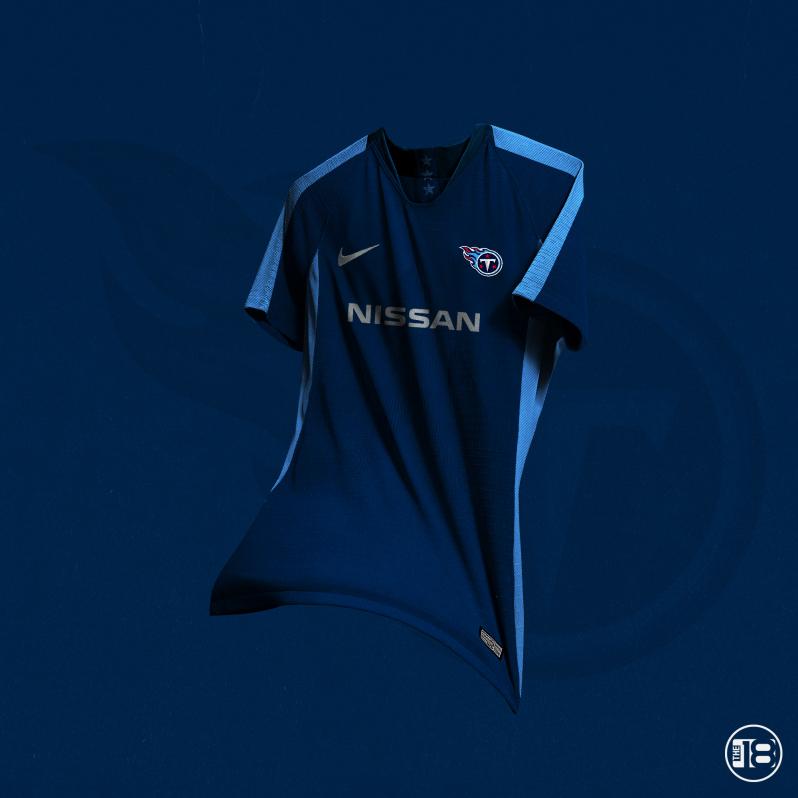 NFC EAST 
Dallas Cowboys:
How bout them Cowboys!? I'm pretty sick of Jerry Jones and now every time I see him I think about the South Park episode where he says his eyes aren't too far apart. But the all whites will always be a home run in my book. 
New York Giants:
Odell Beckham Jr loves soccer, so we know he would totally buy a New York Giants kit. If only OBJ had stuck with soccer during his time with the U.S. Development academy. 
Philadelphia Eagles:
Carson Wentz's knee does not seem to be cooperating and Nick Foles will start the season. Can big dick Nick continue his run from last season? I'm going to say no and the Eagles suffer a little bit of a hangover this season.
Washington Redskins:
Washington Redskins fans are praying that Alex Smith will throw the ball down field to new addition Paul Richardson. But "check down" Alex isn't a bad thing and neither are these FedEx kits.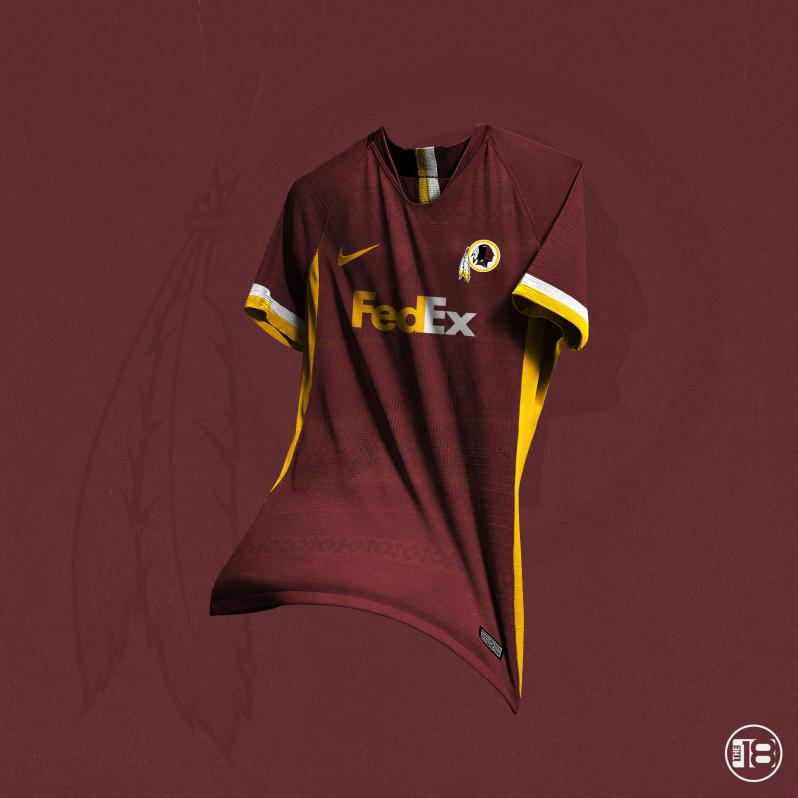 NFC West 
Arizona Cardinals:
As a friend of mine once said, "Have you guys ever noticed that Sam Bradford looks like Sam Bradford's baby brother wearing football pads?" Sam Bradford will probably get hurt and Josh Rosen will have his chance to prove all those teams who didn't pick him wrong. The gold stripes on this shirt are about as hot as the Arizona heat. 
Los Angeles Rams:
Wade Phillips is the man and his defense will be unreal this year. These old school inspired kits would make Todd Gurley carry your fantasy team more than he did last year.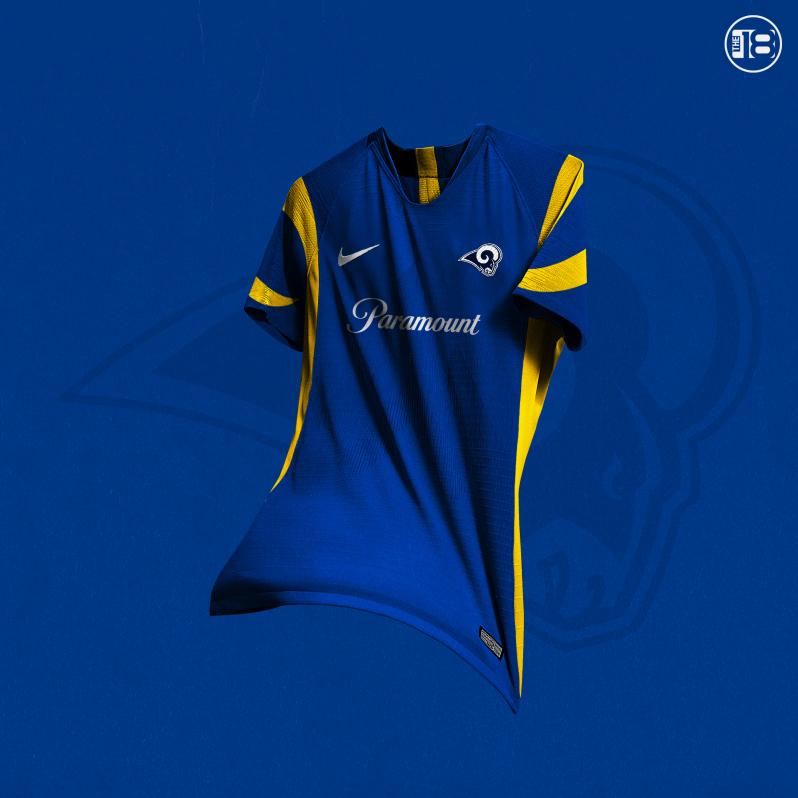 San Francisco 49ers:
Hey Jimmy G! You think we could get a picture of you and one of your lady friends in our sweet pinstripe kit?
Seattle Seahawks:
Seattle loves its soccer, so this is a shirt that we'd actually love to see get made. 12th man, what say you?
NFC North 
Chicago Bears:
The Bears are cool because they ran this play for a two point conversion once and it damn near blew my mind.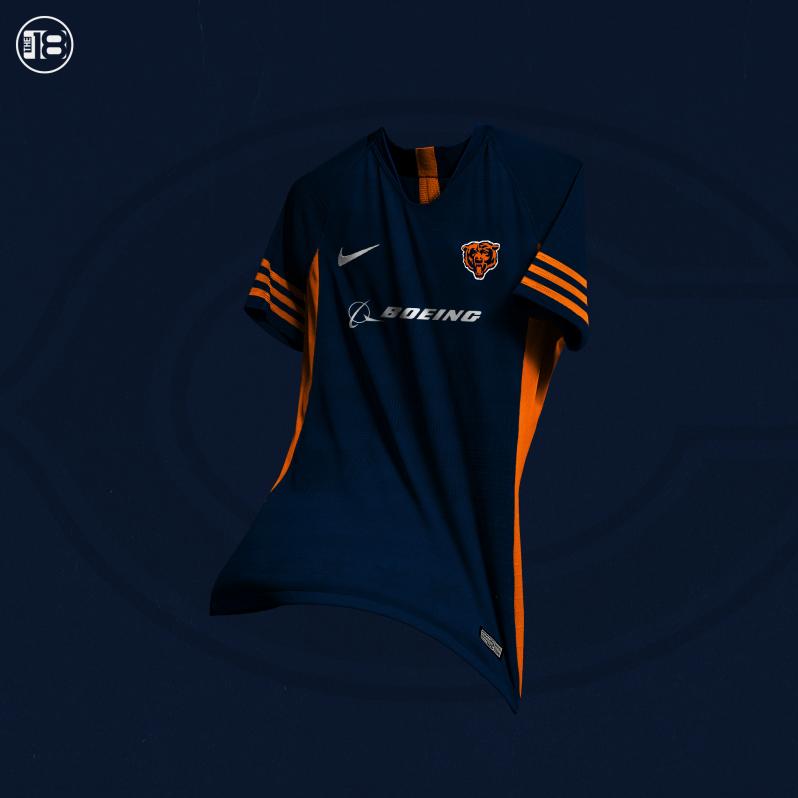 Detroit Lions:
With the Packers and Vikings in the division, the Lions just can't seem to break through. Matt Stafford has never won a playoff game but makes more than a lot of other QBs who have. So they have that going for them.
Green Bay Packers:
Aaron Rodgers didn't get to play much last year, so he's going to come out firing this season. We have our second booze brand as a shirt sponsor, so these are top notch.
Minnesota Vikings:
Hey Purple fans! Like the little viking ship touch we added to the jersey? (I do)
Hey Vikings fans! You like the three-year, $84 million contract for Kirk Cousins? (Editor's note: I do)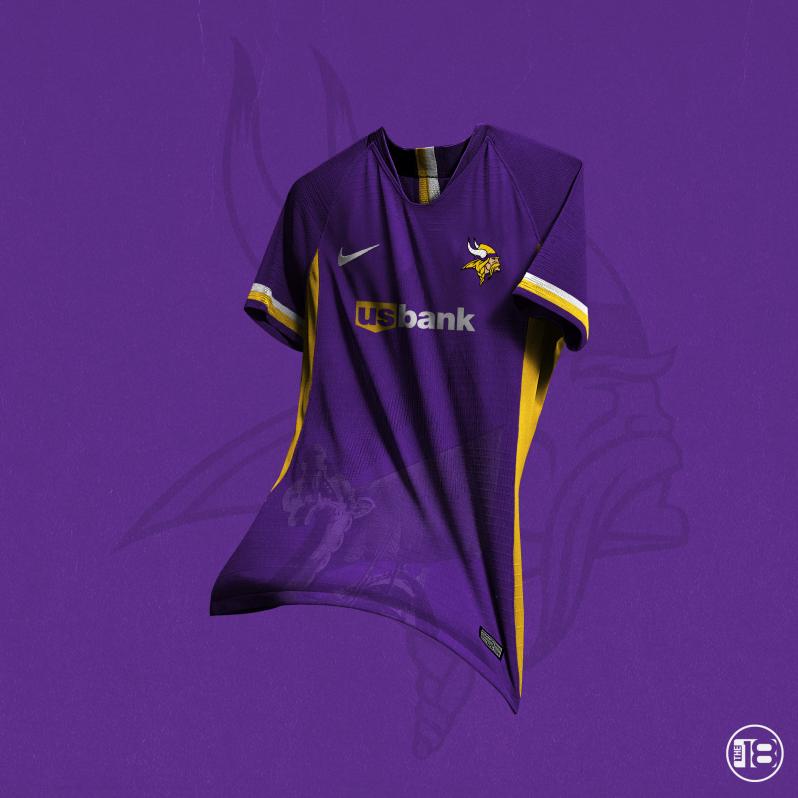 NFC South
Atlanta Falcons:
All I know is the Falcons wouldn't have blown a 28-3 lead in the Super Bowl if they were wearing these bad boys. ATL United fans, what do you think?!
Carolina Panthers:
Is this something  Cam Newton would wear? Probably not, but maybe Steph Curry or Christian McCaffrey would. I'd just like to point out this division is going to be fun this year.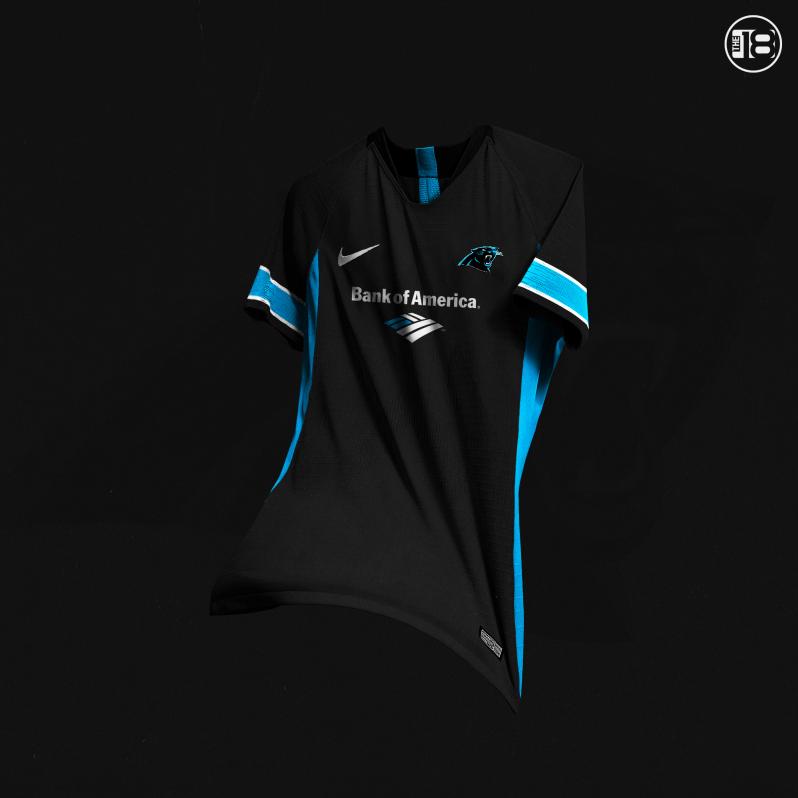 New Orleans Saints:
Black and gold were just meant to be together. These clean Saints jerseys will have Saints fans forgetting who Stefon Diggs is in no time.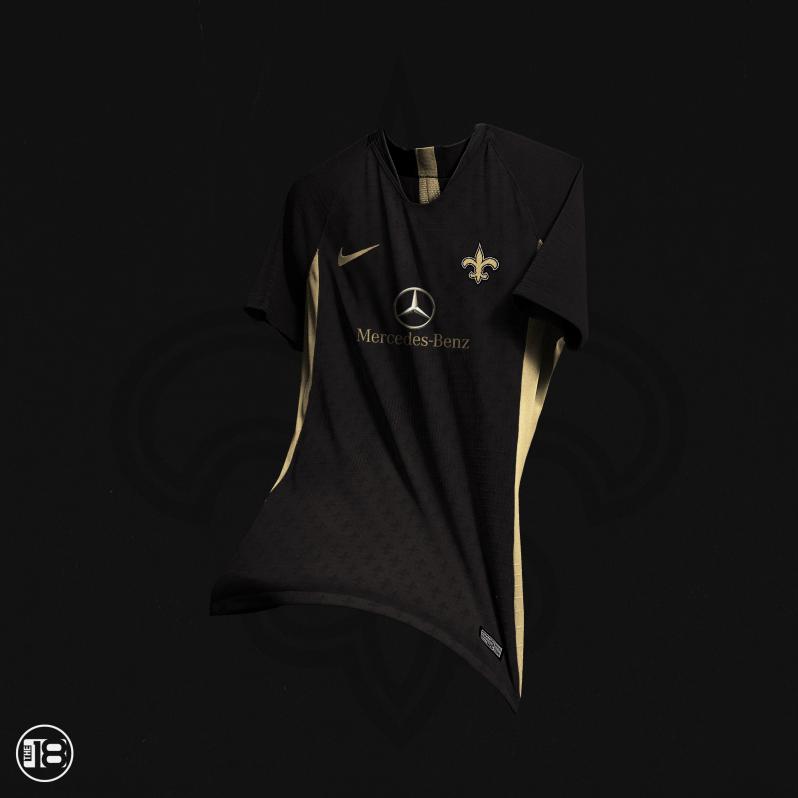 Tampa Bay Buccaneers: 
Don't ever change, Jameis. Don't ever change.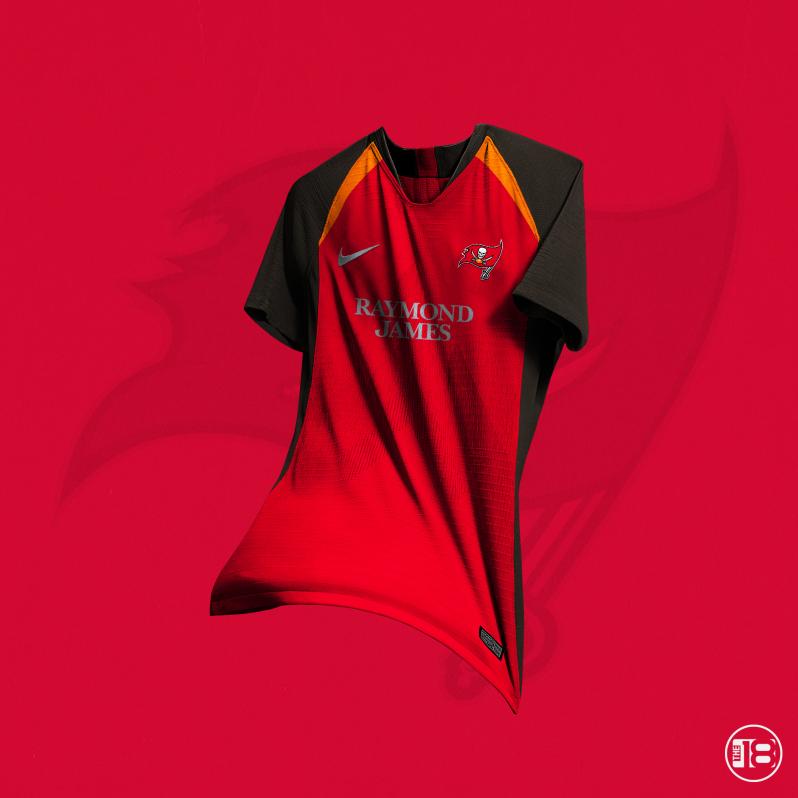 Graphics by Kevin Dawson