My Local ABC Network Decided To Show Jeff Corwin Instead Of Der Klassiker
I was excited. For the first time ever, ABC was going to broadcast a Bundesliga match, and not even the absence of Gio Reyna could dampen the anticipation for the Bayern Munich-Borussia Dortmund rivalry. Well, maybe an outdoors show could.
As I turned my TV to ABC on Saturday morning, instead of my local Denver7 ABC network showing Der Klassiker, I was subjected to "Ocean Treks With Jeff Corwin."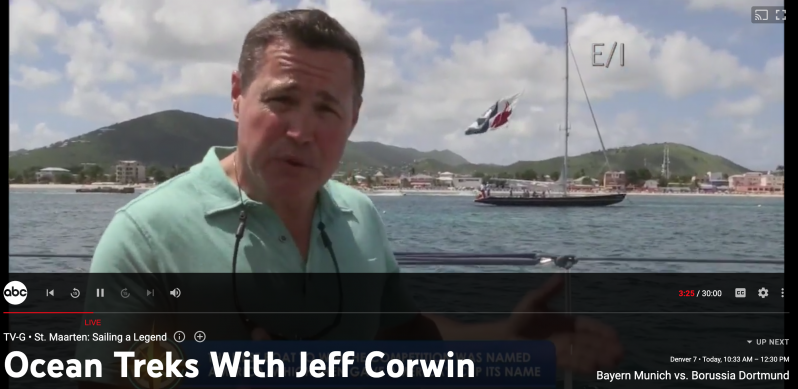 What the hell, ABC?
I was left baffled by what I was seeing. ABC and ESPN were very vocal about advertising the fact they were showing this game on ABC, ESPN Deportes and ESPN+, and yet here was a local ABC channel pretending the game didn't exist.  
I use YouTube TV, but quickly determined it wasn't an issue for all YouTube TV users. My brother in Dallas who subscribes to the same service was able to watch just fine. 
After a couple minutes, the title of the show switched to say it was the Bayern-Dortmund game, but the fishing show remained. I have YouTube TV set to record any Bundesliga matches it finds, so it started recording even though Corwin still mocked me with his presence.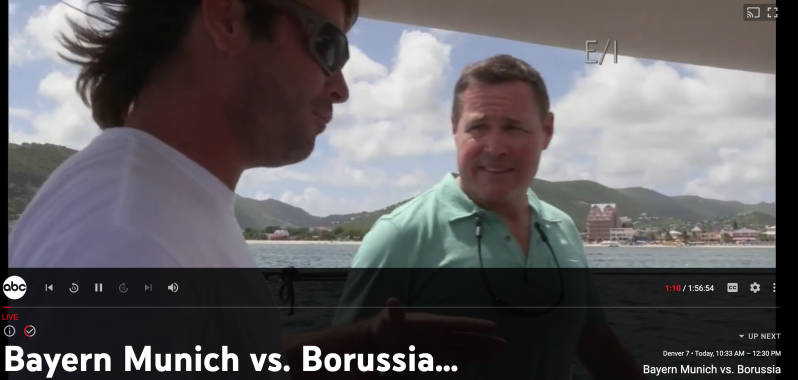 Not long after, the title reverted to the outdoors show. Nothing against Corwin, but I wanted to tell him to fuck off.
To only compound my bewilderment, I tried watching the match on ABC through fuboTV and had no problems at all.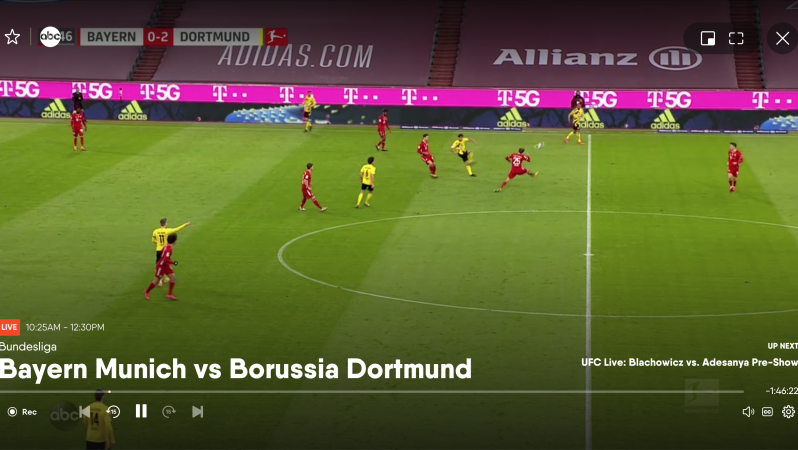 I wasn't the only one to experience this problem, as it seems to stem from some idiocy from the ABC folks in Denver. 
For some dumbass reason ABC in Denver is showing it on a delay
Like Ocean Treks with Jeff Corwin? what are we doing here haha
Not that I was going to let the fools at my local ABC network stop me from watching the game live. I turned my TV on to the ESPN+ app and watched that way without any issues. It's a good thing I did because Erling Haaland and Borussia Dortmund stormed to a 2-0 lead inside 10 minutes. 
HAALAND IS INEVITABLE pic.twitter.com/2hYBY6nsXm
HAALAND DOUBLE IN UNDER 10 MINUTES! pic.twitter.com/BCr7vVjtK7
At 11 a.m. local time, the ABC network finally switched to Der Klassiker, joining in the 29th minute with three goals already having been scored (Robert Lewandowski pulled Bayern one back in the 26th minute). 
Who else? Robert Lewandowski gets Bayern back in the game! pic.twitter.com/ok99XDcaqQ
Why the fuck ABC Denver7 decided to show a throw-away, prerecorded outdoors show instead of just broadcasting the match is beyond me. I was fortunate enough to have a work-around, but anyone without a cable subscription excited about watching the game in the Denver area was shit out of luck. 
I reached out to Denver7 for comment but did not hear back before we published this story.