Earlier this year, I swore off FIFA Ultimate Team. I became sick with the meta of FUT and the feeling of being cheated by the game. But just when I thought I was out, they're pulling me right back in.
On Friday, Clint Dempsey dropped this little video, announcing he'll be a part of the FUT Heroes lineup available in FIFA 22 at launch. I will 100 percent buy a game just to play as a fisherman who moonlights as the greatest male soccer player Texas has ever produced. 
View this post on Instagram
EA Sports unveiled its FUT Heroes on Friday, including the Deuce and a number of memorable footballers who were great but not quite good enough to be given Icon cards. Each hero comes with a cool comic-book cover illustration featuring their nickname.
Dempsey retired in 2018 after heart issues threatened his career. He's had two heart surgeries, but the condition isn't considered life-threatening, and now the Deuce spends his days "making babies, hunting, fishing, golfing and being an Uber driver for these kids." Dempsey retired as the USMNT's all-time leading scorer, tied with Landon Donovan with 57. 
Dempsey's stats won't knock your socks off, but you can't beat a FUT card reveal with the star driving a boat in the background.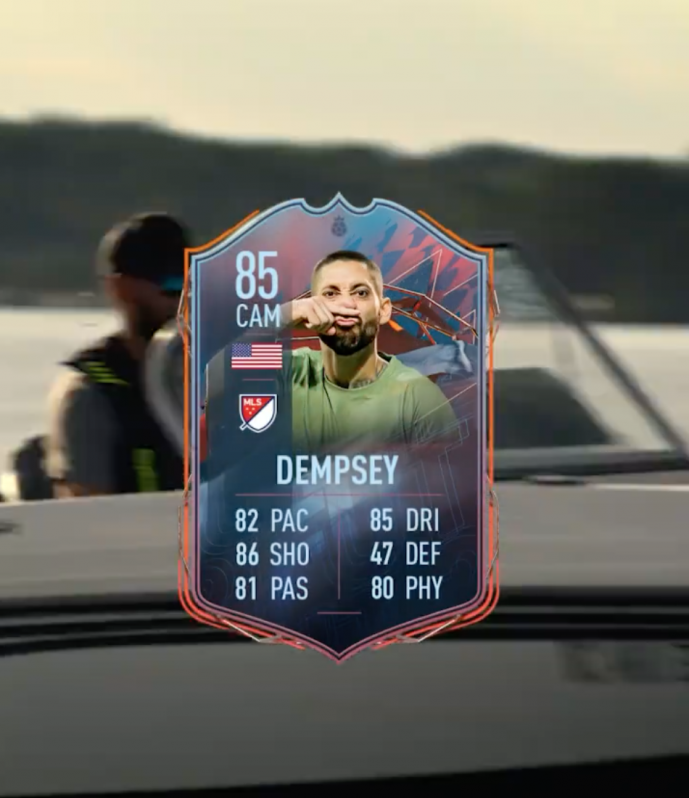 The list of heroes in FIFA 22 includes Mario Gomez, Tim Cahill, Diego Milito, Jorge Campos, Fernando Morientes, Sami Al-Jaber, Robbie Keane, Abedi Pele, Lars Ricken, Ole Gunnar Solskjær, Antonio Di Natale and Iván Córdoba. OGS may have the coolest comic-book cover of them all, though I'm not sure why he has a target on his chest.
FIFA 22 comes out Oct. 1. Basically all of the new features will only be available on next-gen consoles (PS5, Xbox Series X) and not PC or last-gen consoles, so it's hard to suggest you actually buy the latest installment unless you own a new console, especially when eFootball (formerly PES) has gone free-to-play.
Then again, who doesn't want to play as Clint Dempsey without pulling out an old copy of FIFA? Maybe next year they can get him as a commentator.