Carli Lloyd Needs To Follow Tom Brady And Unretire So She Stops Shit-Talking Her Former Teammates
Retired from sticking balls in the back of the net, Carli Lloyd has started a career of sticking her foot in her mouth.
This week, Tom Brady decided to end his one-month retirement and return to the NFL. Carli Lloyd should do the same, just so she finds something else to put her energy into besides sticking her foot in her mouth. 
Carli Lloyd ended an illustrious career last fall, hanging up her cleats after winning two Women's World Cups, two Olympic gold medals and FIFA World Player of the Year in 2015. She retired as the second-most capped USWNT player and in the top five in goals and assists in USWNT history. 
Lloyd's status as one of the greatest players of all time is cemented, even if she often rubbed people the wrong way, like when she complained about lack of playing time during the 2019 Women's World Cup. Lloyd was a divisive player, beloved by many for her very public work ethic, derided by others for her very public views on race. 
Now, a few months after retiring, Lloyd is attacking former teammates in a way that feels entirely unnecessary and incredibly hypocritical. She should probably just come out of retirement so she doesn't keep saying things that will only tarnish her legacy.
After retiring in early November, Lloyd mostly stayed out of the limelight, for a while. She had a bit of a Twitter spat with FedEx in January when she attacked an underpaid employee with all the self-awareness of Kim Kardashian telling women they just need to work harder; she then deleted the tweet as if no one would bring the receipts. But Lloyd didn't do much media and mostly stayed off social media after retiring. At least until this month. 
In the first week of March, Lloyd appeared on a couple different podcasts, first with Hope Solo and then Alexi Lalas, perhaps the only two more divisive figures in U.S. soccer than Lloyd. 
On Solo's new podcast, Lloyd called out the "culture" of the USWNT, saying that's why the Americans only brought home bronze last summer at the Olympics, Lloyd's final international tournament. She didn't really elaborate too much on what she meant by culture, as Hope Solo went on her own tangent about her issues with the national team. 
Here's some of what you can expect on the first episode of Hope Solo Speaks with my first guest, the one and only @CarliLloyd pic.twitter.com/k9EjKMHrxf
With no full explanation just yet, the consensus on social media based on Lloyd's previous words and actions was she was referring to the culture of the USWNT being a leader for social change, whether it's fighting for equal pay or standing up for inclusivity in all areas, particularly for racial and LGBTQ+ equality. 
✨We absolutely love THIS culture✨ pic.twitter.com/ubkSOa5jec
That same week, Lloyd talked with Lalas about how toxic the USWNT culture was. She said some of the U.S. players became complacent and didn't have the fight or the desire to win during the 2020 Olympics. She implied teams like Canada (gold) and Sweden (silver) weren't as talented despite both beating the U.S., which always sounds like sour grapes coming from someone who was on the losing end, even if the USWNT remains the most talented team in the world. 
"What made this team so successful throughout the years was we stepped between the lines, and we fought for one another," Lloyd said on Lalas' podcast. "It didn't matter what you looked like, it didn't matter what you stood for, it didn't matter what car you drove. In 2015, winning a World Cup put us on a big stage and endorsements started coming in.
"I just saw a shift in people's mindsets. It became more about what can I do to build my brand off the field, and what can I do to get an endorsement deal and less about what we need to do when we step between those lines."
"What we (@USWNT) had in the last several years was not a good culture, and the mentality changed, and it became toxic." - @CarliLloyd talks about how the US team changed after the 2015 WC win. ⚽️ pic.twitter.com/oZdFcNBo50
If the 2015 World Cup changed the team so much, how did the U.S. win the 2019 World Cup, mostly without Lloyd, who barely played in the later rounds?  
But maybe Lloyd has a point. Maybe some of the star players on the USWNT have been more focused on endorsements than success. We're not in the locker room; we don't see what she sees. 
But we do have a memory, and it doesn't take a long look back to see Lloyd's hypocrisy. 
After she helped the U.S. win the 2015 Women's World Cup, Lloyd went on a whirlwind media tour. At the time a player for the Houston Dash (though she rarely actually took the pitch for the team), Lloyd scheduled a book tour during the NWSL season. If that's not putting personal brand before football, I don't know what is.  
All I can say is that having covered the Dash during her stint in Houston, the irony of her complaining about players being focused on building brands and endorsements is absolutely mind blowing. Pot, meet kettle. https://t.co/8BDUBMh6BJ
As social media continued to hound Lloyd for calling out the "culture" while assuming she was talking about social issues, she took to her personal Instagram to attempt to clarify things. She only made it more confusing.
View this post on Instagram
During a seven-and-a-half-minute rant, Lloyd went on and on about "culture." She sounded like a clueless business person who talks about how important culture is but only when it's the type of culture that includes them in the exact way they want. Business people love to talk about culture, but it's such a nebulous buzzword that I generally zone out whenever it's brought up. Note Lloyd said culture, not team chemistry, which is actually useful in soccer. 
Lloyd did try to explain what she meant by culture, saying it's respect for teammates and desire to do your best. I don't think anyone can say Lloyd never gave her best for her country — though you could certainly argue she didn't give her best for some of her club teams having never won a league title — but what about respect for teammates? 
During the 2020 Olympics, when her entire team took a knee to combat systemic racism, Lloyd stood. If you can't respect your teammates' fight for progress in an area only a racist would oppose, why should they respect you as a teammate, or as a person? 
During the IG harangue, Lloyd also criticized people who attack her on social media. Less than a week later she attacked someone on social media, going after a soccer fan who had the gall to suggest USWNT players like Becky Sauerbrunn and Crystal Dunn are, in fact, devoted to winning. 
I don't need to nor be dared. Everyone in Tokyo heard this already as well as when I retired. I'm all for building brands, endorsement deals, paid opps etc but when these things besides the collective goal of winning comes second that's not a winning formula. It's simple.Get it? https://t.co/30qQi2C1ro
Lloyd has a long history of calling people out on social media or blocking them on Twitter. Rachel, who seems like a great WoSo fan, wasn't even that surprised one of the world's most famous athletes went after someone with fewer than 5,000 followers, which, I should say, is more than me, so good work Rach. 
It was my time.
Last week, Lloyd sat down with an actual journalist to respond to some actual questions about what she means when she says "culture." Instead of podcast hosts prodding her to give great soundbites, Meredith Cash was able to find out if Lloyd was talking about race and gender, which Lloyd denied. 
"People just take clips, and they take what people say and they throw their own spin on it and their own narrative," Lloyd said. "I wish the world wasn't like this."
It's hard to take Lloyd's narrative seriously considering essentially that same team carried Lloyd to the 2019 Women's World Cup trophy. Plus, Lloyd was the one who brought up what players looked like or stood for on Lalas' podcast.
Maybe it's not Lloyd's fault. 
Almost every USWNT great has had to toe the line between being a successful female athlete and being criticized by the media for not fitting exactly into the mold the American public wants. Take Hope Solo, who lambasted Sweden as "cowards" after an Olympics quarterfinal defeat in 2016 and became the target of countless pundits and talking heads who didn't like her choice of words. Or Megan Rapinoe, who is hated by conservatives who fear her pink hair and desire to use her platform make the world a better place for everyone. Some men are just going to hate women athletes regardless. 
Perhaps Lloyd is unable to clearly elucidate her thoughts in a way that doesn't make Twitter mad. Perhaps she's just working through the pain of losing at the Olympics and fear of retirement in the public sphere instead of with a licensed therapist. Perhaps she's really calling herself out for focusing too much on endorsements and we didn't even notice.
Lloyd is and always will be a more accomplished athlete than I could ever dream of being, but maybe she should stick to being an athlete and stay away from social media. I don't want to tell someone to shut up and dribble, but when you open your mouth and can only find negative things to say about people who have been wildly successful and are a major reason for your own success, maybe it's time to rethink what you're saying. While I understand the irony of criticizing someone else's words with my own, I can do so with a clear conscience, knowing I've never had to delete racist tweets or attacked someone below my paygrade. 
Carli Lloyd should just follow Tom Brady's lead and unretire to avoid shit-talking her former teammates any further. She already retweeted Brady's unretirement tweet, and I'm not the only one who's had the thought.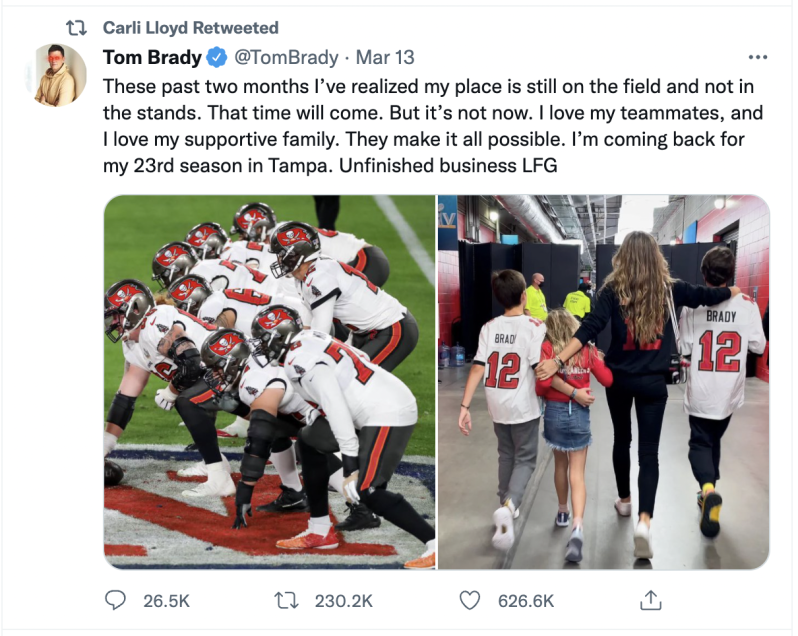 Oh Jesus, Carl* is gonna think she can come back now, huh?