After two Gold Cups and one Nations League, now is when the USMNT finally gets to show where it's at and how it's grown over the last four years. Now is when World Cup qualifying begins. Now is when the matches really count. Now is when we try to figure out what in the heck Gregg Berhalter is going to do with this team, and for us to predict a USMNT potential starting 11 for World Cup qualifiers. 
Four years ago, the USMNT traveled to Trinidad and Tobago to secure a draw or win to send the U.S. to the 2018 World Cup in Russia. It seemed like a done deal, but Concacaf doesn't work that way, and the U.S. crashed out in shocking fashion. After the failure to qualify for the World Cup, the U.S. went more than 600 days without a competitive fixture. Then came the Covid-19 pandemic, which threw international soccer onto the backburner (and killed millions), creating another lengthy period where the USMNT did not play together. 
Now, Concacaf World Cup qualifying is finally here, starting with a threesome of matches that are simultaneously winnable and terrifying. The USMNT will play El Salvador in San Salvador on Thursday, Sept. 2, Canada in Nashville on Sunday, Sept. 5, and Honduras in San Pedro Sula on Wednesday, Sept. 8.
(For more on how to watch the USMNT World Cup qualifying matches, click here.)
Who exactly Berhalter chooses for the biggest lineup selection of his career is anyone's guess. Or, more specifically, our guess. We're going to guess. 
Here's our prediction for the USMNT potential starting 11 for the upcoming September World Cup qualifiers.
USMNT Potential Starting 11 For World Cup Qualifiers (September 2021)
For most of the Gold Cup (and the Nations League semifinal), Berhalter ran with a 4-3-3 formation. In the Nations League final against Mexico, Berhalter chose a 5-2-3 (or 3-4-3) formation with Sergiño Dest and DeAndre Yedlin as wingbacks. 
Given the competition on hand, I'd expect Berhalter to utilize the 4-3-3 against El Salvador, Canada and Honduras, though he could tweak the formation with the need to rest players during a three-games-in-seven-days stretch. 
Here's how we think Berhalter would line up in World Cup qualifying if he put his best-possible team out based on those called into camp, without regard to resting players.
We're making a few assumptions here with this USMNT potential starting 11, namely suggesting Berhalter starts his best possible squad, which is unlikely given the number of games played over such a short period. Honestly, the only way we actually see a strongest-possible lineup for any of these three games is if the U.S. loses to El Salvador and Berhalter goes all-in against Canada. 
With that said, here's a depth chart for who else will be in line to take various positions on the field.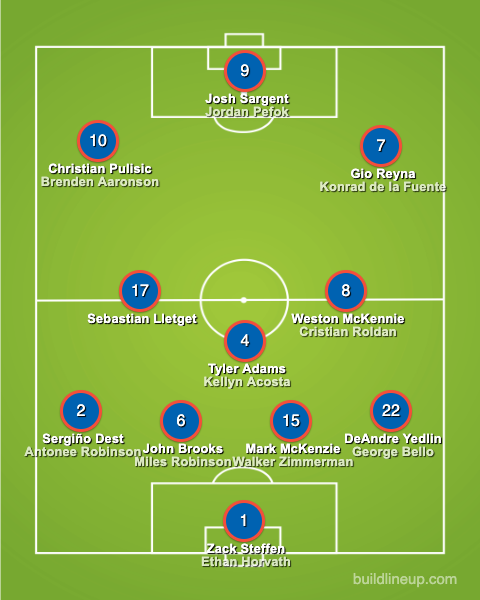 You'll notice there's not really a lot of depth in midfield, as Berhalter called just five midfielders into the team. What this means is Berhalter trusts those five more than anyone else and/or he's planning to utilize a 5-2-3 formation in at least one match, to utilize the depth at wingback (Sergiño Dest, DeAndre Yedlin, George Bello, Antonee Robinson). Or, since Berhalter really loves him some Sebastian Lletget, we could see the LA Galaxy midfielder play all 270 minutes this week.
Should Berhalter go for a 5-2-3/3-4-3, we think the lineup might look something like this, with potential subs (we'll throw Horvath a bone and give him a start; he earned it).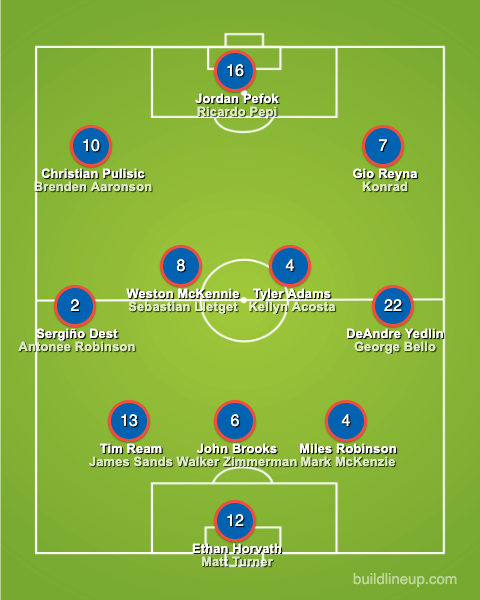 The above lineup shows some of the other options at center back and striker, but you'll notice a theme: No one is beating out Christian Pulisic, Weston McKennie, Gio Reyna and Tyler Adams in the starting lineup unless there's an injury or Berhalter is resting/rotating his squad. Along with John Brooks and perhaps Dest, those four are likely to be the USMNT's most important players in World Cup qualifying, at least to start. 
Will Berhalter use any of these potential USMNT starting 11 lineups for the upcoming World Cup qualifiers? Probably not with such a huge need to rotate the squad. But these should be pretty close to the starting lineups overall throughout the coming months. Players like Reggie Cannon, Shaq Moore, Sam Vines, Chris Richards, Yunus Musah, Gianluca Busio, Matthew Hoppe, Daryl Dike and others are also sure to factor in at some point but weren't called in for this squad.
Whoever Berhalter picks to qualify the U.S. for the 2022 World Cup, the country will be watching and scrutinizing his every move, like USWNT haters watching Fox News to find out who knelt for the national anthem.