World Cup Predictions For Uruguay-France and Brazil-Belgium
Our World Cup Predictions for the first quarterfinal matches between Uruguay vsFrance and Brazil vs Belgium.
Get the best email in soccer.
The World Cup quarterfinals are here. What's likely to be a Cavani-less Uruguay, the Charrúa will have to stifle a potent France attack. Meanwhile, Belgium will look to get off to a better start versus Brazil than what they did against Japan.
Here are the picks from Connor Fleming (@conmanfleming), Bryce Badwan (@bbadss),Travis Yoesting (@travisyoesting) and Leon the Chameleon (@the18chameleon) 
World Cup Predictions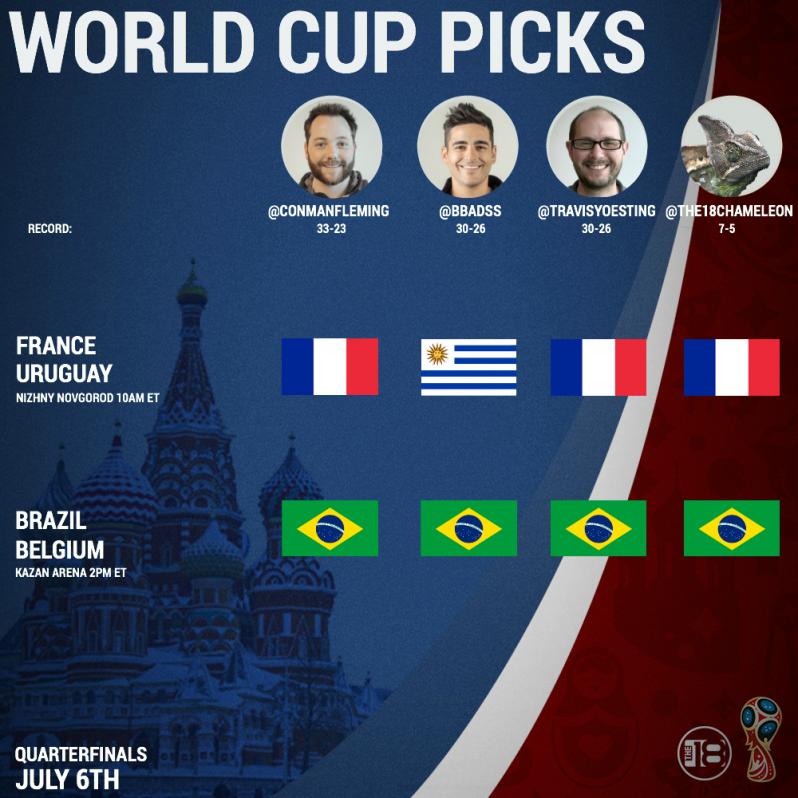 Connor: France - Losing Cavani hurts, but this should still be a nail biter. I don't think it'd be an upset or a shock if Uruguay wins, but I think it's more likely that France conjures the moment of magic to decide this one.
Bryce: Uruguay - I'm going with my heart instead of my head. France will probably win, but everyone is counting Uruguay not to advance and that's when games have been their craziest at this tournament. Get to penalties and anything can happen.
Travis: France - Uruguay hasn't played a team with the kind of attacking firepower or defensive solidity France offers. It won't be as easy as it was against Argentina, but Les Bleus will score more goals than Uruguay.
Leon: France - Watch Leon's prediction.
Game Info:
10:00AM ET 
Nizhny Novgorod Stadium
FS1, Telemundo
Connor: Brazil - If Japan can score twice on Belgium, I'm guessing Brazil can get four or five. 5-3 Brazil. 
Bryce: Brazil - I think Belgium might have gotten a wake up call against Japan, but Brazil's defense is too good. 
Travis: Brazil - You could say the beast of Belgium was woken up by Japan, or you could say Japan found Belgium out. I tend toward the latter and think Belgium will struggle now that it's finally playing a decent team. 
Leon: Brazil - Watch Leon's prediction.
Game Info:
2:00PM ET 
Kazan Arena
FS1, Telemundo
Bookmark/Search this post with