8 Regions Account For More Than Half Of The USMNT Player Pool
Southern California and New Jersey have produced a disproportionate amount of the USMNT players over the past two decades.
Get the best email in soccer.
During the World Cup next summer, United States supporters across the nation will attend watch parties in droves, frequent bars adorned in red, white and blue and flood sporting goods stores to buy new jerseys.
There's no denying that World Cup Fever is a nationwide phenomenon every four years, but the players responsible for the frenzy do not necessarily come from all corners of the country.
In order to get a better idea of what areas of the U.S. develop the best soccer talent, we looked at where current and past members of the USMNT spent the majoirty of their childhood.
Since the USMNT has improved significantly in the last 20 years, we're only interested in players who made their last cap in 2000 or later. Marcelo Balboa counts, but Alexei Lalas did not quite make the cut (his last cap was in 1998).
Finally, players needed to make at least five apperances with the senior team to qualify for this sample. Although any cutoff is arbitrary, five appearances is a good indicator that a player either competed in an international tournament or contributed to the USMNT in another substantive way.
In total, 143 players met the above criteria. Of those players, 16 were raised in foreign countries, including eight in Germany (Jermaine Jones, Fabian Johnson and Julian Green are among those). That left us with 127 players who were raised primarily in the U.S.
It appears that rather than talent being randomly distributed across the country, some places do a much better job than others of developing players.
The following eight regions and metro areas produced more than half of the US talent pool in the sample, despite comprising just 20 percent of the population.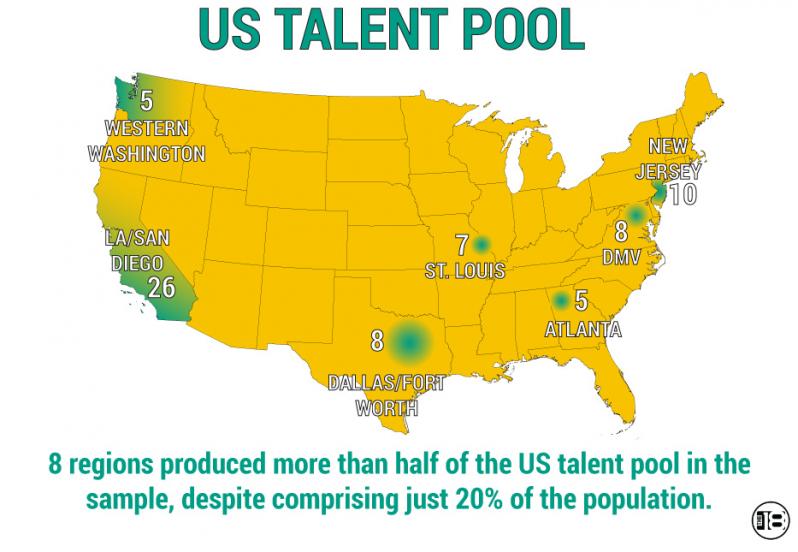 It's not surprising to see that Southern California has been a hotbed for talent for much of the past 30 years. The weather and population density make playing soccer against good competition possible almost any day of the year. In addition, the large Hispanic population in and around San Diego and Los Angeles likely contributes to soccer being a first choice sport for more young athletes there than in the Deep South, where football dominates.
New Jersey has served as another talent pipeline for the USMNT, accounting for six of the 30 most capped players in USMNT history (Michael Bradley, Tim Howard, Claudio Reyna, Jozy Altiore, John Harkes and Tab Ramos). The youth club culture in Jersey is as competitive as any in the country, and the population density again allows top players to compete against each other more frequently.
Dallas and St. Louis are both cleary punching above their weight class. The FC Dallas Academy is renowned for its development of young players, and Dallas is home to one of the most prestigious youth tournaments in the country, the Dallas Cup. 
Overall, it's clear that being in a part of the country with access to good competition is a major advantage for young players. ODP clubs and select regional teams can help elite players from the Midwest, but there's ultimately no substitute to being close to the best talent.
Bookmark/Search this post with