Senegal Now Darlings Of World Cup After Wild Win Over Poland
From a badass coach to some fun dancing, Senegal is our favorite team after the first round of matches.
Get the best email in soccer.
Every team has now played one match at the World Cup. No team has earned itself more fans after one round of play than the Lions of Teranga after a wild 2-1 win for Senegal vs Poland in Group H of the 2018 World Cup on Tuesday. 
Senegal's only other appearance in the World Cup came in 2002, when the Lions upset defending champion France on the way to a quarterfinals appearance. Senegal looked capable of returning to the quarterfinals after thrilling in its win over Poland, ranked No. 8 in the world. 
And Senegal's combination of flair, dancing, fan support and a badass-looking coach make the Lions the darlings of the World Cup so far. Just look at these scenes.
Senegal dance after a second goal 2-0 #POLSEN pic.twitter.com/Uu17T6LwPa

What a world cup we are having already!

Goal fest expected for Russia V Egypt??

#RUSEGY

— Betting Guru (@BettingGuruTeam) June 19, 2018
"You up."

— The18 (@the18com) June 19, 2018
People really doubted Senegal when they have Heimdall as their manager? pic.twitter.com/SHeOHiR30B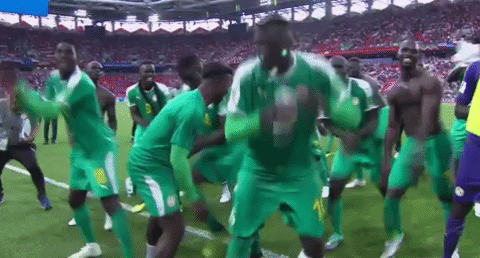 Granted, the two goals for Senegal vs Poland were nothing special. The first was an own goal, a wayward shot deflected into Wojciech Szczesny's net. 
#MundialTelemundo ¡Pegan primero! #SEN lo intentó en última instancia Thiago Cionek anota en propia puerta de #POL pic.twitter.com/taCpzwNoGV
The second goal was a matter of unfortunate circumstances for Poland. M'Baye Niang was on the sideline having gone off for an injury when the referee inexplicably allowed him to come back on as Poland played a long pass back. Niang intercepted the pass, knocked it past Szczesny and scored the eventual winner.
Nothing like the ol hockey change.

— The18 (@the18com) June 19, 2018
Poland pulled one back in the 86th minute through West Brom midfielder Grzegorz Krychowiak, but it was too little, too late. 
#MundialTelemundo ¡Hay esperanza! @GrzegKrychowiak anota y pone en la pelea a #POL ante #SEN pic.twitter.com/ZQVSbBQTqu
After one round of matches, Senegal and Japan lead Group H with three points apiece. Japan stunned Colombia 2-1 after the second-earliest red card in World Cup history was given to Colombia in the third minute. Poland and Colombia, the two favorites in the group, have a lot of catching up to do. 
Uruguay and Senegal carrying the torch for South America and Africa.#URU 3 pts#SEN 3 pts#ARG 1 pt#BRA 1 pt#PER 0 pts#COL 0 pts#TUN 0 pts#NGA 0 pts#EGY 0 pts#MOR 0 pts
Bookmark/Search this post with