How Leonardo Bonucci Became The Bad Guy After His Teammate Moise Kean Was Racially Abused
Juventus' match at Cagliari was marred by countless acts of racism, but Bonucci seemed to take the brunt of the backlash.
Get the best email in soccer.
Cagliari should be ashamed of its football club, its fans and its club president. What happened Tuesday night was another deplorable, disgusting display of racism from a group of fans, acts that should be unacceptable in society. 
And yet, Leonardo Bonucci, whose teammates were the victims of the racial abuse, seems to be the one receiving the most backlash in the fallout.
How did this happen?
To start, let's set the scene. 
Juventus, far and away the Serie A leader, traveled to 13th-place Cagliari for a midweek clash at the Sardegna Arena. The result, a fairly routine 2-0 victory for the Old Lady with Cristiano Ronaldo still sidelined by injury, belies a contentious match.
From the opening whistle, Moise Kean, an Italian of Ivorian descent, and other black teammates like Blaise Matuidi and Alex Sandro were the target of racial abuse from a vocal group of Cagliari fans. 
1st minute: Whistles and boos are heard as soon as Kean touches the ball. Pay attention to the "uh uh uh" coming from the stands after the ball goes out of play. pic.twitter.com/l0kGXKdtps
Check out that entire thread for 16 — yes, 16 — instances of Juventus players being unfairly targeted by Cagliari fans for the color of their skin. Some of the monkey chants are admittedly hard to hear, but they're there.
The abuse hit a boiling point in the 85th minute when Kean sealed the match with a well-taken goal. Having been subjected to chants, whistles and boos all match, Kean celebrated by posing in front of the Cagliari fans.
Kean, a striker who turned 19 in February, is seeing more time with Juventus because of Ronaldo's injury. He has four goals in 209 minutes in Serie A this season, an impressive rate of one goal every 52 minutes (in comparison, Ronaldo scores once every 118 minutes). Kean is young, but he's one to watch, having already scored two goals in three senior-level Italy caps. 
His reaction to scoring an important goal in a hostile environment wasn't really that provocative given the circumstances. 
And yet people had the nerve to blame Kean for the racial abuse he received on Tuesday, including Leonardo Bonucci, his teammate and a club captain. 
After the match, much was said on both sides about the incidents of racial abuse.
Cagliari president Tommaso Giulini said the abuse of Kean was a reaction to the striker's celebration after the goal and it's not right to call his fans racist. Except Kean (and Matuidi and Sandro) was the target of abuse all night, much of it racist. 
Giulini even had the nerve to say the Cagliari fans would have reacted the same way to the goal celebration had it been done by a player with a different color of skin, completely ignoring the fact the jeers were of a racist nature and the fact Cagliari fans have racially abused other black players in the past. 
Those comments were gross and did nothing to help the situation, but Bonucci's words really struck a chord across the continent.
In postgame comments, Bonucci appeared to chastise Kean for provoking the racism with his celebration.
"Kean knows that when he scores a goal, he has to focus on celebrating with his teammates," Bonucci said, according to Football Italia. "He knows he could've done something differently too. There were racist jeers after the goal; Blaise heard it and was angered. 
"I think the blame is 50-50, because Moise shouldn't have done that and the Curva should not have reacted that way. We are professionals; we have to set the example and not provoke anyone."
That's Bonucci, a club captain, saying Kean is partially to blame for being the victim of racial abuse. It was a shocking instance of victim blaming, like a politician saying there were bad people on both sides of a terrorist attack or a rape victim was asking for it by dressing nicely.
Again, Kean was racially abused before the goal. To claim his celebration in response to racism caused racism is a complete non sequitur. 
Across Europe, while the racial abuse of Kean was widely criticized, Bonucci also became the target of complaints about the systemic racism still seen in the football world. 
Raheem Sterling, Mario Balotelli, Memphis Depay and other black footballers past and present came out against Bonucci.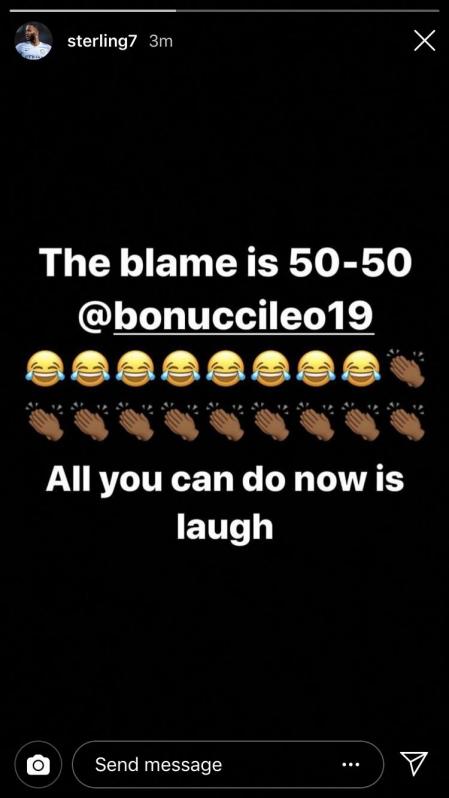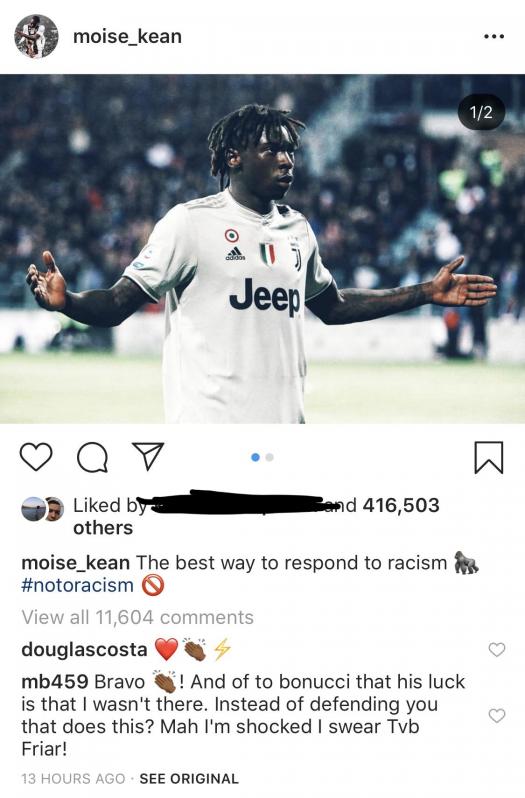 @bonucci_leo19 Come capitano della Juventus sono deluso nella tua reazione, il ragazzo può gioire come vuole. Il suo ruolo ed essenziale per la sua squadra e gioca con tanto orgoglio per il suo paese Italia. Dev'essere rispettato per questo.
We Will not be quiet! #SayNoToRacism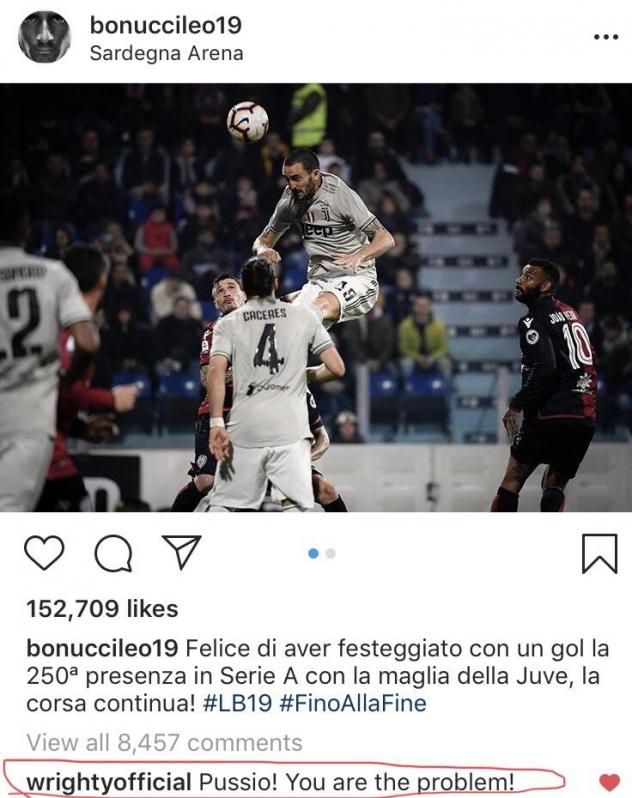 Paul Pogba, a former Juve player, and the French national team, among others, both posted their support on Instagram for Kean and Matuidi, a French World Cup winner.
View this post on Instagram
Even Borussia Dortmund's social media department got in on the Bonucci bashing with this odd, subtle tweet.
Does Bonucci deserve this criticism?
Absolutely. 
It's almost impossible to make any progress toward eradicating racism unless we stop blaming the victims. To be fair, the Cagliari fans actually perpetrating the abuse should receive more criticism, but Bonucci certainly deserves his share.
Bonucci did show some remorse for his comments on Wednesday, posting an IG story saying no to racism, which should be the bare minimum from a man who captains the biggest club in Italy.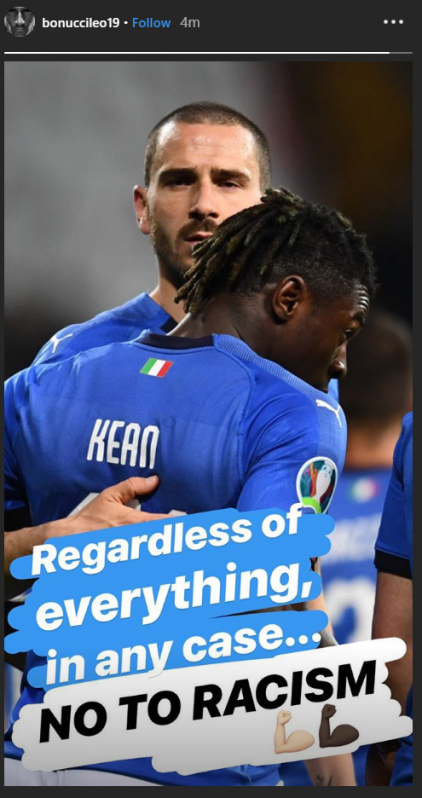 It's sad people still have to actually come out and say racism is bad, but that's the society in which we live, where politicians are stoking racial and nationalist fires across the globe (you can find examples of this on every continent). 
Let us not forget we're all humans, all evolved from the same ancestors, all sharing a fragile planet. But it's hard to shake that tribalism deeply embedded in our DNA. 
Shaka Hislop summed up the views of many pretty succinctly on ESPNFC:
"This is the most disgusting comment of victim blaming I have seen in football for quite some time," Hislop said. "This is exactly why the issue is not going anywhere anytime soon."
Sadly, Hislop is probably right. Racism isn't going anywhere as long as people take these sorts of attitudes toward a major problem.
Bookmark/Search this post with