Which Country Has Messi Scored The Most Goals Against In The Champions League?
Lionel Messi has scored 98 Champions League goals in his career, but which countries have been victimized the most?
Get the best email in soccer.
Lionel Messi is the second-highest goalscorer in Champions League history, trailing only Cristiano Ronaldo. Messi has scored 98 Champions League goals in his career so far, and we were wondering which countries he has done the most damage against. So, we went through all of Messi's goals and figured out the countries that house the clubs Messi has scored the most goals against.

Following Messi's goal against Chelsea in the Round of 16 first leg, here's how it stands currently:
England: 18
Germany: 16
Italy: 12
Scotland: 9
France: 7
The Netherlands: 6
Ukraine: 5
Greece: 5
Russia: 4
Czech Republic: 3
Denmark: 3
Cyprus: 3
Switzerland: 2
Spain: 2
Belarus: 2
Portugal: 1
And here's the breakdown in handy chart form: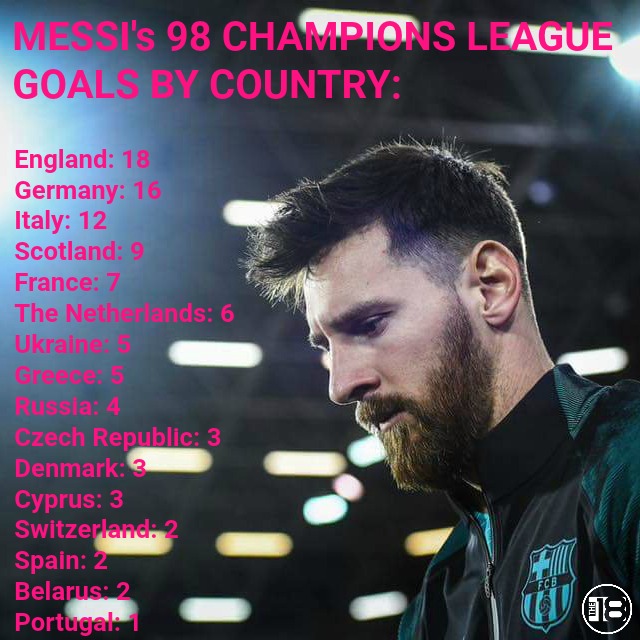 Given Messi's historical woes against certain English clubs (Chelsea) until recently, we were sort of surprised to find England ranked first. However, given how often English clubs run up against Barcelona in the Champions League, it makes a certain degree of sense. Same thing with Germany and italy. Scotland seems like a bit of an outlier, though.
However, thanks to the efforts of Manchester United, Arsenal and Manchester City, England can claim to have been scored on by Messi more than any other country.
Bookmark/Search this post with