The Best Kits In American Soccer Belong To Third Division Side Forward Madison FC
Get the best email in soccer.
USL League One begins its inaugural season on March 29 with 10 clubs vying for the championship in America's third division. One of those clubs will be Forward Madison FC, based out of Madison, Wisconsin.
The club was founded in 2018, and the 2019 season will mark its debut as a professional team. The club will play its home matches at 5,000-seat Breese Stevens Field, and back in December, Forward Madison announced a one-year affiliation agreement with Minnesota United FC.
The club initially made waves when revealing its badge, which prominently features a pink flamingo. This is derived from the pink plastic lawn flamingo being the official city bird of Madison — a quirk which dates back to a 1979 University of Wisconsin-Madison student government prank.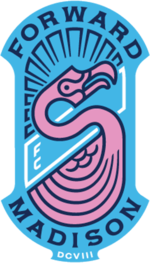 Yesterday, we were given a look at the club's goalkeeper kit for the upcoming season.
Also part of this story: @ForwardMSNFC's new goalkeeper kit, revealed here for the first time pic.twitter.com/iYPfqrjbtM
Today, we saw both the home and away uniforms. 
Blue at home. White away. Flamingos everywhere. Introducing our 2019 inaugural season jerseys!

— Forward Madison FC (@ForwardMSNFC) March 9, 2019
Our home kit: Inspired by the City Flag of Madison, the sash represents the isthmus. Get it here: https://t.co/J7sSSyg4i1 pic.twitter.com/nQuMH3xZtC
Our away kit: Flecked with flamingos, this is our ode to @fwdflock, whose motto, "Loud. Vibrant. Unwavering," is printed inside the collar. Get it here: https://t.co/J7sSSyg4i1 pic.twitter.com/KjqEQqyzLu
The sponsor on the front is Dairyland, which is actually a national auto and motorcycle insurance company and not a delicious Madison-based delicatessen. 
You can purchase Forward Madison gear here. 
Bookmark/Search this post with