Wenger Watch: Takin' Care Of Business
Arsenal won yet another game they were supposed to win.
Arsenal's 2-0 victory over West Brom Monday was . . . expected. Although they caught a couple breaks via the referee and Nacho Monreal's field awareness, Arsenal mostly took care of business and won by a scoreline that they were supposed to win by.
So, cool! We have accordingly adjusted the Wenger-O-Meter closer to the "IN" position. Wenger isn't quite out of the woods, but things are looking up!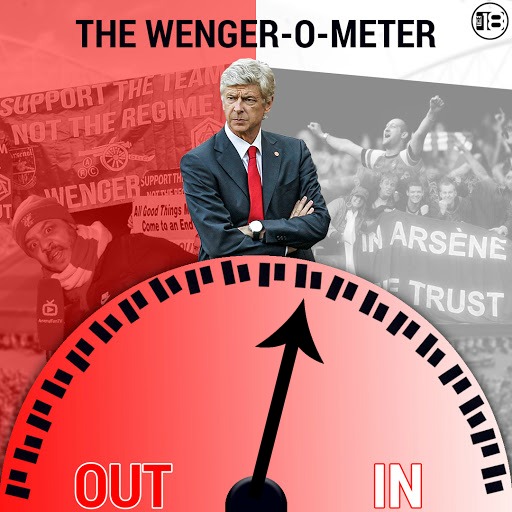 The Wenger Watch has some concerns, however. The main concern is this: Alexis Sanchez is the only true difference-maker Arsenal have, but by most accounts does not want to be at Arsenal anymore. His contract is up after this season. He has not signed an extension.
Without Sanchez's movement and vision, Alexandre Lacazette (who was excellent against West Brom, scoring a brace) doesn't have anyone to consistently feed him the ball in dangerous positions. Mesut Ozil is incisive but inconsistent. Aaron Ramsey is definitely not the guy. Neither is Theo Walcott.
Alexis Sanchez is the guy, but not, it seems, for very much longer. That's more worrisome than whether Wenger is the coach.