Manuel Neuer Is Inventing A New Position
The wingback-keeper is the future of football tactics.
During Bayern Munich's 3-1 victory over Tottenham on Wednesday, Bayern goalkeeper Manuel Neuer recorded 66 touches, which was more than any Spurs player on the day (Kyle Walker-Peters was tops with 59). With 48 accurate passes, he also outperformed all Tottenham players in that category. Oh, and his pass success rate of 89 percent (48 of 54) was also better than Spurs' best (Moussa Sissoko hit on 85 percent).
El PASE de Neuer
La importancia de la confianza, la toma de decision rapida y la ejecución tecnica correcta Velocidad del balon-Precision pic.twitter.com/osX8I7VZNt
From WhoScored.com, here are the locations of Neuer's attempted passes.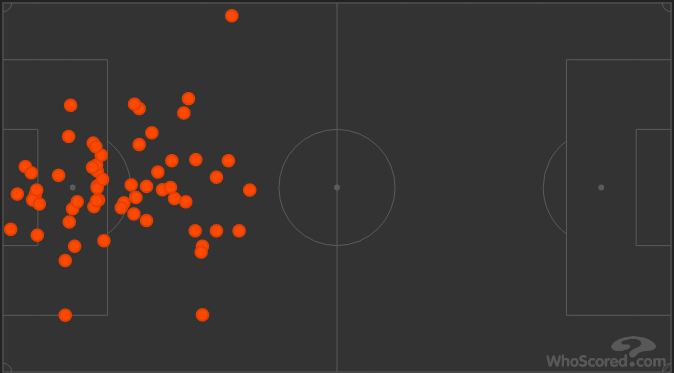 Not content at having defined the sweeper-keeper position, Neuer went about inventing the wingback-keeper role yesterday. In classic Neuer fashion, it helped prevent a goal while almost creating one at the other end.  
Look at the man's touch map… 
Manuel Neuer's touchmap is brilliant. I believe this position is Goalkeeper > deep-lying playmaker > attack. pic.twitter.com/W0zaMz4PJL
Look at his positioning on corners . . . if José Mourinho was looking to hit Bayern on the counter, Germany's No. 1 had his own solution for the tactic. 
When Bayern have a corner... #UCL #FCBTOT pic.twitter.com/gHToDWch8w
And he did perform some exceptional traditional goalkeeping as well, recording four saves and this incredible stop on Son Heung-min at the death.
تصدي نوير لكرة سون pic.twitter.com/6UYz893p34
The 33-year-old is something else.