Barcelona's Potential New Signing Is A Rapper On The Side, But Does He Have Bars? Here Are His 5 Best Lines
When he said, "I got alligator toilet paper I wipe my ass off," I felt that.
Barcelona is reportedly close to announcing the signing of Dutch striker and worldwide rap artist Memphis Depay. The full-time footballer, part-time rapper caught the eye of the Catalan club after helping Olympique Lyonnais reach the 2019 Champions League semifinal. We know he's a talented footballer, but is Memphis Depay a good rapper?
He's definitely not the most popular rapper, that's for sure. His monthly listener count on Spotify isn't anything to gawk at.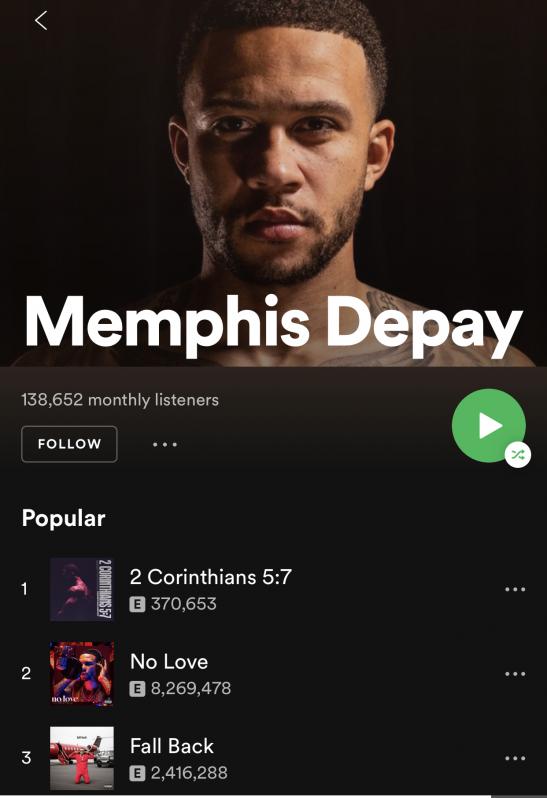 A tough scene when Grime legend Millie B has more monthly listeners on Spotify. 
You can't knock Depay for trying; he's arguably the most successful footballer in the rap game and has Erling Haaland beat by lightyears.
This isn't related to anything, just thought I'd show you guys Erling Haaland's rap song from 2016 pic.twitter.com/n79T1PeIrl
After listening to every song Depay has released on Spotify (it wasn't the most enjoyable experience of my life) I can conclude that Barcelona is receiving a quality footballer and below-average rapper. I will give him credit for rapping in both English and Dutch and making rhymes that transcend the language barrier.
Nonetheless, I present to you the five most clever lines Depay has thrown down on a track thus far in his career.
Does Depay Have Bars? Uh, Kind Of, Sort Of — Here Are His 5 Best Lines
5.
"I'm on my wave calling my Uber that's a P-J.
It's a private jet I mean these days."
A pretty standard flex here from Mr. Depay on his song "Fall Back." Whenever I call Uber I get a 2009 Prius, but his Uber is a private jet. Then he went "big brain" time and used the abbreviation 'P-J' to rhyme with 'these days.'
4.
"I'm in Four Seasons all four seasons.
Making money and we stack it up to the ceiling."
A classic line of being at the boujee Four Seasons for spring, summer, fall and winter. Pusha-T also used the line in his song "F.I.F.A." If Depay's money goes to the ceiling then Messi's money must go past the roof. This line is featured on "Fall Back" as well.
3.
"When I'm in the city it's litty.
this lion business is no kiddy."
A clever play on words using the word 'kidding' and shortening to 'kiddy' to make the reference that lions aren't in fact kittens. This line appears on his latest release "2 Corinthians 5:7."
2.
"We used to have bills now it's all cash, yeah now it's all cash.
1.5 on jewelry bought it all back."
In 2018, Depay had his home raided when burglars stole an estimated $1.5 million worth of his belongings. On "Fall Back" he lets the people know that the burglary didn't faze him and he bought back everything he lost.
1.
"They be askin who's my idol.
Well I really got no idol cause the world is messy no Lionel."
This clever Lionel Messi line is Depay's best work. Little did he know that when he released "5 Milli Freestyle" in 2018 that he would become teammates with Messi in two years time.
BREAKING: @FCBarcelona have agreed to sign @Memphis from Lyon, per @MikeVerweij pic.twitter.com/jKGyuA4th4
We can admit that Depay is no Kendrick Lamar, but he's still better than Lil Mosey's XXL Cypher.