The final season of Ted Lasso kicked off Wednesday with "Smells Like Mean Spirit" — a premiere centered around how AFC Richmond are being picked to finish last in the new Premier League season.
I would pick them to finish 20th too. It's the same squad that got relegated, they haven't made any transfers, Nate's gone and Ted's commitment to the entire thing is wavering. But no one's cared this much about preseason rankings since Josh Wolff laminated the MLS predictions and used it as straight gasoline for Austin FC's fire.
We begin the episode with Ted taking his son Henry to the airport after spending six weeks together. It's clear that Ted's family life is moving back front and center in Season 3 after his own mental health was the focus of Season 2 — that all seems to be going well as Ted is quickly on the phone with Dr. Sharon Fieldstone after leaving his son. ("Now he's in a plane, 10,000 feet in the sky.")  
But with Ted now longing for more father-son time and thinking about his ex-wife back in Kansas City, he's slipping in his responsibilities as Richmond manager. Rebecca is clearly worried about how the season's going to play out, especially with Rupert at West Ham (although I have no idea why pundits are picking the Hammers to finish top four), and there are seeds of doubt growing in her mind over Ted. 
Personally, I think she should be focused on buying a single player in the transfer market, and thankfully Leslie Higgins actually appears to be doing that work. Leslie's the only thing the Greyhounds have going for them right now. Also, if you're wondering what Rebecca is doing without Keeley around, she's going on a lunch date with Keeley.  
The Richmond coaching staff meets and Roy says the best option for the season is a basic 4-4-2 formation with every player knowing their role. 
"I know I don't have Nate's fucking tactical super brain!" Roy says. Nate's two great coaching master classes in Season 2 were "park the bus" and a preposterously stupid use of the false nine that almost cost Richmond promotion.   
Speaking of Nate...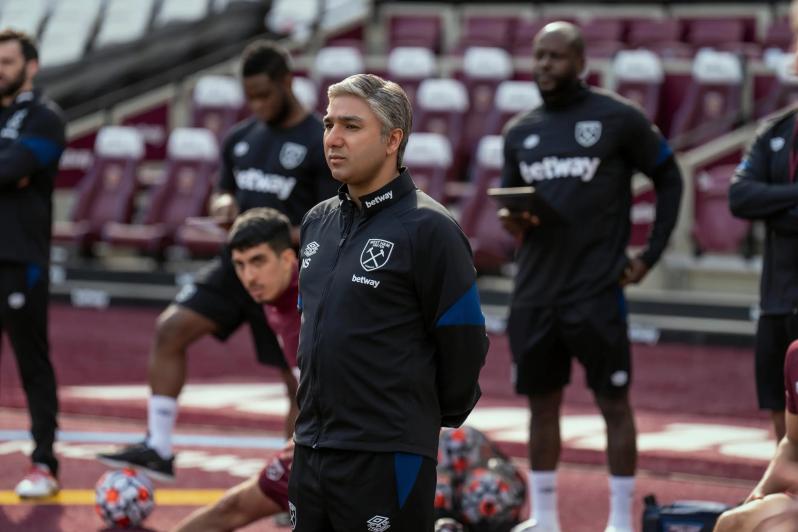 The new West Ham manager shows up to training showing remnants of his old humility — he's got an N'Golo Kanté mobile. We go into Nate's office, where he's clearly been doing some tactics but mostly just scrolling through Twitter for mentions. 
What actually makes Ted great at management is that he surrounds himself with talented people, but we immediately see how Nate is totally isolated in his role. Before getting called into a talk with Rupert, we're introduced to his assistant at West Ham: Disco. 
He takes over training and says, "OK just because my name is Disco doesn't mean we're here to party, yeah?" The best line of the episode for sure. 
We also get a taste of Nate's coaching style. He makes one player stand on a line and says, "This is the dum-dum line. This is where dum-dums go." He's going to have a shorter tenure than Bob Bradley at Swansea. 
Meanwhile Richmond's training session isn't going much better, despite Jamie Tartt using two headbands on his Jack Grealish-esque look. 
— elena | ted lasso spoilers (@sudeiking) March 15, 2023
With everyone depressed over the preseason predictions, Ted takes the whole squad on a field trip with new bus driver Kenneth behind the wheel (before he goes to take a frog-based hallucinogenic). 
Ted takes the team into the London sewer, where they learn all about the history of this interconnected "feces factory." The moral of the sewer is don't wallow in shit, devise a method of fixing it (and avoiding cholera). Also, Tartt and Dani Rojas will save the team. 
We go to a West Ham press conference. Nate immediately gets shook, so he has to go under the table and do his spitting thing but now he's ready to hurl some abuse at a reporter. Nate then repeats his zinger about Richmond finishing 20th only because there's no 21st. Then he remarks on a Twitter photo of Richmond going down the manhole: "It makes sense they'd have to train in the sewer because their coach is so shitty."
Leslie (with transfer targets!) is watching the press conference alongside Rebecca, and Richmond's owner is getting increasingly nervous while the team returns and learns about Nate's further betrayal in the dressing room. Tartt: "It's just poopy, let it flow."
Rebecca then begs Ted to issue some sort of response in his own press conference and to fight back. 
Ted, of course, only goes on to praise everything about Nate before unleashing a torrent of self-deprecation. There's another poop joke in there. But it turns out to be a wonderful piece of reverse psychology as Nate watches the video and freaks out. He doesn't spit on anything but Twitter has turned against him and his father is upset with him for swearing.   
But the boy wonder forgets about it all when Rupert buys him a flash new car after accidentally towing the Kanté mobile. 
We finish the episode with some spicy relationship news: Roy and Keeley have broken up while Ted's ex-wife is seeing a new man. 
Roy and Keeley break the news to Phoebe, but Roy's niece is really mature about it all. She later tells Roy that he's being stupid. The excuse they give is that they're busy, but Keeley didn't seem enraptured with her new role as CEO of a PR firm while Roy has admitted to not watching film and not caring about tactics. 
For Ted, Henry unwittingly spills the news of someone seeing his mom. But with his ex-wife moving on and Henry saying that Ted has to try to win the Premier League to justify their being apart, it feels like we'll get a fully focused Coach Lasso when the games presumably start next week. Time for Isaac McAdoo to lay down the law.
Want more Ted Lasso? Here are five burning questions we have for Season 3.
Bookmark/Search this post with