No matter the sport, pregame press conferences are pretty much all the same. How has training gone this week, what about that result last week, who do you have to watch for on the other team, will that injured player be healthy, blah blah blah ad nauseum. Most of the time, it's banal shit, only put up with by journalists who require it for their jobs and superfans who devour every bit of information about their team. 
Nonetheless, I have a weird love for pregame pressers. Back when Arsène Wenger coached Arsenal, I was obsessed with watching or listening every Friday to hear what he had to say about the upcoming match. More often than not, topics strayed away from the game at hand; the Frenchman had a penchant for elucidating a fascinating view on football and life. 
Wenger was an exception, and so was the first Jesse Marsch first press conference at Leeds United on Thursday, with topics ranging from his tactics to his upbringing. And yes, Ted Lasso was mentioned. Of course fucking Ted Lasso was mentioned. 
Marsch became the third American to lead a Premier League club when struggling Leeds hired him to replace beloved icon Marcelo Bielsa on Monday. A three-year deal shows Leeds is serious about giving Marsch a long-term chance, but the imperious threat of relegation means nothing is a given. 
As an American in the most English of leagues, Marsch faces an uphill battle to win over players, supporters and journalists. As my colleague Connor Fleming wrote, Marsch is on the hot seat before coaching a single match; the same old tropes used to criticize past American coaches have been levied at him for no apparent reason other than he's American, as if all Americans view soccer the same way. 
View this post on Instagram
In Marsch's first interview as Leeds head coach, done by the club itself, he was asked how aware he was of what was going on in the Premier League, as if an American wouldn't even know how read the league table. His response was smooth as a veteran politician's.
"If the team plays with passion and the team plays with heart and they give everything they have, … then I think normally the fans will tolerate the coach even if they don't like his accent or he's not as popular as the previous coach," Marsch said. 
During the first Jesse Marsch press conference at Leeds on Thursday, I half expected Trent Crimm (the Independent) to stand up and ask if this is a fucking joke. While it didn't quite devolve into such absurdity, Ted Lasso was a topic of discussion. 
First Jesse Marsch Press Conference At Leeds United
"Do you feel there's a stigma around American coaches in English football?" Marsch was asked by a reporter. "You joked this week that people might not like your accent and Bob Bradley had a hard time."
The American coach wasted no time bringing Ted Lasso into the conversation.
"I think there's probably a stigma," Marsch responded before giving a hearty laugh. "I'm not sure Ted Lasso helped. I haven't watched the show, but I get it. People hate hearing the word soccer. I've used the word football since I was a professional football player. I think more and more in the States we're adapting to what the game is in England and our connection with what this league is and what the culture of this sport is in this country. 
"I can understand they don't think we have the experiences that can be created here in Europe. Frankly, they're right. It was the reason I came to Europe, it was the reason I learned German, it was the reason I tried to adapt to new cultures — this is the fifth country I've coached football in. It takes me out of my comfort zone every time. It challenges me to grow and develop and learn new things; I'm very open to that. I'm very cognizant of the fact I'm not perfect, and I don't want to be. All I can say is the only way I know how to do things is to go all in, to give everything I have, to believe in who I am, to believe in the people I work with and to try to maximize what we are every day. I find if you can do that effectively that you can be incredibly surprised with the human spirit and what you can achieve.
"That sounds like Ted Lasso, I think, from what I've heard."
Yes, Jesse, you do sound a bit like Ted Lasso. Grow a luxurious mustache and you might look like him, too. 
Importantly for Marsch when it comes to the British media, he appears to have eliminated the word "soccer" from his vocabulary. Personally, I'm not a fan of him being a "football" apologist — soccer or football, it's all the same, and anyone who says otherwise is a pedantic twat. But the fact Marsch used the phrase "away game" when talking about Saturday's game at Leicester City's King Power Stadium instead of "road game" already has him miles ahead of Bob Bradley.
Sadly, talking like Ted Lasso could play against Marsch in the notoriously callous British media. As beloved as the show is around the world, the truth is most fans of Premier League clubs would be just as irate as Rupert Mannion to learn an American was placed in charge of their club. 
Jesse Marsch can't escape Ted Lasso's shadow, for better or worse. Never mind Jason Sudeikis' eponymous character is completely fictional, as an American manager leading a Premier League club, the soccer world (ourselves included) is incapable of ignoring the comparisons. This isn't even the first time he's been compared to Lasso; last year RB Leipzig defender Will Orbán's description of Marsch sounded a lot like the AFC Richmond manager. 
"I haven't had a coach so far who has been this close to us," Orbán said. "He says to us: 'Boys, your problems are my problems.' That gives you a tremendous feeling; for a coach like that, you walk through fire."
You can take the man out of America, but you can't take the American sports psychology out of the American. 
This isn't necessarily a bad thing; young athletes often respond well to such positivity and commitment. As much as soccer pundits love to discuss tactics, to steal a phrase from American football, sometimes it's more about the Jimmys and Joes than the Xs and Os. 
View this post on Instagram
What shocked me most from the press conference was the fact Marsch hasn't even watched Ted Lasso. This was a real record-scratch moment for me as someone who's watched the first season five times (though the second only twice). Maybe it's that $5 Apple TV+ subscription that's holding Marsch back; if so, let me know Jesse and I'll spot you a fiver. 
While Marsch might not be watching Ted Lasso, Ted Lasso is watching him. Or at least, the creators of the show are. 
Brendan Hunt, who plays Coach Beard and is a co-creator/writer on the series, has been vocal about American soccer on his Twitter feed since the show blew up. (Sudeikis isn't on social media.) He was quick to note the Ted Lasso reference from Marsch's press conference and let him know the folks from the series are rooting for the American to succeed. (Unfortunately, the tweet Beard was quoting has been suspended, but it was video of his response cited above.) 
Jesse Marsch may not watch #TedLasso, but we at Ted Lasso are definitely watching him. And rootin' for 'im. https://t.co/xyLnGKRYDq
After watching that first Marsch pregame presser, a lot of people are buying in to what the Wisconsin native is selling. 
Marsch talked a lot about things you hear all the time in American sports like trusting the process, instilling confidence and having full commitment. He spoke of his parents and how they fought for everything they had, a trait he picked up from them. He reassured supporters this isn't an Americanization of the club despite the NFL's 49ers owning a minority stake in the club. He didn't go so far as to reversing a curse to prevent more injuries like coach Lasso, but he did reference a plan to decrease future injuries. He even mentioned set pieces, which you know will make Alexi Lalas happy.
Reading the YouTube comments for the video, Marsch appears to have won over a lot of Leeds fans.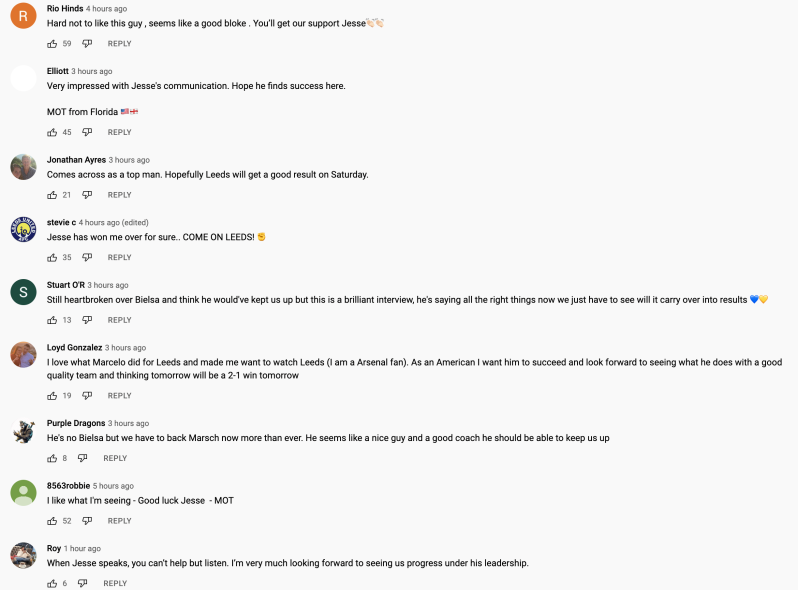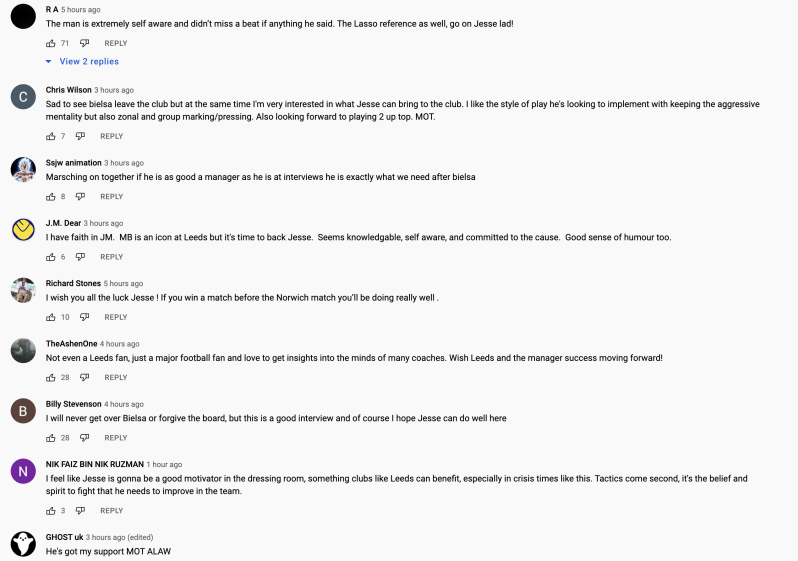 Winning over supporters — especially ones who loved the old coach so much — is no easy task. So far Marsch is off to a good start, but it'll take more than some nice words toward a mostly genial room of journalists to keep Leeds in the Premier League. 
At least he didn't spit all over the journalists like in Ted Lasso's first pregame presser. 
Bookmark/Search this post with