The USMNT World Cup kits should be revealed in the near future, but as of now Nike is making us Americans anxiously wait to see the final result. Several "leaks" have been put out on the internet, with each one only adding to dread.
Latest USMNT World Cup Kit Leak
Nike's World Cup number and letter font not yet finalized, but this is the final design for the USMNT away kit in Qatar. pic.twitter.com/0od8PR7Bd3
Again, Nike's name and number font for the US kits has not been finalized, but this is the final design for the USMNT home kit in Qatar. pic.twitter.com/vf8WjoxmQl
For starters, let's check the source of these supposed leaked kits. "The Footy All Knower" is quite a convincing name, however the account was only created a couple of months ago and doesn't hold much credibility.
I will say that this design does look similar to what Footy Headlines predicts the jerseys will look like. In May, Footy Headlines gave American fans a heart attack by putting out a mockup design of what the USMNT World kits could look like. Like most readers do, they didn't read the important text of "mock-up — design not final" and just assumed these were the finished product. 
seeing some final drafts of the #USMNT 2022 home and away World Cup jerseys… pic.twitter.com/toXAupsj1b
These bland kits would be a disgrace to feature in Qatar. Then again, you can pick your poison. Do you want the bland white and blue kits or the gaudy American flag tops?
How would you feel? #USMNT pic.twitter.com/k5QwD6bKZx
Please for the love of all things holy, don't let the U.S. be the fashion laughingstock at the World Cup.
Perhaps Nike had to change the design of the kits after Tim Weah commented on an Instagram post that the official kits weren't good.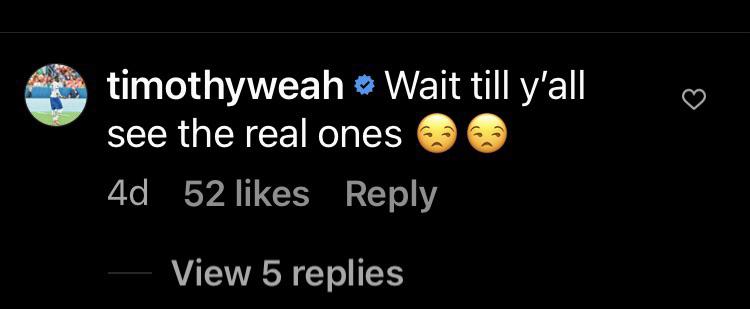 Listen Nike, if you're out of ideas for making a kit then just go with what our graphic designer Alie Mueller created.
View this post on Instagram
If her designs end up better than the official USMNT World Cup kits, then she gets a job at Nike. Deal? Deal.