Edinson Cavani's Video Diary Ends With Flying Boot To The Face
Spend a day with Cavani during PSG's preseason tour of China. It's worth the time.
If you've ever wondered what life is like for footballers on the road, this PSG video featuring a day with superstar striker Edinson Cavani in China is about as honest as it gets. You see the glamor — the five-star hotels, the adoring fans, the massage therapy — but you also see the rigorous monotony of it all. 
Cavani is reduced to FaceTime to see his four-month-old daughter, he moves from one lonely hotel room to another, always eating an omelette with one egg, cheese, tomatoes, ham and onions, drinking maté and following a highly individualized training routine. 
It's perhaps most revealing when the 32-year-old discusses his life after football. Despite the riches he's accumulated throughout his career, Cavani doesn't think he'll travel very much after retirement. 
"I love my country and I love being home," he says. "But football is a chance to visit different places, and I want to enjoy because I don't know if I'll do as much traveling as now."
The training is intense with Cavani, Kylian Mbappé and Marco Verratti all trying to push themselves to another level before the season begins. And on the day when all the cameras are turned on Cavani to film this special segment for PSG's YouTube channel, he takes a flying boot to the head from Julian Draxler.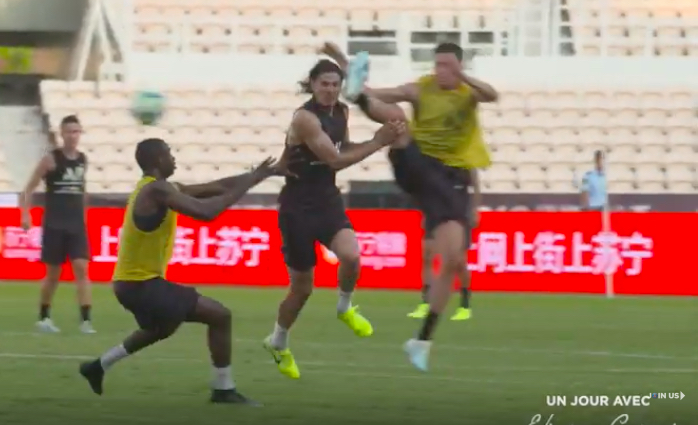 Also, there's Thomas Tuchel becoming the millionth manager to make the VAR joke during training. Yuk, yuk, yuk.
There's something about the guy that I really don't trust.