Which Premier League Clubs Get The Highest Return On Their Investment?
We looked at each team's wage per point ratio to determine which club gets the most bang for their buck.
Get the best email in soccer.
With the 2016-17 Premier League season in the books, we wanted to take a deep dive into how each team performed based on its payroll.
The final table reflected the spending gap between the top six teams and the rest. In fact, the eight teams that spent over $100 million in wages this season all finished in the top 8 of the table.
Although that might seem entirely too predictable, there was significant performance variance among those teams. Also, ninth place Bournemouth had one of the lowest payrolls, suggesting that they found some good players at a discount.
Here's the table that breaks down team wages and the wage per point ratio for each club (not including promoted sides Burnley, Hull City and Middlesbrough):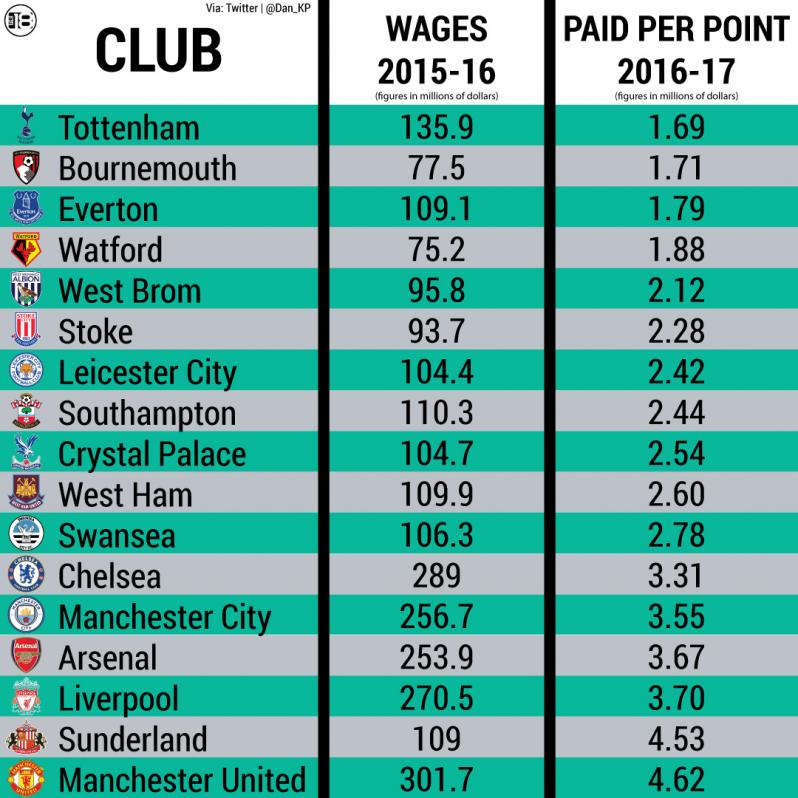 Perhaps the most disappointing season belongs to Sunderland. They spent as much as seventh-placed Everton, yet they were relegated and spent over $4.5 million per point.
Only Manchester United spent more for each point, but it appears that extra points at the top of the table come at a premium. While there might be promising returns in increasing a club's spending by $20 to $40 million, namely reducing the risk of relegation, it's nothing short of an arms race for the best talent.
Mid-table teams like Stoke and West Ham would have to nearly triple their payrolls to match the spending of Manchester City, Chelsea, Liverpool and Manchester United. It might make more sense for them to spend as they do currently, which provides a fairly safe buffer from relegation, but alternatively gives them little chance at cracking the Champions League spots. 
Tottenham is an exception, although they still have the sixth highest payroll. Mauricio Pochettino has benefited from grooming talent within and targeting a select few transfers that have panned out. If mid-table teams want to compete for a title like Spurs, it's likely that they'll need to invest heavily in their academies rather than try to outgun the big spenders in the transfer market.
Of course, Leicester City was the little engine that could last season, very much a result of the prudent signing of N'Golo Kante and the maturation of both Riyad Mahrez and Jamie Vardy. If a team finds a few diamonds in the rough, they could make a similar run, at least at the top four (Leicester's point total last year would've only been good for third place this season). 
Overall, teams would be smart to spend their way out of the relegation zone, but contending for a title is probably too costly for most. However, the examples of Tottenham and Leicester prove that predicting performance is not as easy as looking at a club's finances. Sadly for Sunderland fans, they'll know this all too well.
Bookmark/Search this post with