Leverkusen Coach Heiko Herrlich Hit With $14K Fine For Awful Sideline Dive
The anguish on Heiko Herrlich's face is now certainly real following a heavy fine from the DFB.
Get the best email in soccer.
Bayer Leverkusen manager Heiko Herrlich has been hit with a fine approaching $14,500 after taking a comedy tumble during his side's DFB-Pokal match against Borussia Monchengladbach on December 20. Bayer would win the game 1-0, but Herrlich apologized after the match for his hysterics following Denis Zakaria's near-impingement on his personal space.
"That was stupid," said Herrlich. "I'd like to apologize."
It certainly deserved an apology. 
Heiko Herrlich, l'entraîneur de Leverkusen nous a offert une simulation pour le moins grotesque hier en coupe d'Allemagne ! pic.twitter.com/AXE5thfHQ1
Hallo Heiko Herrlich, es gibt nur ein Original, dem solche Aktionen zustehen: Norbert Meier! #BMGB04 #dfbpokal pic.twitter.com/oMadmcndd4
But the German Football Association has now handed out its punishment for the deed, and it's a hefty fine of €12,000 ($14,330). 
Leverkusen coach Heiko Herrlich has been fined €12,000 for this touchline dive against Borussia Mönchengladbach in December. pic.twitter.com/ssnOVpygsb
That look of horrified anguish on Herrlich's face in the video? That's 100 percent legitimate right now.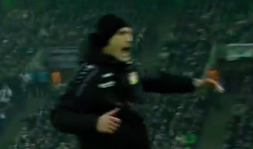 Bookmark/Search this post with