2019 MLS Kits: The Good, Bad And Ugly From The Latest Releases
The 24th season of MLS is fast-approaching, and the latest jerseys from adidas are now dropping daily.
I once wrote that MLS has the worst jerseys of any league in the world, and I'm not really willing to walk back on that statement. Having adidas as the lone outfitter results in a cookie-cutter method that necessitates "a harmonized approach and a design that works through all of the kits" at the expense of a more unique and individually tailored style (although, tbf, we still get things like the Houston Dynamo 2018 away shirt).
Regardless, clubs like Atlanta United and LAFC have done a great job of elevating their brand status with a distinctive look on the pitch — clubs like the Chicago Fire and Colorado Rapids . . . not so much. 
This is all to say that jerseys are an important aspect of supporter culture, so let's take a look at what we're trending towards in 2019 with some confirmed and leaked kits. 
2019 MLS Jerseys (All Confirmed And Leaked Images So Far) 
Portland Timbers
Clear the runway for landing...

— Portland Timbers (@TimbersFC) January 29, 2019
New threads for the Rose City: https://t.co/PI0gepLzPn pic.twitter.com/Vy2CigNnNV
Sporting Kansas City
It's time. Introducing the 2019 #SportingKC Primary Kit.#ForGloryForCity // @Ivy_Investments

— Sporting KC (@SportingKC) February 4, 2019
Columbus Crew
All gold everything for @ColumbusCrewSC: https://t.co/AYegGQTJtB pic.twitter.com/hJ6VURTx2n
New York Red Bulls
Here's a first look at @BWPNINENINE in the New York Red Bulls 2019 Glitch Kit

— New York Red Bulls (@NewYorkRedBulls) January 31, 2019
Philadelphia Union
Away kit @PhilaUnion #MLS 2019 by @adidasfootball #DOOP 10th Season pic.twitter.com/RcdmXBcg0N
Chicago Fire
Taking the new kits for a quick walk on @TheMagMile #cf97 x @MotorolaUS pic.twitter.com/GkRgznRszk
Vancouver Whitecaps
New kit pic.twitter.com/GkhRClsGwA
— Vancouver Whitecaps (@WhitecapsFC) January 26, 2019
New England Revolution
New year.
New jersey.
New England. pic.twitter.com/FuNGAKoVIi
Seattle Sounders
NEWS | Sounders FC announces groundbreaking multi-year jersey rights partnership with Seattle-based online retailer @zulily.

— Seattle Sounders FC (@SoundersFC) January 17, 2019
Minnesota United (fully unveiled Feb. 10)
have a nice weekend, everyone pic.twitter.com/4G5c955DYR
San Jose Earthquakes (fully unveiled Feb. 13) 
New year, new threads.

— San Jose Earthquakes (@SJEarthquakes) January 31, 2019
Atlanta United (certain leak)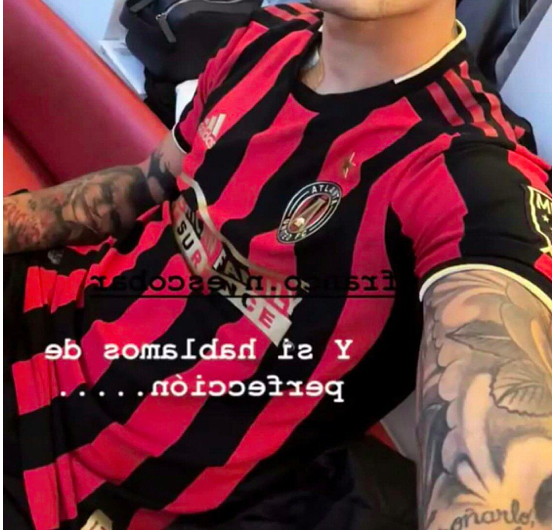 LAFC (possible leak)
2019 LAFC Secondary Jersey has leaked... thoughts? pic.twitter.com/fgzbSvjvE0
Montreal Impact (possible leak)
Nouveau premier maillot #IMFC ? @NiltonJorge @nikmartineauTVA @JeremyFilosa @_marcuzzi @Footy_Headlines pic.twitter.com/N7GowJWcFN
Orlando City (possible leak)
NEW HOME KIT LEAK | @Footy_Headlines have released this leak of the @OrlandoCitySC home jersey this evening!

Usually spot on with their leaks, what are you making of the jersey?

Let us know by commenting below! #OCSC #VamosOrlando #MLS pic.twitter.com/yjACAsb7st

— Orlando City UK (@Orlando_CityUK) January 25, 2019
NYCFC (possible leak)
Alleged 2019 NYCFC home kit leaks https://t.co/K6Es0yYHdl pic.twitter.com/TPnTzN2yRZ
Toronto FC (possible leak)
Is this the new 2019 Toronto FC home kit? #TFCLive #TFC pic.twitter.com/x8QWrXf5nR