Geoff Cameron Deserves To Be Heard
The USMNT defender trashed Bruce Arena in a recent interview discussing the U.S. World Cup failure.
Geoff Cameron doesn't hold back. Whether on or off the pitch, he's not afraid to get stuck in. He's not shy about supporting unpopular Trump policies or calling out a former USMNT coach. In a recent interview, he straight up said the U.S. would have qualified for the World Cup had Jurgen Klinsmann remained as coach, but the Geoff Cameron Bruce Arena comments stood out the most.
Cameron spoke with Marc Stein for an in-depth feature for the New York Times recently and the USMNT's failure to qualify for the World Cup was a prominent subject. He spoke of just about everything except his relationship status (which probably means he's single and grumpy about it). 
Cameron, 32, has long been one of the best Americans playing abroad. A regular starter (when healthy) for Stoke City, he's one of just three U.S. players to appear in a Premier League match this season. He's athletic, tall, strong and gifted on the ball as a defender or midfielder. His versatility allows him to play just about any position on the pitch. With the U.S., he's primarily deployed as a center back.
When the U.S. needed a draw away to Trinidad and Tobago in October, Arena left Cameron on the bench. The pace of the Soca Warriors torched Omar Gonzalez and Matt Besler; Gonzalez scored an own goal. 
"Bruce Arena made decisions that cost us going to the World Cup," Cameron told Stein. "And I don't have a problem saying it, because we had the right group of guys."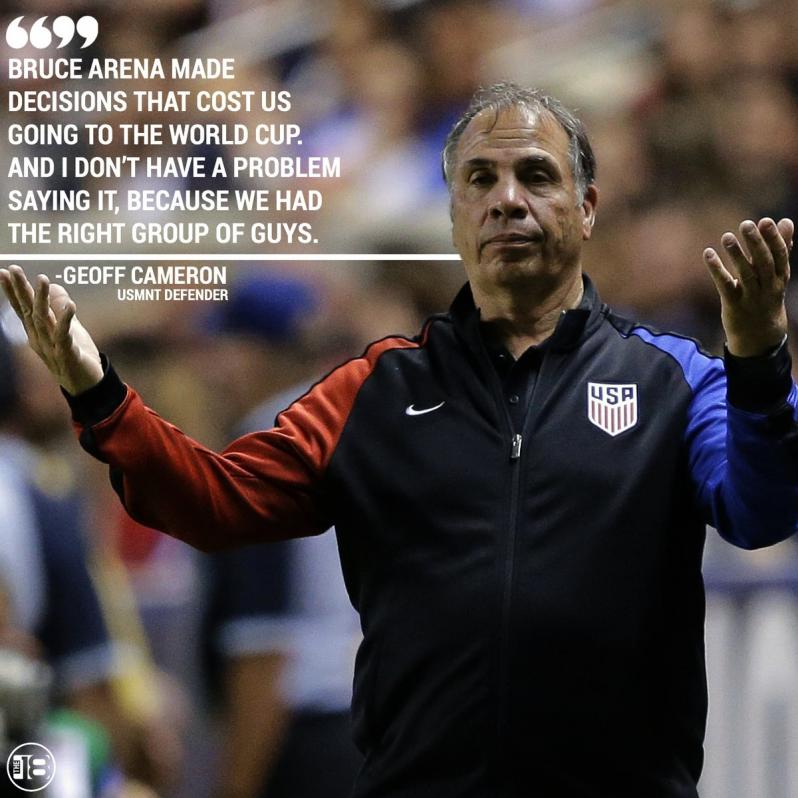 Gonzalez and Besler were the right choice days earlier when the U.S. throttled Panama 4-0 at home, a match in which attacking was the focus over defensive solidity. But in a match where a scoreless draw would have been fine, it was odd to see Cameron left out, especially given his pace and experience against the speedy attackers he sees all the time in the Premier League. 
Cameron took issue with how Arena said it was Cameron's fitness that kept him out of the Trinidad match, despite the fact he had just played 90 minutes with Stoke.
"I would have more respect for a coach to say: 'You know what, Geoff? I don't fancy you today. I think this is a better lineup.' I'd say: 'OK, no problem, you told me the truth.' But if you tell me I'm not fit enough, that's like an insult to me as a professional."
It's hard to argue with Cameron on this point. While he made the mistake that led to Costa Rica's second goal in a 2-0 loss in September, he should still be considered miles ahead of Gonzalez and Besler on the depth chart. 
Arena, who always has an excuse locked and loaded, said Cameron was dogged by injuries and inconsistency at club and national team level in 2017. He claimed the USMNT had a 1-3-1 record when Cameron started matches dating back to the start of the Hex, though proper research revealed the record to be 2-1-2. 
"When the stars and the moon and the sun are aligned properly, Geoff is a very good player," Arena said. "They don't all align properly all the time."
Strong words from a man who couldn't guide a nation of 300 million to the World Cup. At a coaches convention in Philadelphia recently, Arena alluded to Cameron being a bad egg who threw the chemistry of the team out of whack. (More on that later.) 
To be fair, starting Cameron against Trinidad might not have solved the USMNT's problems that day. The team lost because Arena was naïve, Tim Howard forgot how to save a shot and Gonzalez was particularly appalling. The offense quickly ran out of ideas and not even the Wonder Boy Christian Pulisic could do enough to earn a draw. 
That said, Cameron said he firmly believes things would have turned out differently had Klinsmann not been fired after a slow start to the Hex qualifying round. 
"Our names will go down as the team that didn't qualify," Cameron said. "It's on us as players, but at the end of the day, I'm convinced if they would have kept Jurgen and not done such a drastic change, I think we would have qualified. I know we would have qualified. Instead we've gone backward."
Cameron has earned the right to criticize. He's appeared in nearly 200 matches with Stoke City and there's no reason to believe he can't reach Clint Dempsey's record of 218 Premier League appearances for an American outfield player. That doesn't mean everyone has to agree with him, but that's just fine.
Disagreement doesn't have to mean discord. Arena's comments that Cameron was a bad egg seemed to continue a pattern of behavior to cast him out due to his political beliefs. Early in 2017 when U.S. President Donald Trump tried to issue a travel ban on Muslim-majority countries, Cameron spoke up and said he agreed that a pause on immigration and improved vetting procedures would be good for the country. 
"I don't think Bruce likes my bluntness," Cameron said. 
People need to stop drinking @HillaryClinton Kool-aid #crook
"I still get tweets that say, 'Geoff's a good footballer but I hate his politics,'" Cameron said. "It hurt me at the beginning, because I was like, 'This is what people think of me?' But then I got to the point where I was like: 'You know what? Screw it.' These people don't really know me."
Last I checked, Cameron is an American fully entitled to his opinion (and vote). Just because his right-leaning views don't match with the more liberal views of, say, Arena or team captain Michael Bradley, doesn't mean he's bad for team chemistry. It's not like Cameron is supporting the president when he brags about assaulting women or when he downplays Nazis; Cameron doesn't even wear obnoxious MAGA hats. There's no reason Cameron and his teammates can't get along even if they don't agree on every political matter; that's a big part of being American (something many tend to forget in the age of social media echo chambers). 
We can't say what exactly happened in the team locker room that caused Arena to claim Cameron was bad for chemistry, but if a team of grown men couldn't put aside political squabbles for the sake of qualifying for the World Cup, then the state of U.S. political discourse is in even worse shape than I thought. 
The Geoff Cameron Bruce Arena comments shouldn't be surprising. Americans — players and fans alike — are understandably pissed about not being in the World Cup so Cameron venting to a prying reporter is to be expected. His experience as one of the few Americans playing in one of the world's top leagues should afford him the right to criticize. While it's arguable whether Klinsmann would have guided the U.S. to the World Cup, we can say definitively that he didn't fail to get the U.S. to the World Cup.
You don't have to agree with Geoff Cameron on all things, but when it comes to U.S. soccer, he deserves to be listened to.