FIFA 18 Actually Nailed Its World Cup Predictions
Sorry FiveThirtyEight, there's a new prediction king in town.
In the age of sophisticated computer models and immense libraries of statistical data, a variety of big banking firms and statistical aggregation companies tried their hand at predicting the winner for this year's World Cup. Goldman Sachs, UBS, ING, Macquarie Bank and FiveThirtyEight, all known for their statistical prowess, crunched some numbers and spat out a champion.
Yet none of them managed to predict France. The people who did? EA Sports' FIFA 18 (and of course our very own Leon, often deemed a color-changing Albert Einstein, so no real surprise there).
After implementing its World Cup update, FIFA 18 ran a simulation of the tournament, playing out all 64 games of the competition in Russia. At the end of it all, the EA Sports FIFA 18 prediction saw France on top of the world, earning its second World Cup trophy. This was all nearly six weeks before the real life Les Bleus would cement their place in history.
This wasn't the first time that FIFA had it right either; it correctly predicted Spain to win in 2010 and Germany in 2014.
While its prediction of a France-Germany final didn't come true, the video game simulation predicted a healthy amount of other accurate results throughout the tournament. It foresaw Argentina falling to second in Group D behind Croatia, thus creating the matchup against France in the Round of 16. FIFA 18 got that one right.
Then, predictions of a 2-0 French victory over Uruguay and a 2-0 Belgian win over Brazil were just one goal away from perfection.
The people running FIFA's simulation weren't the only ones taking advantage of the World Cup update to the game. In all, 406 million games were played by people across the globe, seeing a total of one billion goals and 1.7 billion saves, along with 195 million yellow cards and 25 million red cards.
Brazil proved to be the most popular team as 170 million of the games played included Brazil. 315,637 of those were in the final against France, the most frequently occurring finals matchup. Falling in line with EA's simulation, the team that users led to victory the most on the update were the French, who were crowned world champions 248,000 times.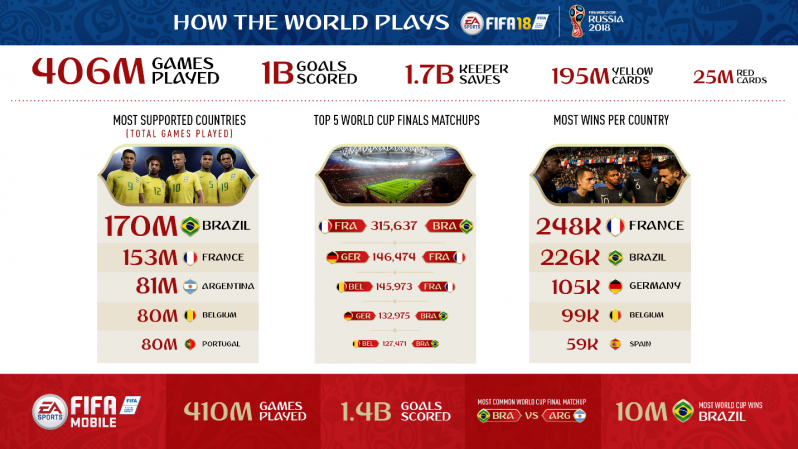 While each ensuing soccer tournament will see more and more statistical analysis and supercomputer predictions, we're here to tell you that there are only two believable sources for where to go when you want to know which teams will be successful going forward: EA Sports' FIFA and Leon, AKA the Isaac Newton of the chameleon world.