10 Most Disturbing Things Soccer Fans Search For On Google
Soccer fans Google some messed up shit.
We all get creeped out from time to time when we go to Google to search for something and after three letters it already knows you're wondering "how fast is mbappe" or "why is my poop green." 
But sometimes we get creeped out by what others are searching for, and as it turns out, soccer fans are searching for some fucked up shit. 
We looked into what some of the most popular Google searches are surrounding soccer players and were a bit disturbed by what we found. While we understand everyone gets curious sometimes, even morbidly so, we're a bit worried about you all.
Here are the 10 most disturbing soccer searches we stumbled across. All of these were found by typing just the initial phrase and on rare occasions a single letter.
10 Most Disturbing Common Soccer Searches
videos of footballers … who died on the pitch
This is the search that started us down this rabbit hole. You sick fucks. 
when footballers … attack players/get attacked
Humans love violence.
why footballers … died of a heart attack/died on the pitch
At least these folks weren't looking for the video.
footballers who have … killed themselves
JFC people.
how soccer players … died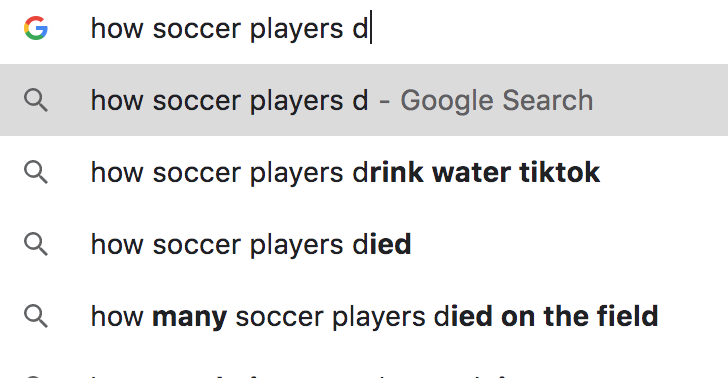 Probably from seeing what people search about them.
how footballers … pee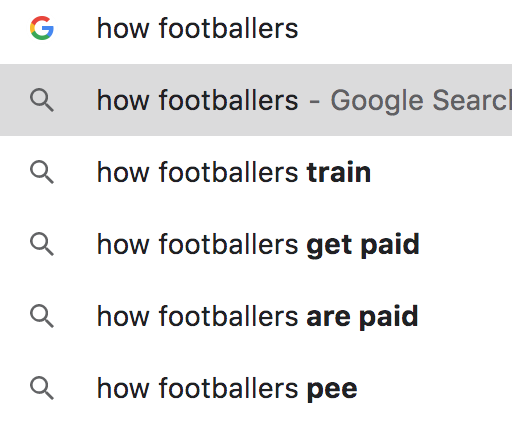 Why? Never mind. I don't want to know.
what footballers … daughter died
A sad search.
footballers vs … zombies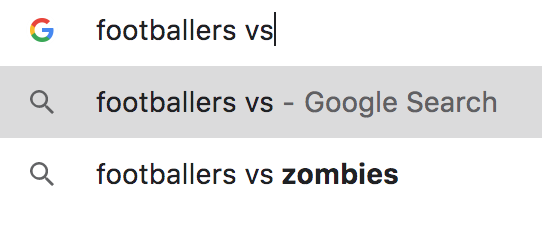 Could be a fun movie, but also a bit sadistic. 
footballers who don't … like football
Just because you don't like your job doesn't mean soccer players don't like their job. 
will footballers … wives return
We presume they're talking about the show, but our head is in a dark place after these other searches.
And now for something completely different: Here's what y'all are searching for what players look like.