Stadium Tour: Your Guide To Estadio Santiago Bernabéu
Are you planning a trip or just wondering what it's like seeing Real Madrid play in the Bernabeu? We've got you covered with our guide to the stadium.
Get the best email in soccer.
There are many incredible venues around the world to watch the beautiful game.
Here at The18, we love to hear stories and experiences from the world's best stadiums. So, with the help of our loyal readers, we are creating guides for stadiums around the world. It's in any true soccer fan's dreams to experience the stadiums where some of the sport's biggest moments have unfolded: Camp Nou, Old Trafford, Celtic Park and the like. Fortunately for us, we caught up with Casey Rhine who recently went to a match in the Estadio Santiago Bernabéu to watch Real Madrid take on Valencia. Fortunately for you, we asked her everything you need to know about seeing a match and taking a tour of the Bernabéu.
What are the logistics of organizing a tour at the Bernabéu? How much does it cost?
Thankfully, I didn't do any of the organizing. My Study Abroad program was in charge of that. I'm sure that it is a pretty seamless process though. I know that it costs 19 Euros to tour, but they do offer group discounts.
Where do you go during the tour?
The tour starts with an awesome panoramic of the entire stadium. It was easy to imagine what the stadium looks like completely full. I got chills just thinking about it! Then they feed you into a huge hall that outlines the entire history of the team. This is where they keep all of the trophies. (We have 10 from Champions League titles alone. Hair flip.) It's a well-deserved bragging room where we were able to see all of the success of the best football team in the world. There were touch screens where we could watch video clips of some of the best goals, interviews, and other moments out of Real Madrid's history.
This room, and a lot of the other halls that I will mention later, were all very ambient as far as lighting goes: really dark, super intense. Loved it. We entered next into a room in which one full wall was a screen that showed all of the members of the team juggling along with their stats. You'll see an example in the photos. I really don't like Sergio Ramos. At all. (Hint: That's the biggest lie I've ever told). This was followed by a pass through the presidential suite as well as the VIP section of Bernabeu. Then, we headed to the dressing rooms. I didn't freak out at all passing by the showers. The players each have their lockers with some sweet action shots. We were essentially members of Los Blancos, as we walked out of the tunnel and onto the field. I couldn't help but think how many great players have stood were I was standing. Especially Ramos. We hung out on the field for at least a half hour. We were drawn to the magic atmosphere that the field holds, even when it is empty. We then went to the pressroom, where we could sit behind the desk. We took photos with the Champions League trophy, as well as an extremely well Photoshop-ed photo with your favorite player. Guess who I chose? Then, the tour ended in the official store. I didn't buy anything because I didn't have the funds to purchase an official jersey. I figured I could buy one from a sketchy street vendor later. Before I went to the game against Valencia, I managed to find a Ramos jersey for only 20 Euro in Plaza del Sol. Talk about a steal. The originals were at least 85. The whole thing took about an hour and a half, unguided.
Lets be honest, how many Cristiano Ronaldo cut outs and posters do you see on the tour?
Actually, there were not as many as you would think! He definitely had a presence on the tour, but not exponentially larger than any other player. They featured Bale, James, Ramos, Marcelo, Pepe, and Chicharito a lot as well. In reality though, how can you not feature him? This guy is the best at what he does. He deserves to be featured. People think he's this super cocky futbolista, but after doing some research I've actually found that he's a really great guy. He donated a lot of money to the earthquake efforts in Nepal, and I don't know if you've seen the viral video about his practice shot gone awry. He nailed a kid in the face, and as his team left the field, he ran over to the kid to make sure he was ok and gave him his jersey.
What is the setting like around the Bernabeu?
During the game, it was unlike anything I have ever seen. When Iker Casillas came out onto the field, for example, the entire crowd was chanting "IIIIIKERRRR IIIKERRR IIIIIIKERRRR." It was awesome. And, no surprise, when Ronaldo came on the field, the crowd lost their minds. The fans were so extremely involved in the game, nothing like sporting events in the United States where everyone is wasted and standing up and barely paying attention. Here, the crowd was sitting down, and ACTUALLY PAYING ATTENTION. There was talk about what was happening on field, and when the ref made a bad call (or just about any call against Real or for Valencia) everyone booed and whistled in disapproval. But boy, the crowd makes a huge turnaround when Real Madrid scores. Everyone jumps out of their seats, screams, hugs each other, gives high fives around. It's awesome. Watching a Real Madrid game is like an emotional roller coaster.
Was the grass in the Bernabeu as pristine as Cristiano's hair?
After seeing both up close and personal, I can confidently say that they are equally well groomed.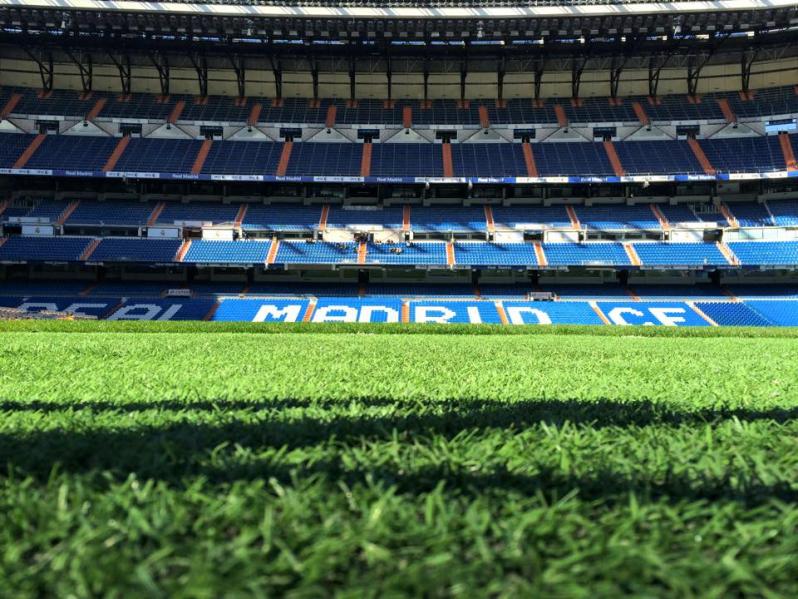 What beer do they sell at the Bernabeu?
You can't buy alcoholic beverages at Estadio Santiago Bernabeu. I know, sounds stupid. But it's actually a REALLY smart choice. They mandated this to to keep the often violent rivalries at bay. Alcoholic beverages are not sold or allowed in the arena, but the devotion and passion of fans is honestly all the intoxication one needs to really get into it. They sell non-alcoholic beers, like Mahou Sin.
What is the locker room like?
Exactly as you would imagine a professional sports team's locker room to look. It was white, clean, and filled with girls giggling about the fact that their favorite player had been naked "RIGHT. WHERE. I'M. STANDING." *fans self* Anyways...as I said before each player's locker has on it their jersey number and a rather action-y shot of themselves during game time.
What was your first thought when you entered the stadium?
For the first time, when I took the tour, I imagined it full of people and thought wow, this must be amazing during game time. And I was sure as hell right. I walked in, and the stadium was completely full, and everyone was screaming, chanting, and waiting for the game to begin. If I'm going to be completely frank, my first thought was "holy s**t."
Whats the coolest thing you saw?
Seeing two goals scored! Everyone was freaking out, especially because one of the goals was scored by Pepe, a defender. I seriously could feel the ground moving beneath me because everyone was jumping around.
Would you say it's a must to take the tour if you're visiting Madrid?
If you are a futbol fan, abso-freaking-lutely.
Do you consider yourself a fan of Los Blancos now?
Always have been, but more so now!
Is the atmosphere at the Bernabeu the best you've ever been in?
Let me tell you, I've been to a lot of concerts, games, matches, etc. in my day. The atmosphere in Bernabeu is unlike anything I've ever experienced in my entire life.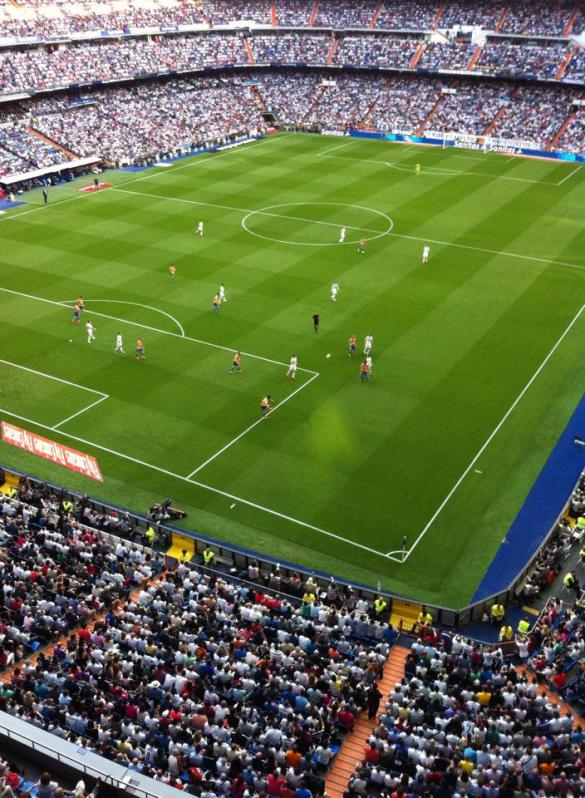 How was the food?
It's a tradition that everyone brings a bocadillo (sandwich) to eat during halftime. If you forgot yours, you can buy them there with jamón, lomo, tuna, or a mix of veggies. I got a hot dog, it was delicious!
Did you get involved with any chants? What were they?
They sing this chant before every match starts. It's awesome. The entire stadium sings the song, and I'm not going to lie, I got chills. Full body.
Been to a prestigous stadium around the world? Email badwan@the18.com. We will send questions and publish your experiences!
Bookmark/Search this post with