Mexico Is America's Team
Gold Cup attendance numbers dating back to 2005 show that Mexico draws more fans than the U.S., despite all of their games taking place in the States.
Get the best email in soccer.
The United States has hosted the last seven CONCACAF Gold Cups, which you'd believe would provide the USMNT with a significant home field advantage. However, attendance figures make it clear that Mexico has the most loyal support in the States.
In the six Gold Cups dating back to 2005 (not including this year's tournament), Mexico has always drawn more fans to its matches than the USMNT. Although Mexico doesn't play as often in the U.S. as the USMNT, the differences are significant and suggest that El Tri has more dedicated fans in their rival's home turf. 
The following table shows the average attendance for each U.S. and Mexico game at the Gold Cup. Games between the U.S. and Mexico and their seminfinals held at the same venue were excluded from this sample as those games have the same published attendance.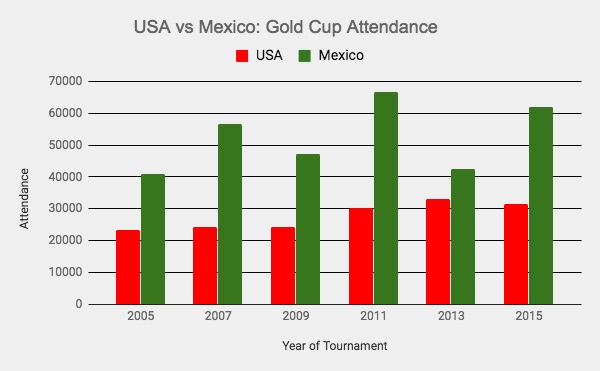 Through the first two games of this year's tournament, the USMNT has drawn just over 70,000 total fans. Mexico, meanwhile, had 53,133 attend its first game against El Salvador in San Diego. They play again tonight in Denver and should easily surpass the USMNT's two-game total.
Bookmark/Search this post with