Oh! What a coincidence! The same day Ted Lasso Season 3 premieres on Apple TV Plus, the new jersey of AFC Richmond is hitting the stores. 
Talk about timing. 
And while I cannot tell you much about the show's first episode — because I haven't seen it and I have to wait for my wife to avoid a TV-cheating scene (editor's note: we have an episode review here) — I can talk to you about the shirt and how you can get it.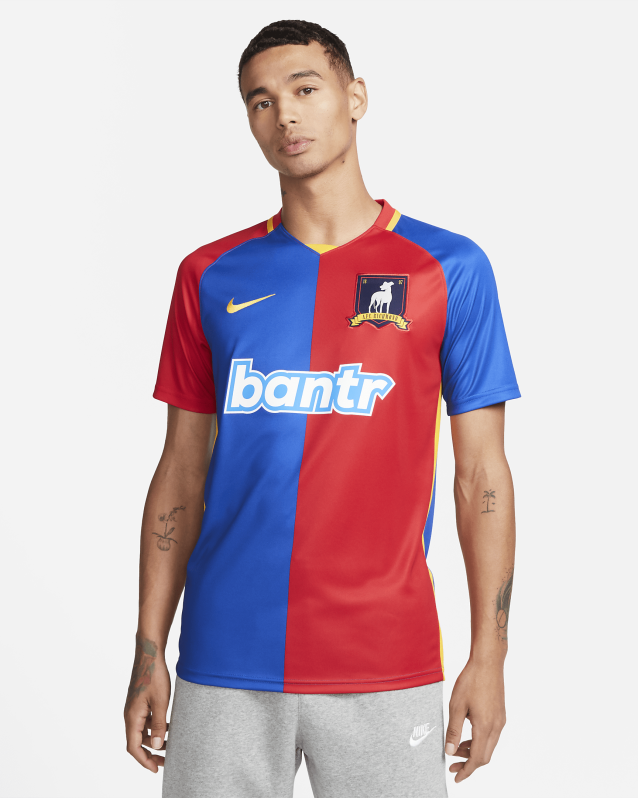 Where can I buy Ted Lasso's AFC Richmond jersey?
To be honest, there's not a lot of science behind the process of getting the club's new jersey: go to nike.com, splash the $105 they're asking for and wait at home until it arrives via mail.
Yeah! It's a little more expensive than usual, considering the $95 the brand charges for the "stadium" version of its 2022 World Cup jersey collection.
When football's life, there's no such thing as losing. ⚽
️
Get the kit on https://t.co/yYv8xSbp4x (available in select regions) and watch @AFCRichmond in the premiere of @TedLasso Season 3 on @AppleTVPlus tonight. #NikeFC pic.twitter.com/7Y0li6fRSP
Aesthetically, the jersey is far from mind-blowing: it's just a generic template with the signature half-and-half red and blue of AFC Richmond, splashed with some details in yellow. Or gold, as brands worldwide have started to refer to yellow for marketing reasons. 
I mean, yellow is not as snob and glamorous as gold, right?
By the way, Nike hasn't only released the jersey to support Ted Lasso's premiere. Alongside, you can also purchase tees ($35), sweatshirts ($65) and a couple of scarves ($50) with cries like "Believe in" and "Football is life" to show your support for AFC Richmond.