For better or worse, FIFA 23 will be the final installment in the franchise featuring the "FIFA" name. With that in mind, EA Sports is attempting to go big with its final FIFA game. Here's everything you need to know about FIFA 23, including release date, new features, Career Mode and if FIFA 23 will have a World Cup mode. 
First, a quick reminder that EA Sports' beloved football franchise will no longer go by the name of FIFA after this next release. The soccer's global governing body wanted EA Sports to more than double the annual licensing fee of $150 million to continue using the FIFA brand on its titles, according to reports. Despite EA making $1.2 billion last year from FIFA Ultimate Team alone, the developer walked away from the deal, deciding to name its future games EA Sports FC. (Read the full story on what happened to FIFA here.)
EA Sports retains the rights to the FIFA title for one more cycle, which conveniently includes two World Cups. Here is everything we know about FIFA 23. 
FIFA 23 Release Date
The FIFA 23 release date is, yet again, a bit muddled. The game officially launches on "FIFA Friday" — Sept. 30, 2022. However, if you order the Ultimate Edition for $30 more you can play three days early.
FIFA 23 Release Date: Sept. 30, 2022
FIFA 23 Ultimate Edition Release Date: Sept. 27, 2022
The Ultimate Edition also includes a few bonuses, mostly in Ultimate Team mode. If you don't play FUT, there's no reason to pay extra for it. However, Ultimate Edition does provide "Dual Entitlement," which gives you access to the game on both current- and last-generation consoles. (For example: PS4 and PS5 or Xbox One and Series X|S.) That said, many of the upgrades listed below are only for current-gen consoles, so if you're still playing on an Xbox One, you might just want to save yourself some money and stick with FIFA 22.
FIFA 23 Trailer
EA Sports released the reveal trailer on July 20, a couple days after announcing Kylian Mbappé would share the Ultimate Edition cover with Sam Kerr, marking the first time a woman graces a global FIFA cover.
FIFA 23 Gameplay Changes
On July 27, EA Sports released a gameplay deep dive exploring all the new changes to FIFA 23 gameplay. 
For me, the biggest change is the addition of women's club teams, finally. Currently, EA has only promised FA Women's Super League (England) and D1 Fémenine (France), but we really hope the NWSL is added in, because it's the best league in the world top to bottom.
EA Sports is touting its HyperMotion2, an upgraded version of last year's HyperMotion still only available on current-gen consoles (PS5, Series X|S, Stadia, PC). Along with this comes a slew of minor tweaks passed off as major upgrades like better impact physics, player awareness, set pieces and power shots. Personally, my favorite change is the ability to have a player lay down behind a wall to stop low shots on set pieces, with honorable mention to deflections and blocked shots producing visible impacts on the defenders' legs. 
Additionally, cross-play has been expanded, including the FUT transfer market now spanning all consoles (though Switch and PC remain separate). All one-on-one modes will feature cross-play for same-generation consoles. For more details on what is and is not allowed cross-play, click here.
FIFA 23 Career Mode Changes
EA Sports detailed new FIFA 23 Career Mode changes on Aug. 1. 
The biggest change here is the addition of more real-life managers. EA promised more than 350 authentic managers, though only about 30 or so will have their actual facial scans. 
Other new additions I'm looking forward to include streamlined menus (those can become way too cumbersome during a long season), playable highlights (instead of playing the full match, just play key moments) and transfer analysis, which will explain why you fucked up that transfer for Weston McKennie so you can do better next time trying to buy Tyler Adams. Another nice change is the ability to have up to 17 Career Mode saves at one time, though honestly I'm not sure why this isn't unlimited. 
On the Player Career side of things, there's a gimmicky new personality feature that allows you to gain bonuses to certain stats depending upon where your character lands on a three-part scale of Maverick, Virtuoso and Heartbeat. 
Define your character on and off the pitch, for the first time ever in #FIFA23

Maverick
Heartbeat
⬆ Virtuoso

Watch the full Career Mode Deep Dive now ➡️ https://t.co/FCahBI5lj1 pic.twitter.com/U2uHQOQ1Mc

— EA SPORTS FIFA (@EASPORTSFIFA) August 2, 2022
Vitally, you can finally tell your player to go read a book.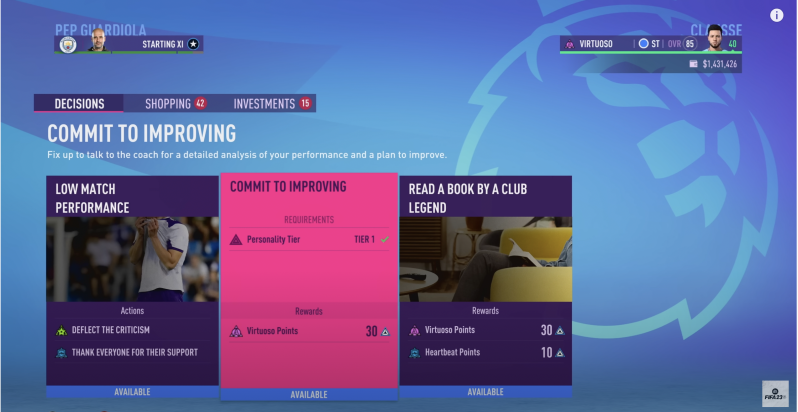 Bizarrely, the Career Mode video mentions how AI will now make offensive substitutions when trailing and defensive subs when ahead — how was this not in the game 20 years ago?
FIFA 23 Match-Day Experience Changes
On Aug. 5, EA Sports unveiled its match-day experience changes, mostly focusing on tiny graphical updates like Kylian Mbappé's knee slides leaving marks in the grass that remain for the entire match.
Arguably the worst addition is the ability to make Christian Pulisic correctly hit the griddy. But at least you can now celebrate goals with the most obnoxious sounds ever.
FIFA 23 Ultimate Team Changes
On Aug. 11, FIFA did a deep dive on the changes to FIFA Ultimate Team. EA Sports has completely revamped FUT chemistry. This year, chemistry links are going away; instead, you build chemistry throughout the entire team, meaning a goalkeeper and striker build chemistry together just as much as a center back and fullback. 
The revamped FUT 23 chemistry also does away with unintuitive Team Chemistry and allows for more hybrid squads. Additionally, players will no longer be given negative attributes for low chemistry scores, always performing at least as well as their stats. 
One more change to keep an eye on is FUT Moments, bite-sized challenges that are great for those who don't always have time to play a full match.
Will FIFA 23 Have A World Cup Mode
Arguably the biggest question in the game for many FIFA fans is will FIFA 23 have a World Cup mode. The answer is yes, FIFA 23 will have a World Cup mode for both the 2022 men's World Cup in Qatar and the 2023 Women's World Cup in New Zealand and Australia. EA Sports has also hinted at the World Cup spilling into FUT, but has not given any details as of yet.
Currently, details on these modes are light. EA Sports has only said these World Cup modes will be made available as post-launch updates free of charge. This is a bit unfortunate for those wanting to dive straight into the World Cup modes, especially considering the men's World Cup kicks off less than two months after FIFA 23 is released, but at least it's a free update. 
Other FIFA 23 Changes
FIFA 23 will also include the usual modes like Pro Clubs, VOLTA Football (does anyone actually play that?) and the cash cow that is FIFA Ultimate Team. 
There will be update rosters, jerseys and player ratings, additional stadiums and enhanced visuals. Juventus is back after a three-year hiatus. 
Check back here as we approach FIFA 23 launch date for the latest on the latest installment in the FIFA franchise.