The USMNT is one step away from qualifying for the World Cup after taking care of business on Wednesday night against an already eliminated Honduras side in "the coldest game ever."
I was on hand in Saint Paul to watch Kellyn Acosta again demonstrate why those who mocked his nomination for 2021 U.S. Soccer Male Player of the Year deserve to be ostracized from our country and to see Christian Pulisic exorcise that lecherous demon known as Thomas Tuchel.
These are my musings as sensation returns to my extremities.   
#1. Minnesotans are tough! Just kidding, we were in the Brew Hall.
I went to a meteorologist meeting the other night and a soccer match broke out. That's certainly the way it felt on Twitter until I excused myself from that godforsaken app at about noon. 
Whether it was journalists guffawing at the Mississippi River being frozen (it's winter, man, winter) or living out their Edward Murrow fantasies by broadcasting live (gasp!) in a climate that's just an everyday reality for millions and millions of people, Wednesday was another example (and we've had many in Minnesota over the last couple years) of just how insufferable the national media is when it descends on your locality for a 24-hour news cycle of entirely predictable, entirely un-nuanced bullshit.
The reality is we're Minnesotans — we're built different!
Minnesotans are built different. pic.twitter.com/wF7mCj3SOo
No, I really don't believe that either.  
If you turned on the pregame and wondered where the hell the sell-out crowd was, we were packed wall-to-wall inside the heated Brew Hall with its 60-foot bar and 96 taps.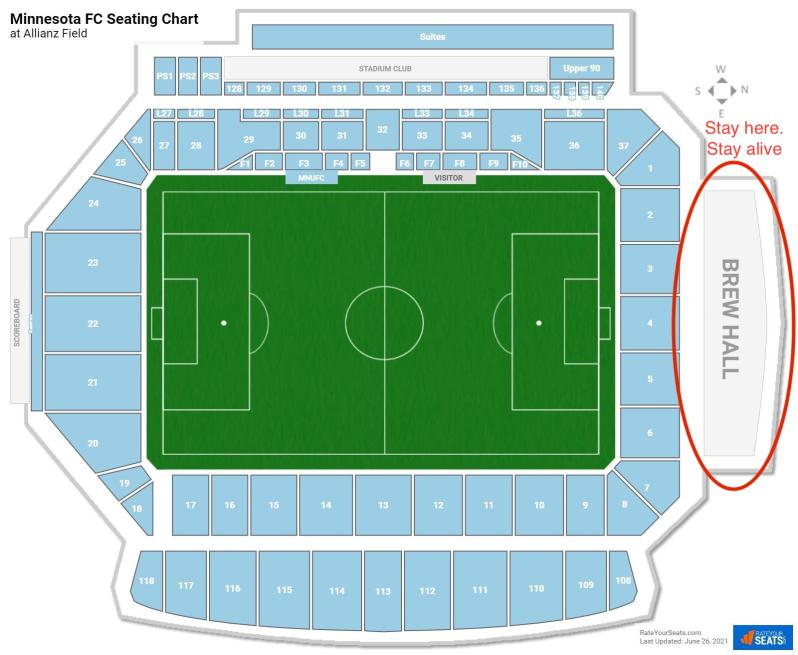 We came out as kick-off approached, but we're not stupid. 
#2. If snoods weren't cool before, they definitely are now.
I'll be honest, I don't think I've come away from a game with less of a performance/tactical understanding than Wednesday night. Frankly, I think I was just focused on staying alive, but two players really stood out for me. One was Walker Zimmerman, mainly because one of my fellow attendees was waxing lyrical about his flow and ponytail, then became dead set on purchasing his jersey for the World Cup and was immediately rewarded with that goal in the 37th minute. It was entirely prophetic.
Zimmerman had a snood on, but Snood of the Match goes to Weston McKennie. The Texan fancies himself as a sort of Harry Potter, but he looked like a Dementor out there with the way he was covering ground and destroying Honduras in possession with his face covered.
Not that it always was — McKennie was constantly lowering his snood and barking out orders to his teammates (he is a PRESENCE out there), and the way he lowered it for his celly? The touch of a true artist.
EXPELLIARMUS pic.twitter.com/KRsODPD4nE
#3. It really must've sucked for the players. 
I was mainly feeling toasty in the upper deck near the midfield line. Three layers on top, three layers below, multiple foot warmers stuffed in each snow boot, multiple hand warmers in each glove, a blanket wrapped around my shoulders and a whiskey coke in the cup holder.  
The players were practically naked in comparison.
Two Honduran players treated for hypothermia and had to come out of the game.
I have to get on my hypothermia soap box for a second here because it's something that's covered to great lengths in elementary and middle schools around Minnesota.
There are three very different and distinguished stages of hypothermia: mild, moderate and severe. Given the temperature and levels of exposure inside Allianz Field, there's zero chance — unless Honduras was practicing a kind of water immersion technique on the sideline — that it was anything more than mild hypothermia.
This obviously isn't a good thing, but it's also not much different from saying three Honduras players were substituted for feeling really, really cold — a shift in core body temperature kind of cold.  
Those players were right to come off and get under a blanket, but it's not limbs turning black and necessitating the work of a hacksaw. It's really exactly what the USSF wanted — make the opposition feel a sort of frigidity they'd never experienced before. 
It worked. We're on the cusp of the World Cup.