Is 2023 the year we finally, finally feel the winds of competition start to blow across the landscape of soccer video games? For far too long FIFA has stood virtually unopposed as the sole proprietor of allowing us to live out our dreams of hitting the post five times in three seconds. 
But we know that's going to change, by definition, in the fall when the world's governing body gets shed from the title of the world's most popular football simulator, giving birth to EA SPORTS FC 24. What does that mean for what's effectively the 30th installment of Electronic Arts' beloved game? Probably not much — FIFA 23 is the best-selling in franchise history, so the studio will likely take a "if it ain't broke, don't fix it" approach to everything.
Who can push EA SPORTS FC forward? There are three potential competitors in 2023. The first is the hypothetical game that FIFA President Gianni Infantino has sworn to painstakingly create (not by himself, although I'd like that) to rival those usurpers at Electronic Arts who refused to hand over $1 billion for a license fee.
"FIFA 25, 26, 27 and so on — will always be the best e-game," Infantino droned at the recent 73rd FIFA Congress. 
We have zero faith in FIFA at this point, but they do have limitless funds to throw at a video game developer that does know what it's doing. But let's be honest, FIFA's probably going to use the kafala migrant labor system to create FIFA 24.
The second competitor is Konami's eFootball (formerly Pro Evolution Soccer). It feels like a lifetime ago that PES was actually superior to FIFA, and the gap now is wider than ever — eFootball 2023 was widely decried as one of the worst games of 2022, regardless of genre.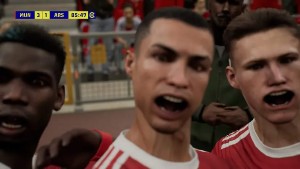 In that sense, we can derive hope from that fact that eFootball 2024 couldn't get any worse.
The third competitor is UFL, which has been in the works for years now at Strikerz Inc. There's very little expectation here since UFL doesn't boast Konami's experience or the deep pockets of FIFA, but UFL might actually be Electronic Arts' greatest challenger.
On Sunday, the developers released gameplay footage from their January 2023 Alpha Build. 
"It may feel raw, but we're making progress and will deliver an update once we finish implementing the new animation system," they said.
There's a lot of promise here. 
A lot of people are rooting for UFL to provide an enjoyable alternative experience after growing tired of the FIFA franchise and its indistinct changes from year to year.
UFL looks like it's on the right track, and it's also refreshing to see the positive and supportive community that's developed around the game. 
The current release date is scheduled for Q3 of 2023. 
We value your feedback on any issues you have noticed. Thanks for your patience while we keep working to make the game the best it can be!
Good luck, we're all counting on you.