I'm An Emotional Wreck After Watching The Quintessential 'Ted Lasso' Episode
This week's 'Ted Lasso' had all the laughs and all the feels.
Funniest. Funeral. Ever. With a side of some heart-wrenching moments. It was the quintessential "Ted Lasso" episode, and it had me laughing through tears for nearly 45 minutes.
Warning: The following contains major spoilers for "Ted Lasso" through Season 2, Episode 10. 
I was frustrated by the amount of hate I saw spewed toward last week's episode, which followed Coach Beard in a unique, dark and quirky chapter. One fan felt so entitled to her usual storylines she wrote on our Facebook page that the writers should be ashamed, as if the writers are there to serve her and not create art that speaks to themselves.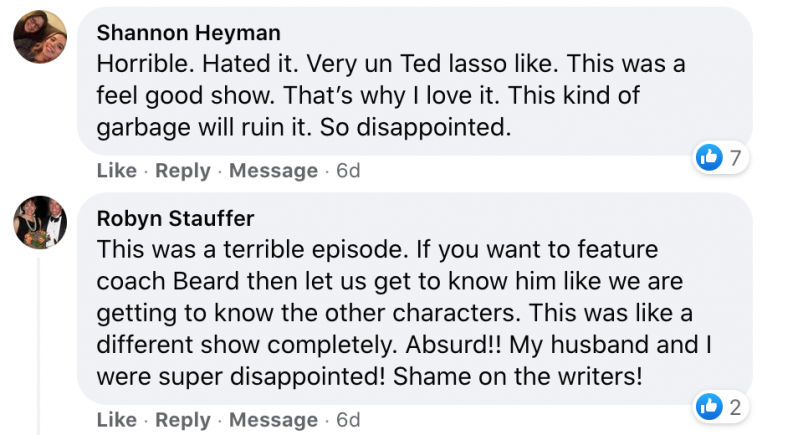 The vitriol felt unjustified and, honestly, very un-Lasso-like. The episode was different, but as I wrote last week it was entirely in keeping with the theme of Season 2. 
This week's episode wasn't really much lighter, but I have a feeling fans will be back to gushing about it because of all the laughs, which were interspersed with some real moments of intense emotion, all while stressing the importance of mental health.
Hmmm. Rupert. Interesting times in Ep 210 A difficult,exquisitely written episode penned by our heartbreaking @janembecker & directed by our beloved MJ Delaney. #tedlasso @AppleTVPlus pic.twitter.com/9brgfqI6Fz
Titled "No Weddings and a Funeral," Episode 210 focused solely on the events surrounding the funeral of Rebecca's father. I'm not sure there's a single soccer ball in the entire 46-minute long episode. 
Funerals are, generally, supposed to be somber events. Keeley laments this fact to Roy, setting the stage for what has to be the funniest fucking funeral of all time. Despite the backdrop being the death of the father of AFC Richmond's owner, the laughs are near non-stop, whether it was Rebecca snickering with Sassy and Keeley or Dani Rojas' feet stuffed into dress shoes. I loved when Nora called Rebecca a "boss-ass bitch" when she found out she was sleeping with her crush, Sam. 
The fact one of the predominant threads throughout the episode was Rick Astley's "Never Gonna Give You Up" — the 1987 pop song given new life through Rickrolling during the internet age — only added to the comedy and gave deeper meaning to the more emotional moments of the episode. 
And there were emotional scenes, some of the most intense in the series to date. As moving as Lasso's divorce and Richmond's relegation were in Season 1, Season 2's themes are far more powerful and impactful. 
In Episode 210, Ted has yet another panic attack as he's getting ready for the funeral. He calls Sharon to come over to help him out, wherein for the first time he discusses his father's suicide in detail. 
At the same time as Ted is talking to Sharon during a parallel scene, Rebecca is telling her mother why she hated her father for cheating, and in turn hated her mother for allowing him to do that to her. 
can you believe that they secured themselves next year's emmys just five days after winning for the first time???? iconic behaviour #TedLasso pic.twitter.com/w0xu7rW0Qb
While most of the emotional moments in "Ted Lasso" are spiked with little bits of humor to lessen the blow, this, like in Episode 208, was pure, unadulterated drama. Personally, I prefer comedies to dramas, but this show finds the perfect balance between the two. No wonder it won so many Emmy Awards earlier this week.
The scene where Ted and Rebecca talked about hating their now-dead fathers hit me especially hard. Maybe it's because just an hour earlier I was talking to a friend about coping with her dad's death; maybe it's because my own dad celebrates another birthday this week, another reminder of our mortality. 
As devastating as these moments were in the series' overall narrative, they also served as beautiful reminders to anyone with a father (or any loved one). Don't hold in your feelings — whether it's love or hate, tell the people close to you (or at least a licensed therapist), otherwise you might regret it and never get that opportunity. Love you, Dad.
Rebecca felt it when she said she hated her mom, which began a process of reconciliation between the two. Ted felt it when he said he hated his dad for what he did to him and his mom, which allowed him to also recognize what he loved about his father and the good things he brought to his life. Since the start of the series, Ted has always said he never quits anything. Perhaps now he can be truer to himself, even if it requires giving up on something. 
"And I knew right then and there that I was never gonna let anybody get by me without understanding they might be hurting inside," Ted said. "Life is hard. It's real hard."
These powerful simultaneous moments also served to ratchet up the humor — there's nothing quite like a surprise burst of laughter after a throat-clenching scene — but weren't the only instances of parallel storytelling. Later at the reception, Jamie tells Keeley he loves her; seconds later Roy apologizes for being rude earlier and tells Keeley he loves her. 
Both used identical wording: "I love you Keeley, I'm sorry."
There have been hints at Jamie and Keeley potentially rekindling their romance in recent episodes. I think most fans love the Roy-Keeley connection and would hate to see that happen, but anyone who has ever watched TV knows there's always gotta be some drama to spice up any romance, otherwise viewers will grow bored, even of a love as wonderful to watch as theirs. 
if anything bad happens to them, i am going to do something that would end up on the national news #tedlasso pic.twitter.com/7dGOEjXrBN
Another moment fans might be worried about is when Rupert — after arriving uninvited to the funeral with Bex and their new child — was leaving the church and whispered something inaudible to Nathan. What is that devious Rupert up to right after saying he'd give Bex's shares of the club to Rebecca? It can't be good, but it could provide some extra excitement in the final two episodes of the season.
It's tough to realize that we only have two more episodes until the season ends. Season 2 has been full of supreme highs — the RomCom and Christmas episodes were pure joys — and extreme emotional lows — "Man City" and this week's episode especially, which in my mind was quintessential "Ted Lasso," jammed full of feel-good jokes but with a few heart-stopping emotional moments. 
Where will the season (and series) go from here? It's anyone's guess. The FA Cup run is over, but there's still potential promotion to fight for, which could set up a fun Season 3 back in the Premier League. Given the parallels between Rebecca and Ted's stories, maybe there's a romance budding, though I'd personally much prefer to see her end up with Sam, who is such a delight, and they'd have to get around Sassy enjoying Ted's apparently massive penis. But the fact Ted is always there for Rebecca — continuing "Never Gonna Give You Up" during her eulogy and telling her a good story about her dad — suggests there could be something more to this relationship, even if it's just platonic love. 
I can't wait to see what happens next. And, as always, I'll be sure to have tissues on hand, even if some fans fail to recognize the emotional side of the series. 
#TEDLASSO : life is hard, so hard pic.twitter.com/AsUnjKsIXm