At the tender age of 19, any sort of highlight involving Paris Saint-Germain and France forward Kylian Mbappe is technically still from his "youth." This is especially true since he started playing for Monaco's senior side at the age of 16 and dominated the 2016 UEFA European Under-19 Championship at the age of 17. Now he's a World Cup winner at 19. 
Perhaps AS Bondy president Atmane Airouche — where Mbappe began his youth career — said it best with regards to his development: "He had technique and vision in the game that most children just don't have. He's got eyes in the back of his head. He knows how to anticipate where the ball will go. Here, he never played for his proper age group, he always played with older children because there was no point leaving him with kids his own age."
You could argue Mbappe still hasn't found his level. He played up at Bondy, he played up at Monaco and then he pushed himself a level higher last season at PSG. From there, it was the World Cup, where no one could get close to him. Perhaps his next move should be to hop aboard a Falcon 9 launch vehicle and see if there's any competition in the cosmos. 
Anyway, here are 10 moments from Mbappe's youth career (AS Bondy, Monaco and France U17) that exude Mbappe-ness: his sprinting style, his penchant for the chop and his love of the roll over. 
Kylian Mbappe Youth Highlights
#1. Mbappe with an instinctive flick and CR7 celly. 
#2. Mbappe twisting, turning and leaving two kids in his wake.
#3. Mbappe peddling his bicycle down the pitch and then scoring.
#4. Oh my goodness.
#5. His first touch is a roll over, his second brings it past the keeper and his third is a goal.
#6. Fakes inside, goes outside, goal.
#7. "I'm coming to help, bro! ... AHH!"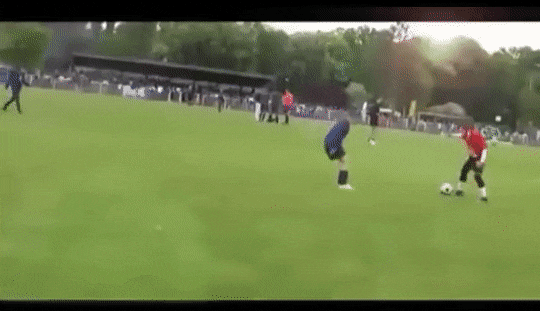 #8. Just going and going and going.
#9. Pretty pretty pretty good. 
#10. There's no measure for who has the best chop move in the game, but it's Mbappe.