The Trump-Rapinoe feud isn't ending anytime soon. And we're here for it, especially that Megan Rapino Twitter account (see below) that is absolute fire and in no way related to Megan Rapinoe the USWNT co-captain. 
Before the tournament, Rapinoe said she was a "walking protest" and her national anthem demonstrations were an "F you" to U.S. President Donald Trump. The president responded by saying on Monday it's inappropriate for her to protest during the national anthem. 
On Tuesday, Eight By Eight magazine released video of Rapinoe saying she would not go to the White House, even if invited by Donald Trump, a sentiment she's stated before but rarely in this manner.
"I'm not going to the fucking White House." - @mPinoe pic.twitter.com/sz1ADG2WdT
Not one to stand down to a challenge on Twitter, Trump lashed back with a barrage of tweets at Megan Rapinoe (kind of, more on that later), making the oddest invitation to the White House we've ever seen.
Women's soccer player, @mPinoe, just stated that she is "not going to the F...ing White House if we win." Other than the NBA, which now refuses to call owners, owners (please explain that I just got Criminal Justice Reform passed, Black unemployment is at the lowest level...
....in our Country's history, and the poverty index is also best number EVER), leagues and teams love coming to the White House. I am a big fan of the American Team, and Women's Soccer, but Megan should WIN first before she TALKS! Finish the job! We haven't yet....
....invited Megan or the team, but I am now inviting the TEAM, win or lose. Megan should never disrespect our Country, the White House, or our Flag, especially since so much has been done for her & the team. Be proud of the Flag that you wear. The USA is doing GREAT!
There's a lot to get into here with just these three tweets, not the least of which is that Trump originally tweeted to the wrong account, which we'll get to, I promise. I'm not sure why Trump feels the need to mention criminal justice reform and black unemployment when he mentions the NBA. He seems to trot out the black unemployment narrative whenever anything tangentially related to African-Americans comes up. I have no idea what he was trying to say about NBA owners.
Trump saying that leagues and teams love coming to the White House isn't a lie, but it's a bit of a stretch during his administration. While everyone loves to go to the White House, many players and even whole teams have refused to visit while Trump is president. 
I believe Trump when he's a big fan of the USWNT. He played soccer in high school and he's become a massive patriot since stepping into politics, hugging flags wherever he goes. There's no better American flag than the USWNT — well, maybe the U.S. military. 
It's great that Trump is inviting the USWNT to the White House whether or not the team wins the Women's World Cup, because that game against France on Friday is looking pretty scary and a repeat title is no given.
The question, of course, whether the USWNT players would actually accept such an invite.
We know Rapinoe would not; she even said as much in a Sports Illustrated interview before the tournament began. Alex Morgan, the team's most visible and popular player, has also spoken out against Trump policies, and she is not alone. 
Then there's the fact that Vice President Mike Pence would probably be there, if Mother allows it. Pence has spent much of his career fighting to deny LGBTQ rights. Like Rapinoe, many USWNT players and head coach Jill Ellis are gay; teammates Ali Krieger and Ashlyn Harris are engaged to each other. Would they want to be associated with a man who has supported conversion therapy?
In regards to the "President's" tweet today, I know women who you cannot control or grope anger you, but I stand by @mPinoe & will sit this one out as well. I don't support this administration nor their fight against LGBTQ+ citizens, immigrants & our most vulnerable.
Honestly, I can't imagine the USWNT visiting the White House while Trump is still in office. It would be nothing the players have against the White House, just the person residing in the Oval Office.
Now to the real fun part of this whole story.
Perhaps tweeting too quickly, Trump didn't get the right Rapinoe on his first Twitter attempt, tweeting at @meganrapino instead of @mPinoe. Trump deleted the original.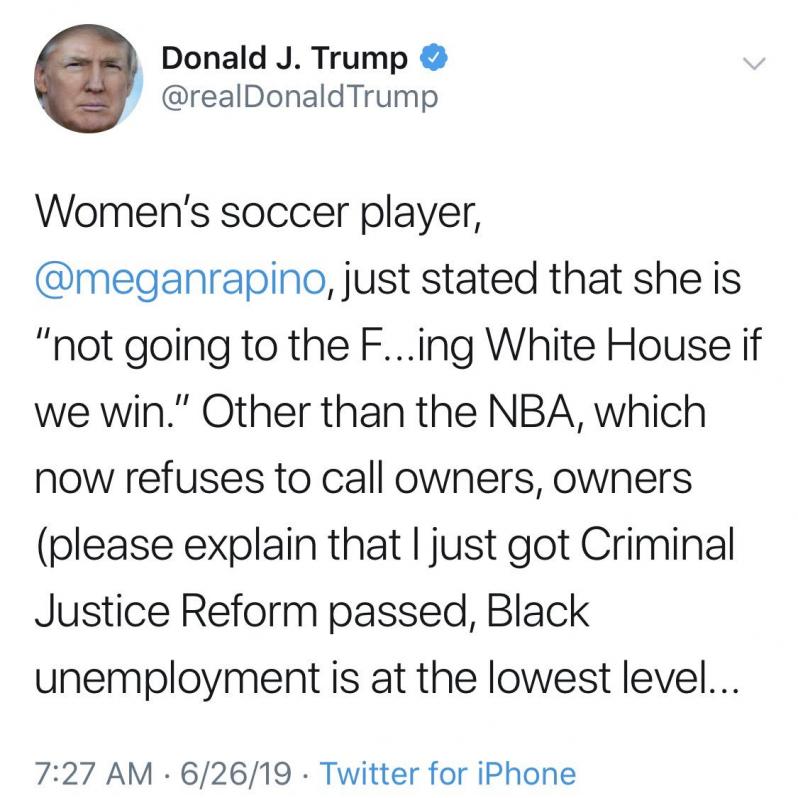 As far as we can tell, this Megan had all of two tweets before Wednesday. But she's internet famous now.
The responses from @meganrapino responding to the President tweeting at her were probably the best part of this whole thing, essentially Rickrolling Trump with the K-pop band Red Velvet.
and she was right to say so cry me a river plus this isn't even her acc https://t.co/gKQnfclIUZ
@realDonaldTrump maybe if you stanned red velvet you'd tweet the right acc pic.twitter.com/nZ5E9xxlir
@realDonaldTrump ? Are you ready for this? Zimzalabiiiim pic.twitter.com/CWY6e4YMja
mom come pick me up old men are attacking me
lowkey trying to get the real @mPinoe to notice me  https://t.co/UJDtbc3h0f
Who knew it was possible to dunk on someone in soccer? pic.twitter.com/G45RoW7cKb
Win or lose, the USWNT is getting an invite to the White House. But I think we can all agree @meganrapino deserves an invite as well.