The Story Behind The Worst (Best?) Photo In MLS History
Giving 'look at that ass' three meanings since 2010.
Brek Shea shirtless, jeans barely hanging on to the footballer's chiseled abs. A model in lingerie, eyes glassy like she just ate too much Thanksgiving dinner. And a baby donkey, half-asleep and half-aware of the brunette stroking its neck. 
It is, perhaps, the greatest photo in MLS history. I'll also accept worst photo of all time.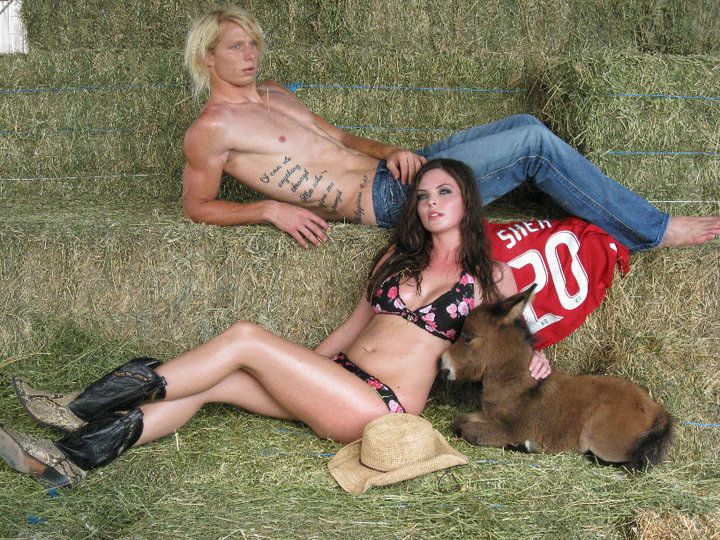 The above photo conjures so many questions.
Why is there a donkey? Who wears lingerie with cowboy boots?  Why is Shea's jersey at his feet and hat next to a pair of asses? Who did Shea's hair? Why isn't anyone looking at the camera? Can I pet the donkey too?
We'll try to explain it all. Just don't reverse Google image search it, or Google will ask if you're looking for erotica, which probably wasn't a great use of a company computer. 
Brek Shea, at one point, was one of the more exciting young USMNT prospects. Born in the greatest college town in the country (College Station, Texas), at 15 the left-footed winger joined the famed IMG Soccer Academy, which has produced players like Landon Donovan and DaMarcus Beasley (more on them later). Shea skipped college (few Texas universities offer men's soccer anyway) and joined FC Dallas in 2008. After playing for various youth national teams, Shea made his USMNT debut in 2010. 
That was Shea's break-out year as a footballer. He had five goals and four assists in MLS, and I began calling him the Cockatrice, a nickname that sadly never caught on with anyone, anywhere. 
With Shea a rising star, he was selected to join a few of his FC Dallas teammates to promote a Stack the Deck for Vets charity cause. Footballers joined female models from Model Citizen/Industry 4 at Punk Carter Ranch in Celina, Texas, for an unforgettable photo shoot. 
Kevin Hartman did his best Clint Black impression. An 18-year-old Ruben Luna took his shirt off next to a buffalo. Heath Pearce rode a horse like a pro. David Ferreira and Daniel Hernández posed next to a bull. And Brek Shea looked sexy af next to a donkey. 
If The18 had been around in 2010, I'm pretty sure you'd be able to call up old articles from those years and say, "Yeah, that aged poorly." MLS was a full-fledged teenager in 2010, and maybe should have known better. Nonetheless, this 2010 photoshoot involving FC Dallas stars, models and livestock seems so anachronistic now. 
Even for 2010, it feels like poor taste to lean on half-naked women to promote soccer, even under the guise of "it's for charity." You definitely have to question Model Citizen founder Toni Munoz in the video above describing her model, a white woman, as a "little Native American girl," which feels way too appropriation-y for 1990, let alone 2010. 
That's essentially the story of why Brek Shea posed half naked with a confused farm animal and a nearly-naked woman.
As for why Shea was chosen to pose next to a donkey, I have a theory. If you combine his first name and surname you get Shrek, the lovable ogre. Who is Shrek's best friend? A donkey. Do you have to be high to make this connection? No, but it didn't hurt. 
Throughout the years, men's soccer in the U.S. has been home to some of the most remarkable imagery in sports. No matter how hard you try, one simply cannot forget the New York Times photo shoot before the USMNT went to the World Cup in 2002, featuring some ultra-sexy photos of Landon Donovan and DaMarcus Beasley. The great Pelé once dressed up as a cowboy before an NASL game between the New York Cosmos and Colorado Caribous, who wore uniforms with actual fringe. 
Does anything compare to Brek Shea with a donkey? I don't know. But if you like this story, you might enjoy reading about Alex Morgan and dog poo.
(H/T to the @ftbllerswanimals Twitter account for reminding me of this wonderful photo and inspiring this story.)
Brek Shea looking sexy with a donkey pic.twitter.com/EVXvobZj2Z
Because it gives the response, "look at that ass" 3 different meanings