Editor's note: We received this letter from 13-year-old Mic Beedy and knew immediately we had to publish it. She's an aspiring soccer player with a bright future. She currently plays with the Missouri Thorns (a feeder club for the NWSL's Portland Thorns) and is a name you should remember – you just might hear it mentioned during the 2023 Women's World Cup. But it's not her soccer skills that caught our attention. It's the power of her words. Quite simply, she puts into perspective what it's like for a young woman to face inequality in sports. With so many people focused on explaining why things are the way they are, it's refreshing to hear a hopeful perspective about how things ought to be. We hope you read and share her message.
In the USWNT's past, there has been a lot of gold. Just to name a few awards, the USWNT has won four Olympic golds and three World Cups. How could you possibly get any better? Well, no matter how many times the U.S. Women's National Team have proven themselves, they still aren't treated equally to the men of the game.  
Let's take the NWSL draft, for example. To watch it you couldn't just flip the switch on the TV and see it on ESPN or Fox Sports 1. It wasn't even talked about on ESPN (because apparently America is too busy watching their men play hand egg). It was barely mentioned anywhere. The only way to even keep up with it was checking out the chat on Twitter from the NWSL. As for the people who don't have Twitter, like me? I was going from website to website to try to figure out what was going on.
Another classic case of inequality was shown by the 2015 World Cup. It was the first World Cup to be played entirely on turf in the history of World Cups. Why is turf so bad?  Oh, for plenty of reasons. One of the reasons is how long it takes to recover when playing on turf vs. when playing on grass. Alex Morgan has said just that: "It takes longer to recover on turf than it does on natural grass." You only have to look at Sydney Leroux's knees after playing on turf to see why:   
This is @DrinkBODYARMOR athlete @sydneyleroux after playing on turf! #ProtectTheAthlete #USWNT http://t.co/e5NhMgwkCq pic.twitter.com/5jFpl12L8j
Get my point?
Well, if you need more reasons why turf is bad, let's talk about how hot turf can get. During the first game of the 2015 WWC, the temperature of the field was 120 degrees. The Washington Post supported this by saying, "An hour before kickoff at 6 p.m. EDT, the fake grass measured 120 degrees, or 49 degrees Celsius, according to a Fox Sports sideline reporter." Pretty sure that's what I cook my bacon and eggs at.  
Another case where women weren't treated as well as men? After the 2014 World Cup, the German men were given $35 million for winning the tournament. That's a little over a million for everyone. And what about the women? $2 million. Not $2 million per player, $2 million for the whole team. For winning the biggest title in soccer. If the men lose in the first round in the World Cup, they get four times that according to the Women's Sports Foundation. This I do not understand.  
"Get to the point!" you may be saying to yourself. Why am I even bothering with this? Well, when you treat the women as a lower class of human being it really messes things up. It leaks into other things. Because now I'm not talking about FIFA, I am talking about even lower branches of soccer. Take my old youth club, for instance.  I used to play in a small town in Colorado. Every year we would sell raffle tickets to earn money for our club. The team who sold the highest raffle tickets got to win a prize. It sounded like a good idea, but it turned out to be the exact opposite.
The boys got tickets to go ziplining and Beats by Dre headphones. What did the girls get? Bowling tickets and tickets to WATCH the Kid's Adventure Race (which most of us were actually competing in).  
So, what FIFA is doing is setting standards. They are setting standards that men are greater than women, and those standards are affecting me..  
They may also be what prevent women from playing soccer in the first place.  
Say you joined the NWSL. That's awesome, right?
Some of the players are only making $6,000 a year and, at the highest, $30,000. In the MLS, the league minimum is $35,125. A man's lowest salary is a woman's highest in professional soccer in the United States. If you were a younger woman who is really good at soccer, but couldn't even make enough money to live, would you want to play for an NWSL team? Probably not.  
Now let's think of this: Where would our nation be without women's soccer? Let me provide you with a few images before I start typing again.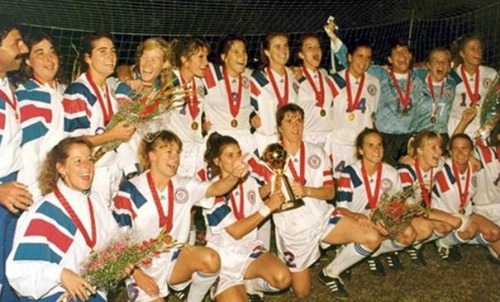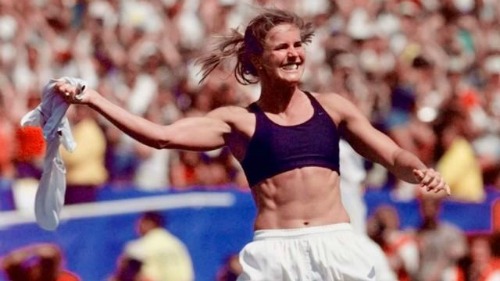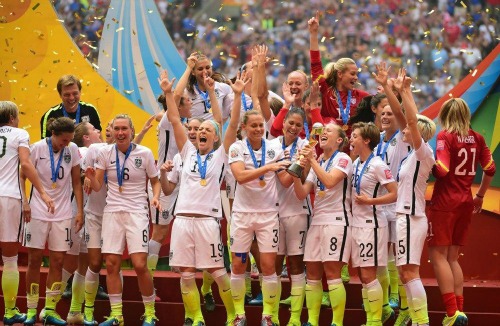 I can give you a few ideas of where we wouldn't be. Soccer wouldn't be on the map in the US. Our men have had 20 World Cups, yet they haven't won one. However, our women have had 7 World Cups and we have won three of them? The men aren't the bigger brother of the women; the women are the bigger sister. Without women's soccer, we would've never heard of big names like Alex Morgan, Carli Lloyd, Abby Wambach, Sydney Leroux, Hope Solo, Christie Rampone, Tobin Heath, and so many more. There are even names that aren't as well known (but deserve to be) such as Sammy and Kristie Mewis, Nikki Marshall, Allie Long, Emily Menges, and Crystal Dunn (although we are hearing her name more and more). Without these names, we wouldn't have anyone to look up to and try to beat. I find it sad how we rank in equality compared to the rest of the world. Just look and this graph (note this graph is from BEFORE the World Cup).
What I'm really trying to say is that we need to break down the barrier of sexism. I want little boys to be able to look up to people like Alex Morgan and say, "I want to be like her," just as any other girl would look up to Messi and say, "I want to be like him."  There is no such thing as "women's soccer." It is soccer. (To us Americans anyways.  To the rest of the world it is football). We all play the sport for the same reason. We all love the game.  
There is truly no difference within the men's and women's games. Stop telling me that there is. Tell me that women can't run as fast as men? Look at Alex Morgan. Tell me that women aren't as strong as men? Umm..… Have you seen Christie Rampone's arms? Tell me that women don't have the right footwork? Please look at Tobin Heath because I am 100% sure that she would find a way to nutmeg a mermaid. Tell me that women can't play as well as men? Oh, for the love of the game, please reread this paragraph.
I think more than enough players are ready for a change. Take a look at Wambach who states, "We want to be treated like the men." That's the bottom line. Women want to be treated as they would treat any other man on this planet. I honestly think that some people are getting too caught up with the men's game. People are forgetting over half of the population.  
I'm tired of feeling discriminated against. I'm tired of being told that I can't do something because of my gender, because what does it matter? It's like telling someone that they can't drive their car on the street simply because it is a Toyota. I'm tired of waiting and FIFA telling me that in 80 years men's and women's salaries will be the same. I'm tired of being given false hope. I'm tired of waiting. I'm ready for a change now.  
Now, to leave you with a quote to chew on, I give you a quote from an annonymous user on talking-soccer.com:
"And, whatever the pigs say here, American Women will not be cowed by men. Sports are part of life – for men and women. We are here and we are not going anywhere. Live with it."
Mic Beedy #7
Bookmark/Search this post with