You Better Cech Yourself Before You Wreck Yourself
The Wenger Watch is no goalkeeping expert but that did not seem like it went well.
In the 60th minute of Arsenal vs. Swansea City, with the score knotted at 1-1, Henrikh Mkhitaryan strode onto the field for his first action as an Arsenal player. Apparently, Arsenal goalkeeper Petr Cech was so enthralled by Mkhitaryan's grand entrance that he forgot to pay attention to the soccer game he was playing in.
oh petr no.....  pic.twitter.com/mDlZpuavht
Yikes. The Wenger Watch is not a goalkeeper, but that seems like a thing that should be avoided, if possible.
Sam Clucas added another in the 86th minute for insurance and Arsenal lost to Swansea City 3-1. The win lifted Swansea out of the relegation zone (for now), and the loss put Arsenal eight points off the top four (for now).
Henrikh Mkhitaryan, we assume, was just happy to get on the field, something his previous manager, Jose Mourinho, rarely let him do.
His current manager, Arsene Wenger, has apparently made it his intention to let Mkhitaryan go on the field sometimes. It might be time to start speculating on whether Mkhitaryan's next manager will let Mkhitaryan on the field because we have set the Wenger-O-Meter to "OUT."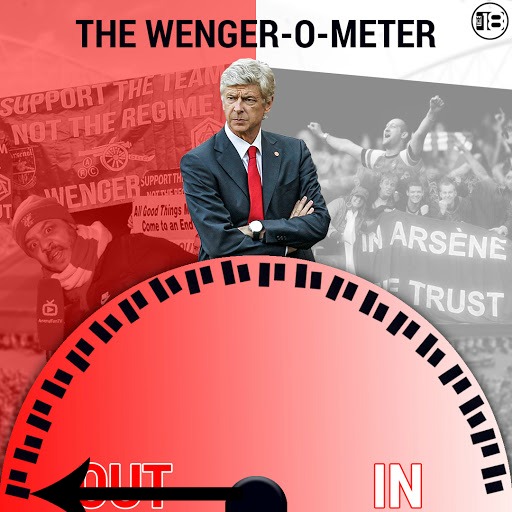 YOU HEAR US? OUT! OUT WE SAY!
Is Pierre-Emerick Aubameyang's arrival basically imminent, apparently replacing the man who is much more handsome than he is good at soccer, Olivier Giroud? That would help Wenger's case, if it happened.
Still, the meter stays at "OUT" unless something good and cool happens for Arsenal.