Newly Promoted Coventry City Fans Raise Over $2,000 For Ugandan Supporter
Coventry City supporters are working to make Ronald Kamoga's dream a reality.
After the decision passed to cancel the League 1 and 2 seasons of English football, Coventry City was declared League 1 champion and will return to the Championship for the first time in eight years. Sky Blues supporters rejoiced at the news, including the club's biggest supporter from Kampala, Uganda.
Get @CefovidUganda a flight over here for a match. Fiver each. Who's in?! #PUSB pic.twitter.com/SbEP6kvmj7
Ronald Kamoga has been supporting Coventry City for the past five years and dreams of being able to watch games with his village. After seeing his video on Twitter, several fans created a GoFundMe to fulfill Kamoga's dream.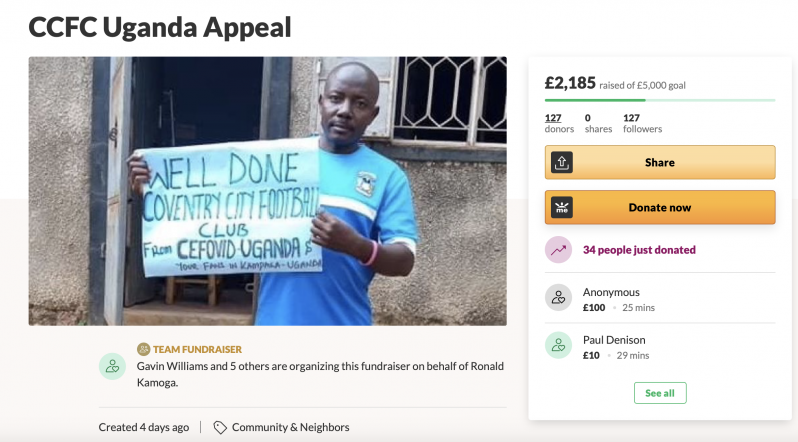 A man by the name of Gavin Williams helped set up the fundraiser. In the description he said the goal is helping Kamoga's village in any way possible.
"We set up the GoFundMe page to pay for internet connection and help with a safe communal place for the village to watch Coventry City play through iFollow," Williams said.  "We are also raising money for a sawing machine that will come in handy. If you can help I know Ronald will be grateful in every way."
After posting the fundraiser on June 12, Sky Blues supporters have already raised nearly $3,000. Then on June 16, Coventry City's Twitter page picked up on the movement and encouraged followers to help donate to Kamoga.
NEWS: Sky Blues fans join together to help supporter Ronald Kamoga and his charity @CefovidUganda

— Coventry City (@Coventry_City) June 16, 2020
Kamoga also has a charity, Cefovid Uganda, that focuses on aiding the development of Uganda's most vulnerable children. Williams also asked those interested in supporting the cause to send any old Coventry City jerseys or care packages to help Cefovid Uganda.
With all of the uncertainty in the world right now, this is a story that brings a smile to the face. Anyone interested in donating to the GoFundMe can do so here.