Bournemouth Loss Puts Arsene Wenger's Arsenal Future In Doubt
It didn't help that Alexis Sanchez is almost certainly gone.
Two things stood out as worrying regarding Arsene Wenger's tenure at Arsenal Sunday. The first: Wenger's side lost to Bournemouth, who sit 13th in the Premier League and have a goal differential of -11. The second: this loss was due in part to the absence of Chilean superstar Alexis Sanchez. Sanchez's omittance from the lineup looked an awful lot like the type of healthy scratch that happens when a player is about to transfer clubs.
Wenger served the last match of his touchline ban Sunday, so much of the blame for the disaster against the Cherries can only be indirectly laid at his fee. But still. Bournemouth. Jordan Ibe's winner was his first goal for the club. He is an attacker who has played at Bournemouth for more than a season and a half already.
What we're trying to say, Arsenal fans, is that THE SKY IS FALLING. Arsenal are sixth in the Premier League, five points behind Tottenham Hotspur, eight points off the Champions League and 23 points off league leaders Manchester City. Alexis Sanchez looks to be gone. Wenger said we'll know within 48 hours. It doesn't look good for anybody except maybe Troopz because he gets to be proven right.
He's not gone yet, but we have set the Wenger-O-Meter to "OUT" and the "IN" crowd might want to start holding candle-light vigils.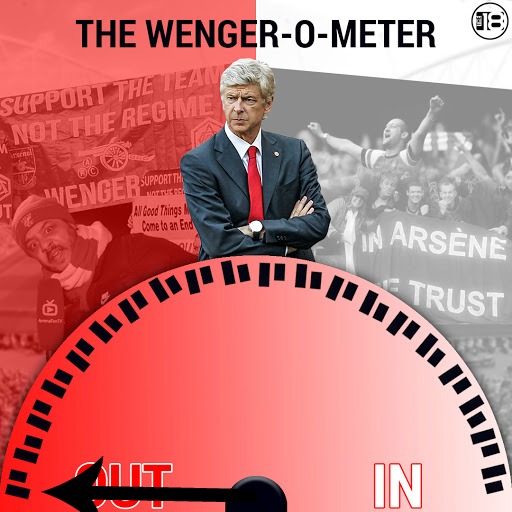 We reserve the right to revisit this whenever we feel like, but especially if Arsenal land Malcom and/or Pierre-Emerick Aubameyang, neither of whom really make sense for them tactically but would be just oh so very Arsenal.