The 45 Best Stadiums From Europe's Lower Divisions
The stadiums from the top leagues in Europe get the most attention, but here are some cool stadiums that you may not know about from the lower divisions.
Stadiums are part of a club's identity. They are the embodiment of the history, past and present of any club, contribute to the atmosphere of a match and add an aesthetic value to to the game. 
The stadiums of top level teams are usually the most developed and have the highest capacity. They also get the most love. Stadiums like Old Trafford, the Santiago Bernabeu and the San Siro are world renowned, because some of the best teams play there. 
But there are plenty of stadiums in the lower leagues that people don't notice. While they may not be the most famous, these stadiums definitely have an aesthetic charm for bigger or smaller teams in the lower leagues.  Here are some of the best stadiums from the lower divisions of European football.
Best Stadiums of Lower League European Football 
England
1. Villa Park - Capacity: 42, 785
Location: Birmingham
Club: Aston Villa
League: EFL Championship
2. Pride Park - Capacity: 33,597
Location: Derby
Club: Derby County
League: EFL Championship
3. Elland Road - Capacity: 37,900
Location: Leeds
Club: Leeds United
League: EFL Championship
4. Bramall Lane - Capacity: 32,702
Location: Sheffield
Club: Sheffield United
League: EFL Championship
5. Hillsborough - Capacity: 32,732
Location: Sheffield
Club: Sheffield Wednesday
League: EFL Championship
6. Bet365 Stadium - Capacity: 30,089
Location: Stoke-On-Trent
Club: Stoke City
League: EFL Championship
7. Oakwell - Capacity: 23,009
Location: Barnsley
Club: Barnsley FC
League: EFL League One
8. The Valley - Capacity: 27,111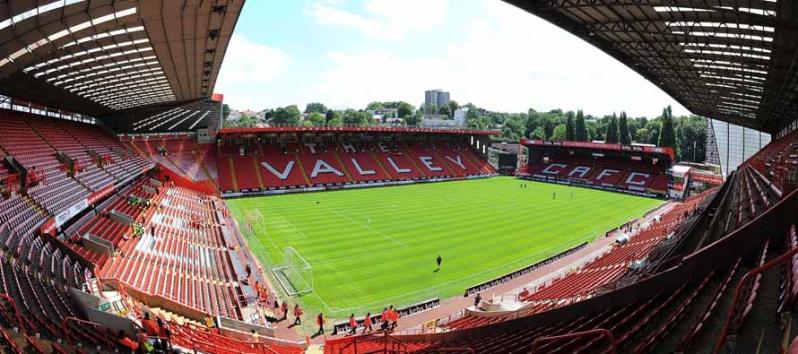 Location: London
Club: Charlton Athletic
League: EFL League One
9. Ricoh Arena - Capacity: 32,500
Location: Coventry
Club: Coventry City
League: EFL League One
10. Fratton Park - Capacity: 21,100
Location: Portsmouth
Club: Portsmouth FC
League: EFL League One
11. Stadium of Light - Capacity: 48,707
Location: Sunderland
Club: Sunderland AFC
League: EFL League One
France
12. Stade de l'Abbé-Deschamps - Capacity: 21,379

Location: Auxerre
Club: A.J Auxerre
League: Ligue 2
13. Stade Océane - Capacity: 25,000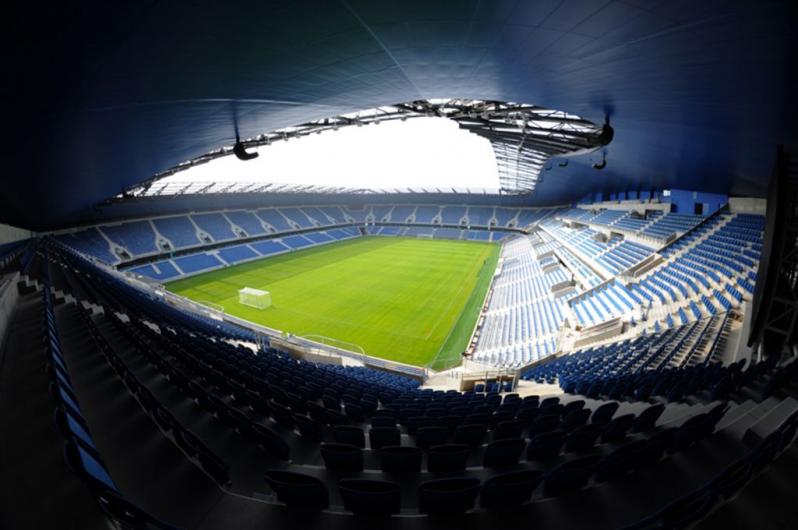 Location: Le Havre
Club: Le Havre AC
League: Ligue 2
14. Stade Bollaert-Delelis - Capacity: 38,223
Location: Lens
Club: RCL Lens
League: Ligue 2
15. Stade Marcel Picot - Capacity: 20,087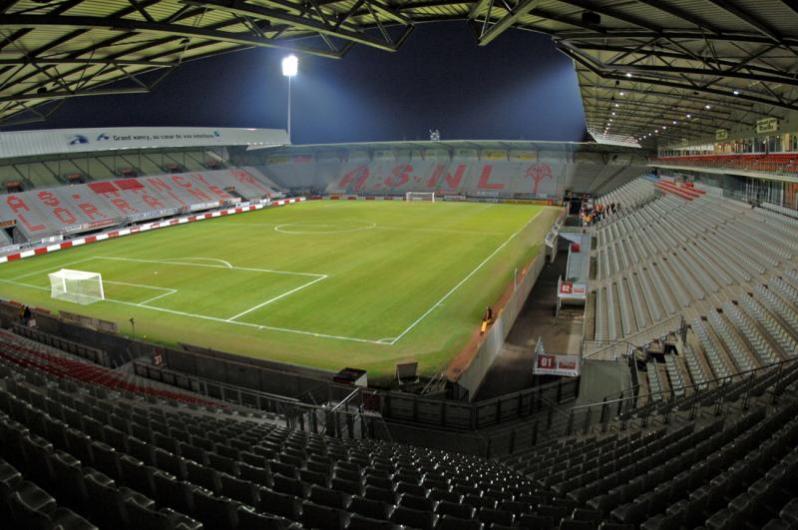 Location: Tomblaine
Club: AS Nancy-Lorraine
League: Ligue 2
16. Stade Charléty - Capacity: 20,000
Location: Paris
Club: Paris FC
League: Ligue 2
17. Stade Auguste Delaune - 21,684
Location: Reims
Club: Stade de Reims
League: Ligue 2
18. Stade du Hainaut - Capacity: 25,172
Location: Valenciennes
Club: Valenciennes FC
League: Ligue 2
19. Stade des Alpes - Capacity: 20,068
Location: Grenoble 
Club: Grenoble Foot 38
League: Championnat National
20. Stade du Hameau - Capacity: 18,000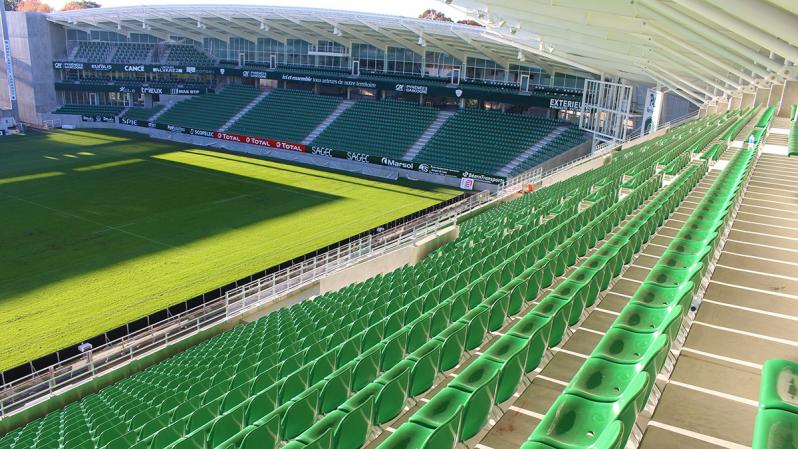 Location: Pau
Club: Pau FC
League: Championnat National
21. Stade Jean-Bouin - Capacity: 20,000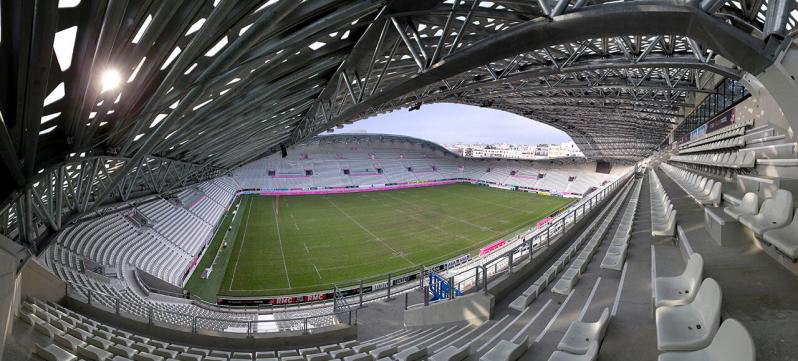 Location: Paris
Club: Red Star FC
League: Championnat National
Germany
22. DDV Stadion - 32,066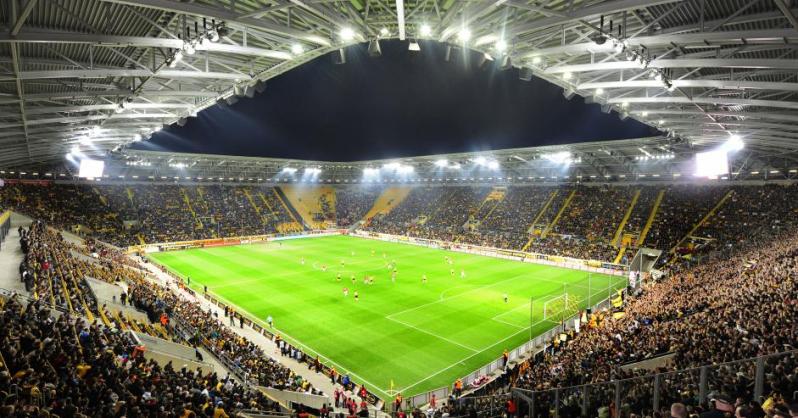 Location: Dresden
Club: Dynamo Dresden 
League: 2. Bundesliga
23. MSV Arena - Capacity: 31,500
Location: Duisburg
Club: MSV Duisburg
League: 2. Bundesliga
24. Volksparkstadion - Capacity: 57,000
Location: Hamburg
Club: Hamburger SV
League: 2. Bundesliga
25. Audi Sportpark - 15,000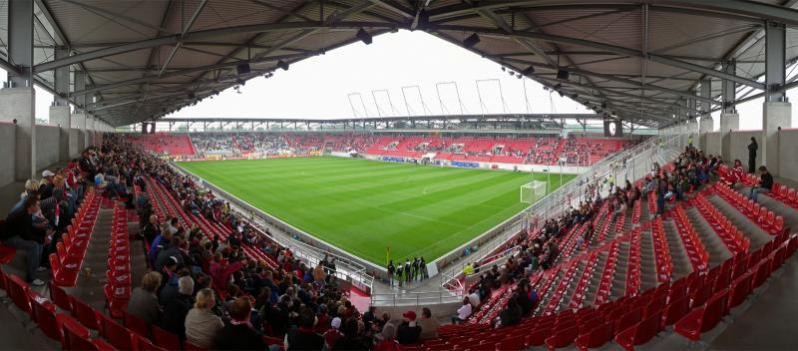 Location: Ingolstadt
Club: FC Ingolstadt
League: 2. Bundesliga
26. RheinEnergieStadion - Capacity: 49,698
Location: Cologne 
Club: 1. FC Köln
League: 2. Bundesliga
27. Millerntor-Stadion - Capacity: 29,546
Location: Hamburg
Club: FC St. Pauli
League: 2. Bundesliga
28. Alte Försterei - Capacity: 22,012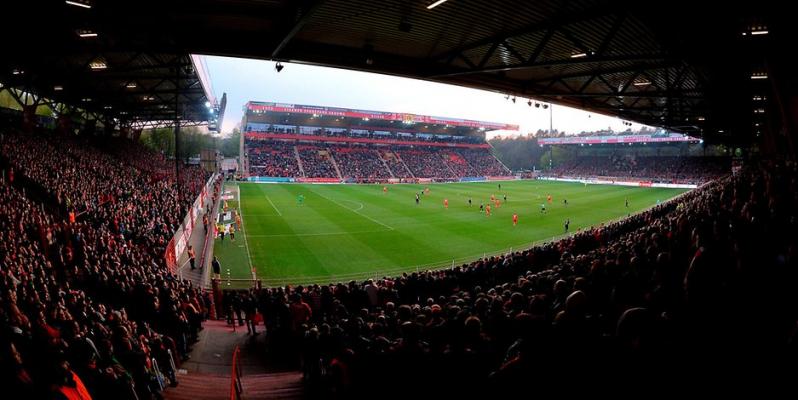 Location: Berlin
Club: Union Berlin
League: 2. Bundesliga
29. Stadion der Freundschaft - Capacity: 22,528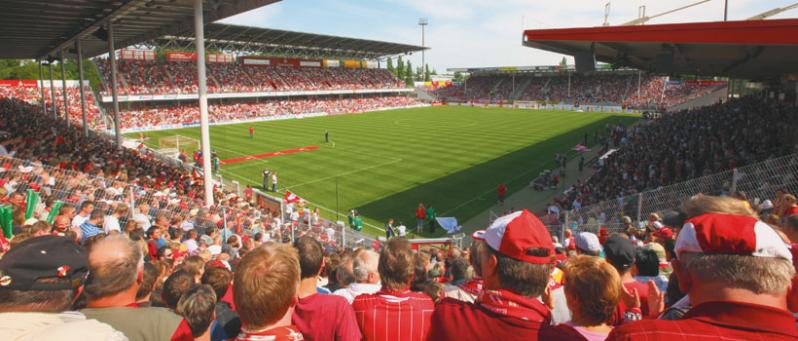 Location: Cottbus
Club: Energie Cottbus
League: 3. Bundesliga
30. Fritz-Walter-Stadion - Capacity: 49,780
Location: Kaiserslautern
Club: 1. FC Kaiserslautern
League: 3. Bundesliga
31. Ostseestadion - Capacity: 29,000
Location: Rostock 
Club: FC Hansa Rostock
League: 3. Bundesliga
32. Stadion Zwickau - Capacity: 10,049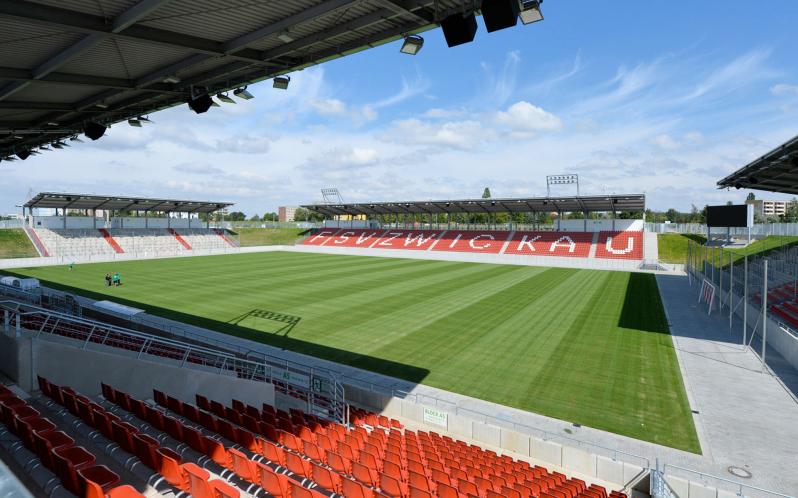 Location: Zwickau
Club: FSV Zwickau
League: 3. Bundesliga
Italy
33. Stadio Marc'Antonio Bentegodi - Capacity: 38,402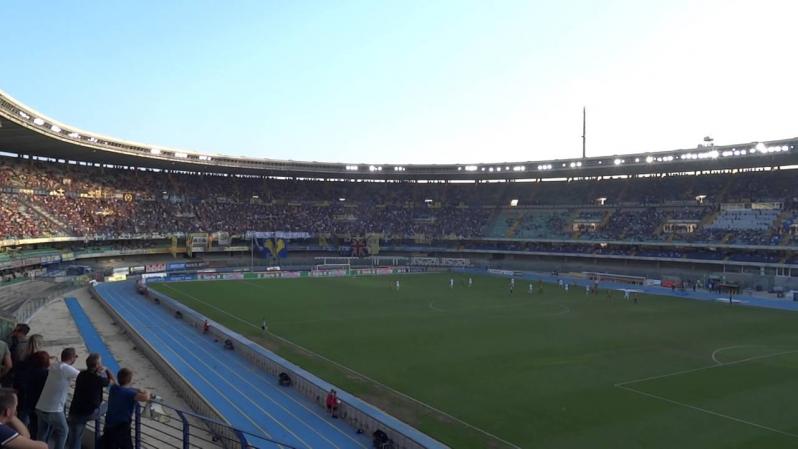 Location: Verona
Club: Hellas Verona
League: Serie B
34. Stadio Via del Mare - Capacity: 40,670
Location: Lecce
Club: US Lecce
League: Serie B
35. Stadio Renzo Barbera - Capacity: 36,349
Location: Palermo
Club: Palermo
League: Serie B
36. Stadio Renato Curi - Capacity: 23,125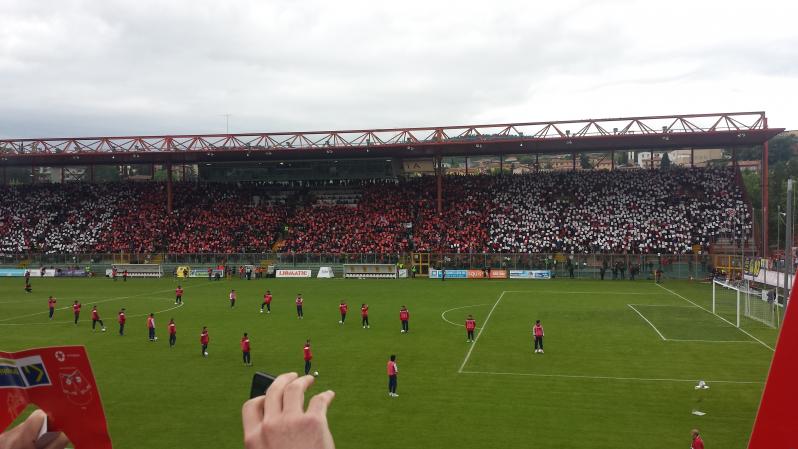 Location: Perugia
Club: AC Perugia
League: Serie B
37. Stadio Arechi - Capacity: 31,300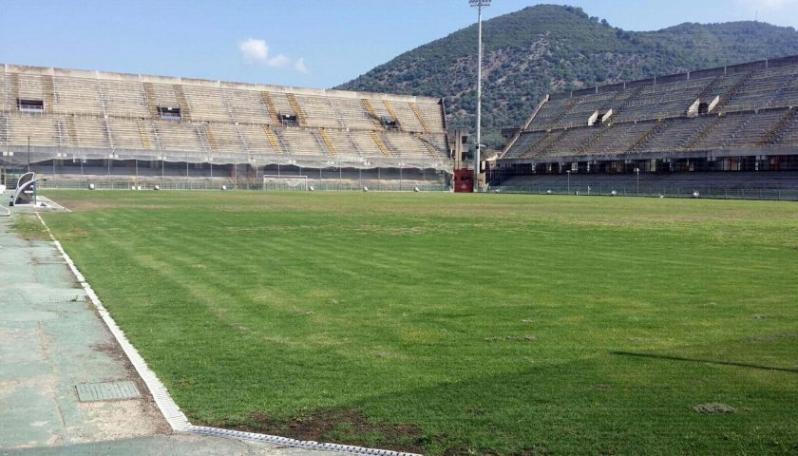 Location: Salerno
Club: Salernitana
League: Serie B
Spain
38. Carlos Belmonte - Capacity 17,300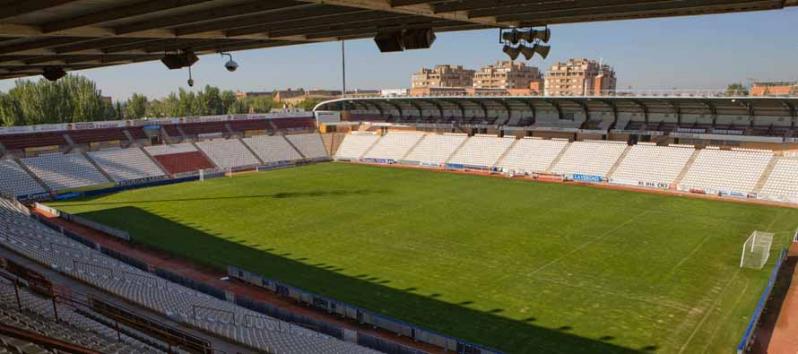 Location: Albacete
Club: Albacete Balompie SAD
League: Segunda Division
39. Juegos Mediterráneos - Capacity: 15,200
Location: Almeria 
Club: UD Almeria
League: Segunda Division
40. Ramón de Carranza - 25,033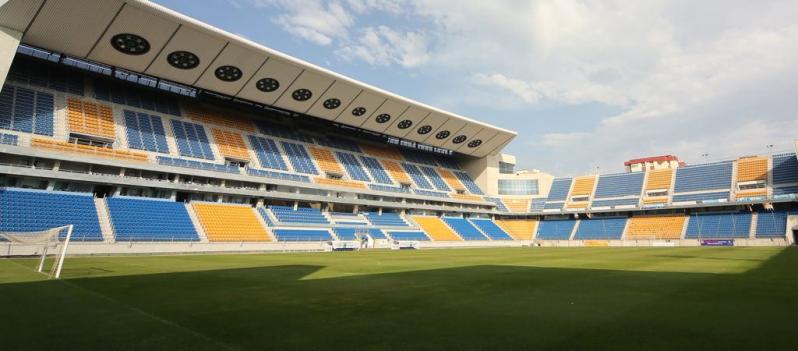 Location: Cadiz
Club: Cadiz CF
League: Segunda Division
41. Abanca-Riazor - 36,660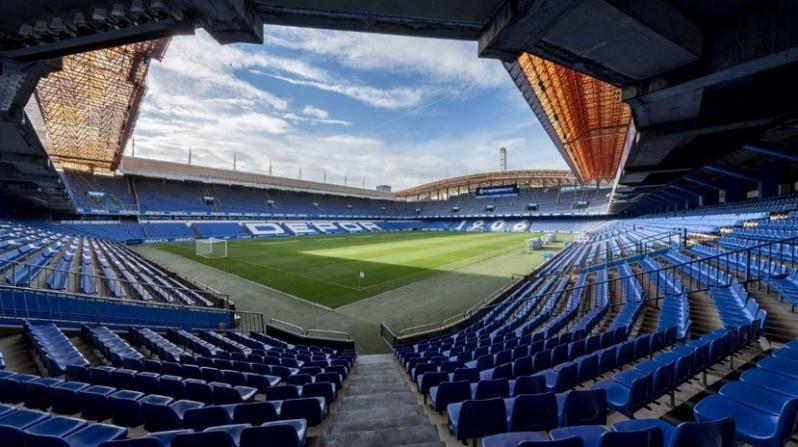 Location: A Coruña
Club: Deportivo La Coruña
League: Segunda Division
42. La Rosaleda - Capacity: 30,044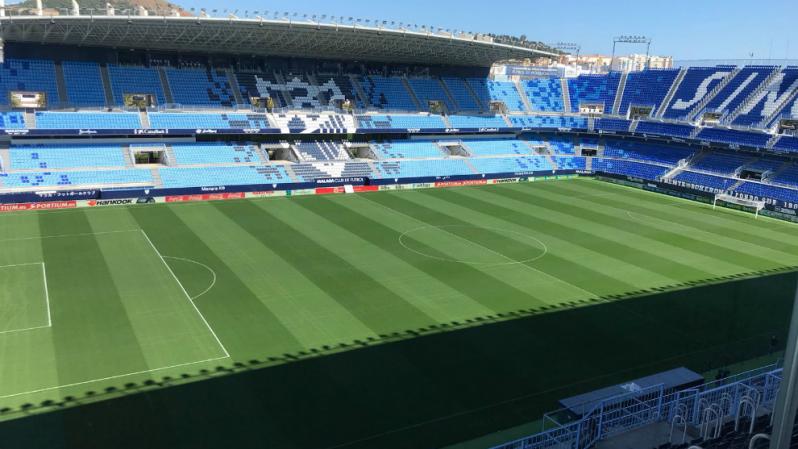 Location: Malaga
Club: Malaga CF
League: Segunda Division
43. El Sadar - Capacity: 18,761
Location: Pamplona
Club: CA Osasuna
League: Segunda Division
44. Estadio Carlos Tartiere - Capacity: 30,500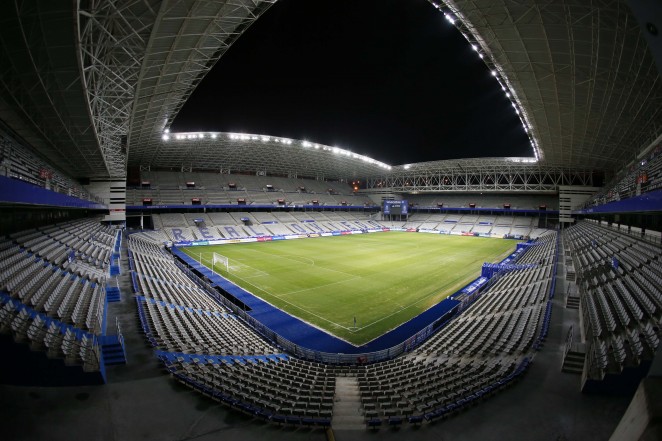 Location: Oviedo
Club: Real Oviedo
League: Segunda Division
45. El Molinón - Capacity: 29,029
Location: Gijon
Club: Sporting Gijon
League: Segunda Division