2018 Champions League Final Drinking Game
WE HERE AT THE18 DON'T WANT YOUR CHAMPIONS LEAGUE PARTY TO SUCK. SO WE DEVISED A FUN DRINKING GAME FOR THE UCL FINAL BETWEEN REAL MADRID AND LIVERPOOL. GOOD LUCK AND DRINK RESPONSIBLY JERRYS.
Hello Jerrys. If you've landed on this page, that means you are trying to get a little sauced for the 2018 Champions League Final between Real Madrid and Liverpool.
After last year, we've carefully devised (not really) a Champions League drinking game that should do the trick. First and foremost, please drink responsibly. With these two attacks going at it, you may be kickin' back a little more than you can handle. Especially if you follow the Cristiano Ronaldo rule closely.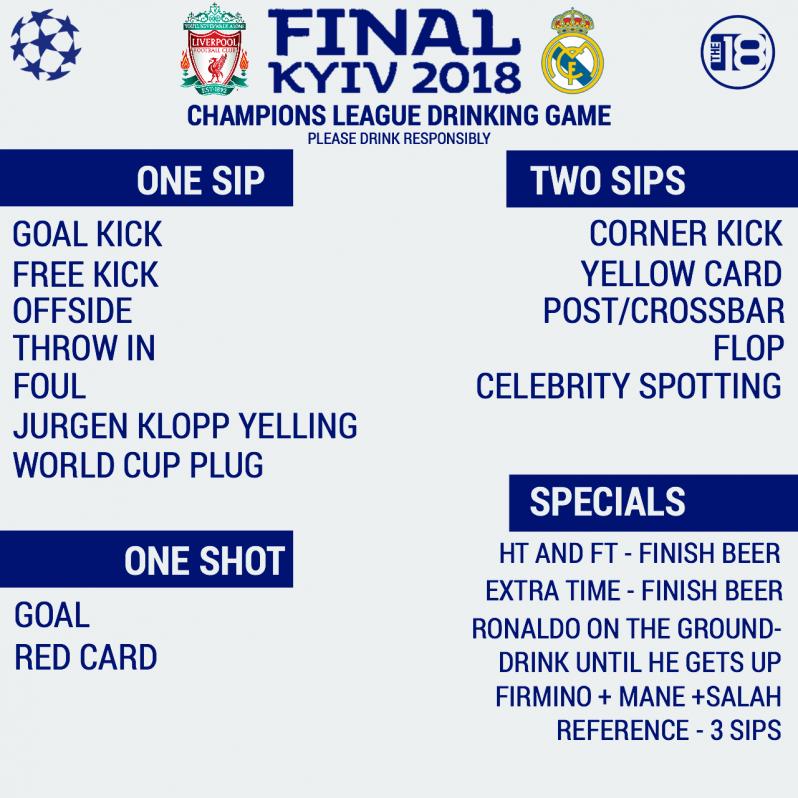 There's a number of which ways you can play our little game. You can:
Participate in every rule.
Pick a team and only participate in the rules when your team is involved (aside from the evergreen / most fun rules)
Use your brain and use this as a guide to creating your own rules.
Be a jerry and don't play
Here is a recap of all the rules if our fancy graphic is too much for you.
1 Sip:
Goal Kick
Free Kick 
Offside 
Throw In 
Foul
Jurgen Klopp Yelling 
World Cup Plug
2 Sips:
Corner Kick 
Yellow Card 
Post / Crossbar 
Flop
Celebrity Spotting 
One Shot:
Specials:
Halftime and Fulltime - Finish your beer
Extra Time - Finish your beer 
Cristiano on the ground - Drink until he gets up 
Any Firmino, Salah, Mane trident references - 3 sips