World Cup Predictions For Tunisia-Belgium, Mexico-South Korea And Germany-Sweden
Group F takes center stage tomorrow. Can Mexico build off of its massive victory over Germany? Or will South Korea punish a potential hangover?
Get the best email in soccer.
OK. Who here thinks Mexico will suffer a hangover after its monumental win over Germany? Group F hangs in the balance as South Korea will try to spoil the El Tri party and Germany looks to get back on track. Sweden is a rock solid team that beat European heavy weights on its way to qualifying for Russia. Then Group G's second round of matches gets underway as Belgium takes on Tunisia.
Here are the picks from Connor Fleming (@conmanfleming), Bryce Badwan (@bbadss) and Travis Yoesting (@travisyoesting). 
World Cup Predictions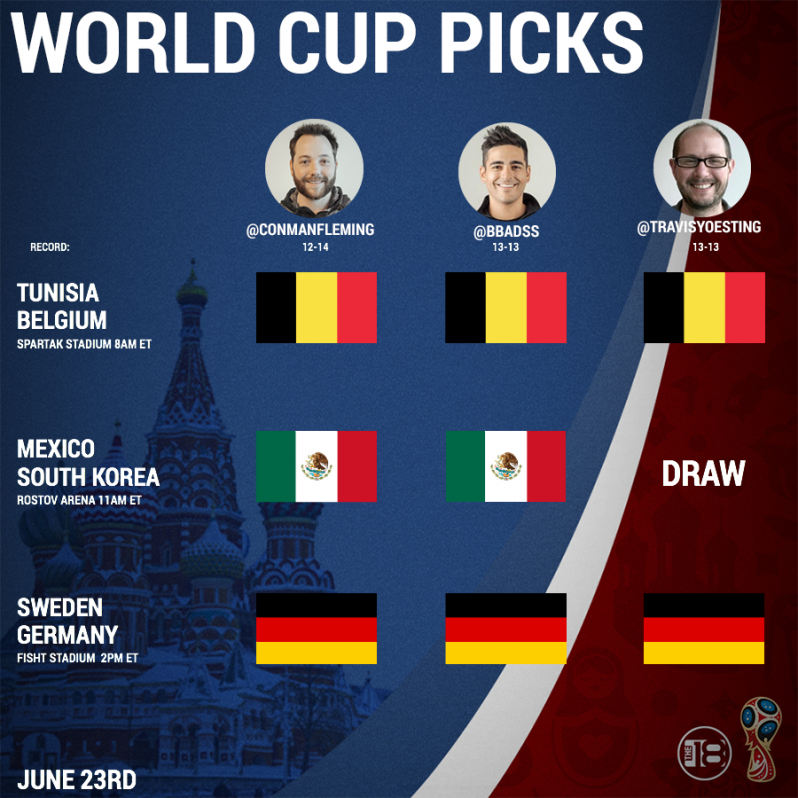 Tunisia vs Belgium 
Connor: Belgium - A part of me is greatly tempted to go draw here — that'd be a classic letdown from this Belgium team. However, I think the team has improved since Euro 2016, and it should be over by the hour mark.
Bryce: Belgium - Testy Tunisia I think will give them a little more trouble than most expect. But I simply can't go against the waffles. Belgium secures a 1-0 or 2-0 victory. 
Travis: Belgium - Belgium will be high on confidence after a 3-0 win to open the World Cup and Tunisia didn't show anything to suggest it can hold off the likes of Kevin de Bruyne, Romelu Lukaku and Eden Hazard.
Game Info:
8:00 a.m. ET 
Spartak Stadium 
FOX, Telemundo 
Mexico vs South Korea 
Connor: Mexico - It's a prediction I made days ago: South Korea opens through Sonny, but Chicharito equalizes for Mexico. Then, near the death, Hector Moreno heads home for a dramatic win. That's how it goes down.
Bryce: Mexico - Mexico needs to nail its place in the Round of 16. You don't want to leave this to a match against a stubborn Swedish team. I think it'll be a nervy game for El Tri as Mexico never seems to make anything easy. Cruising to a victory just doesn't fit the script for them. I think South Korea hangs around but the El Tri faithful in Russia bring them through. Having Chucky Lozano doesn't hurt either.
Travis: Draw - As great as Mexico's win over Germany was, I foresee a hangover against South Korea. While the Taeguk Warriors were disappointing against Sweden, I think they come out much stronger against El Tri.
Game Info:
11:00 a.m. ET 
Rostov Arena 
FOX, Telemundo 
Sweden vs Germany
Connor: Germany - This one's going to be tight. I don't think any nation can hammer Sweden — I don't think anyone can score more than one on them — but Germany gets a 1-0 win. Goal from Marco Reus. 
Bryce: Germany - I like Sweden. I think they are solid. And should it come down to a match vs Mexico, I'll probably take them. But angry Germans are something I can't pick against. Sami Khedira, Jerome Boateng and the older players are going to have to lead Germany to a hard fought W. 
Travis: Germany - An angry Germany is not a team anyone wants to face. That said, Sweden knocked out the Netherlands and Italy on the way to qualifying, so it won't be easy for the defending champion. But Germany will bounce back on track, eventually. 
Game Info:
2:00 p.m. ET 
Fisht Stadium
FOX, Telemundo 
Bookmark/Search this post with