The 2023 Women's World Cup in Australia and New Zealand is only seven months away from kicking off. For the first time in history the tournament is expanding to 32 teams meaning the format will be identical to the men's most recent edition.
Exciting, right? Not if you checked the comment sections and a plethora of posts on social media.
There's a huge amount of despise and hatred toward the women's game on platforms like TikTok and Instagram. Here's the thing I don't understand: why?
A person or organization could make a post on social media saying, "hey if you liked the 2022 World Cup then you might be interested in the 2023 Women's World Cup!"
The comment section and replies will then be filled with misogynistic and rude remarks.
One example of this is Copa90's Instagram's post promoting the 2023 tournament.
View this post on Instagram
Pretty harmless post, right? Let's check the comments.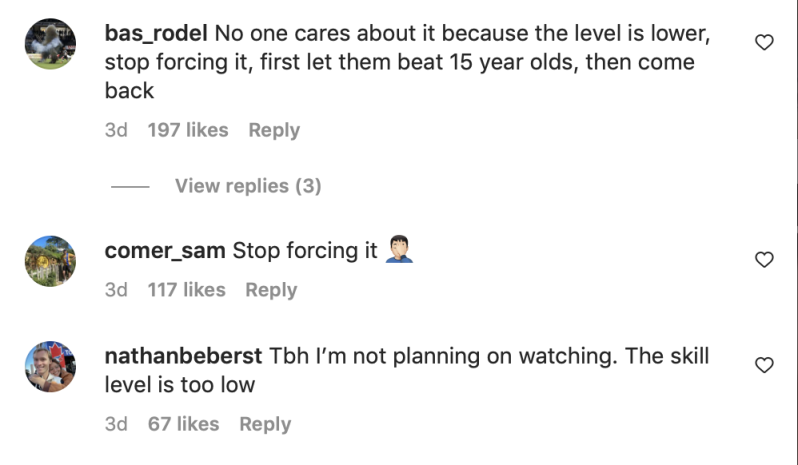 What did Copa90 do to these poor saps to get them so riled up? All they did was say that they should try watching women's soccer. 
The response from users on social media is almost Pavlovian at times. A person says, "I like women's soccer." and then has to face a tidal wave of negative comments.
One of the worst examples of this was on TikTok when a user named "sportsbystoner" created a harmless video telling fans that the Women's World Cup is next year.
The video received 1.4 million views but thousands upon thousands of comments denouncing women's soccer. The sheer number of negative comments made the user turn comments off on the post. That didn't stop people from finding her other videos to continue their insults.
A trend was even started of people responding to her video featuring themselves pretending to sleep through the 2023 Women's World Cup.
One such video got nearly 3 million views and a huge outpouring of support from fellow women's soccer haters.
Why? Why is it a trend from people, most likely boys aged 12 through 18, to throw so much negativity at something they won't even watch?
I know the most likely response is, "it's just a joke!" or that damn emoji with the glasses and buck teeth.
If they swallowed some of their unbeknownst misogynistic pride and actually watched some games, they could discover they enjoy the sport. Afterall… IT'S THE SAME EXACT SPORT.
One of the best games I've ever watched was during the 2011 Women's World Cup. Abby Wambach's 122nd minute equalizer vs. Brazil in the quarterfinals is a memory that always sticks with me.
July 10, 2011: "WAMBAAAAAACH"

Megan Rapinoe to Abby Wambach in the 122nd Minute is still insane. USA beat Brazil in PKs.

"That's what you call USA Razzle-Dazzle!" pic.twitter.com/dwZacxnnET

— PointsBet Sportsbook (@PointsBetUSA) July 10, 2021
No one is forcing anyone to watch the 2023 Women's World Cup. All we're asking for is for people to either give it a try or at least not hate on something they're not even going to watch.
We'll likely be saying this in vain. The boys hating on the Women's World Cup will just continue hating on women and then cry themselves to sleep at night listening to Juice Wrld's "All Girls Are The Same" wondering why they're still single.
Bookmark/Search this post with