With social distancing coming to the fore, many are turning to video games to pass the time. In turn, many are realizing — or just remembering — how aggravating the FIFA 20 experience can be. After almost 20 years of the game myself, I can hardly look at it without feeling like Roy Keane at a convention of TikTok influencers.  
I need new energy, but I don't really feel like playing a hardcore simulation like Pro Evolution Soccer. What catches my eye in the Microsoft Store is Legendary Eleven, "an epic arcade game inspired by the golden age of football spanning the 70's to the 90's. … Glorious haircuts, mustaches and legends in short shorts."
Maybe I should be dissuaded by the fact that the game has been out for over a year but only five people have bothered to rate it. Maybe I should doubt my purchase when the most trusted review about the game is this:
To hell with it. Maybe it's a hidden gem, and I'm immediately rewarded with the opportunity to contest the European Cup.
It's looking increasingly likely that Euro 2020 will be postponed, so now's the time to run a Legendary Eleven simulation and declare a rightful champion. This will be the only champion we recognize here at The18, and we encourage you to do the same.
As my team, I select Italy. If I play like I do on FIFA, it's always going to be famine when it comes to scoring goals, but I'm going to feast on opposing attackers with my catenaccio tactics. Look at that defensive rating. 
As for the difficulty setting, the only options are "Beginner", "Amateur" and "Legendary". That seems like a really steep learning curve, so I'll go with "Amateur." And of course we're keeping "SUPER SHOTS" on because why the hell not. 
I'm drawn in Group D alongside England, Belgium and Scotland. Oh christ.
Group Stage: Match One Vs. England
First up is the Three Lions, and it's a beautiful June evening with the pitch covered in snow. 
I wanna take a quick look at the controls, but the buttons in the "help menu" certainly don't correspond to the ones on an actual Xbox One controller. You'd think this would be pretty easy to get right, but no.
Ah well, we'll figure it out once we get out there.
With my first attack I find myself in a little bit of space about 30 yards from goal. I hold 'B' because I want to see what shooting is like — my player, in response, fakes a shot, turns, flicks it up, juggles with his knee, his foot and then laces the most incredible overhead kick I've ever seen side-netting. 
I'm pretty good at this game.
The halftime whistle is met with the players exiting the field, leaving only a sad, lonely ball for what seems like an eternity. 
But England responds after halftime when "Trevor" (Francis? Steven? Who knows) stops 22 yards from goal, flicks it up and hammers a side volley.
Try as I might, I can't recreate the magic of pressing 'B' for the first time, and despite selecting a power-up card that allowed for "a permissive referee," I still manage to get seven yellow cards.
In the end, I'm lucky to escape with a 1-1 draw after England fails to convert this chance from a yard out.
It feels like an important point. You never want to start group play with a loss, and I've learned some valuable lessons about the game, namely that Super Shots are ridiculous and if you mistime a standing tackle, you'll player will briefly stop, put his hands on his knees and projectile vomit. Remember, this was the golden age of football.
Group Stage: Match Two Vs. Scotland
Next up is Scotland, celebrating its first major international tournament appearance since the 1998 World Cup. We need all three points here, and the scene is set when the camera focuses on the bounding ass of one of my players for the entirety of the pregame show.
It also comes to my attention that the camera people are using a system of train tracks to do their job.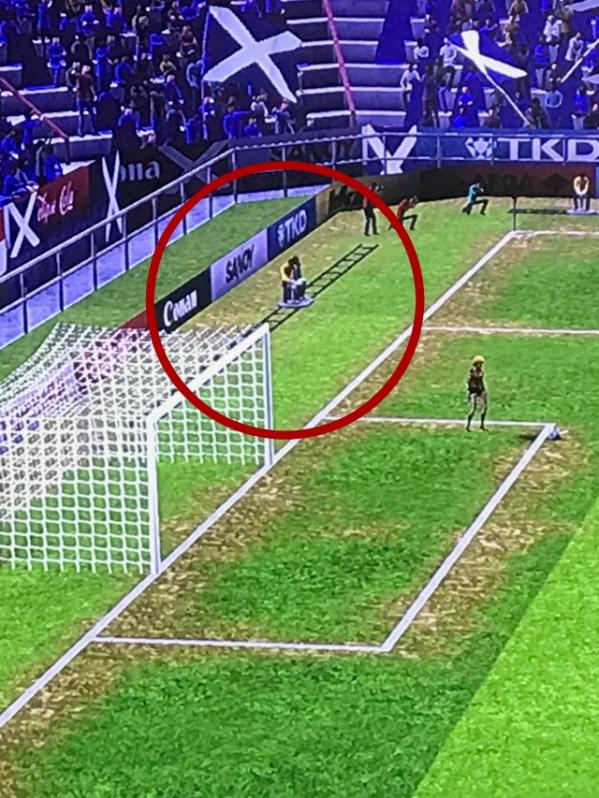 It's a wild game that sees five goals, three penalties and one player taking the ball out of bounds for a little bit (the referee doesn't care).
But Italy prevails 4-1 with the final goal being an absolute dagger. The weight and accuracy of this ball into the box was awful, but Scotland's keeper got his angle wrong, missed the ball completely, took out his own defender and I was there to pick up the pieces.
New life is breathed into Italy's Euro campaign — from Turin to Naples, the people are beginning to believe.
Group Stage: Match Three Vs. Belgium
With four points from two games, we've put ourselves in a great position to advance to the quarterfinals, but one does not simply walk over the Red Devils. What's more, they've somehow assembled a squad that's made almost entirely of Marouane Fellainis.
But it's a dream start for Italy when, on my first foray forward, I tell my guy to cross the ball but he instead says "you can fuck that sky high" and proceeds to win the Puskás Award.
Is there any stopping a Super Shot? No . . . the answer is no.
Despite that Belgian banger, Italy prevails 2-1 to finish with seven points from three matchs and top spot in Group D.
Quarterfinal: Italy Vs. Yugoslavia
My reward for topping the group is a quarterfinal against Yugoslavia, which was officially broken up in 1992 and is now Croatia, Serbia, Slovenia, North Macedonia, Bosnia and Herzegovina, Kosovo and Montenegro.
These guys look serious and are performing static streches while my players stand around and are totally overwhelmed by the significance of the occasion. 
It never happened in the group stage, but suddenly every shot is ballooning into Row Z while Yugoslavia gets on the board just before the halftime whistle. In the 63rd minute, they double their lead and a crushing sense of failure pervades the Italian ranks.
The final whistle sounds and the players stand around in utter disbelief. They've crushed the hopes of an entire nation while putting on an absolute master class in attacking ineptitude. My name goes alongside Gian Piero Ventura in the annals of shitting the bed.
Final Results Of Our Euro 2020 Simulation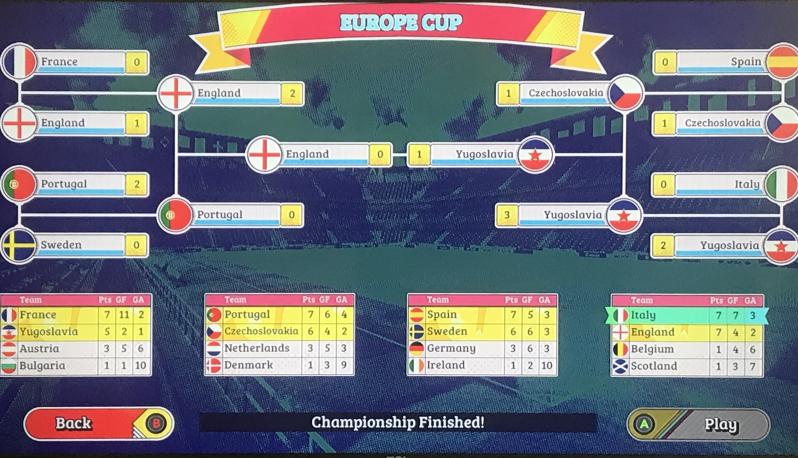 There you have it: Yugoslavia defeats England 1-0 in the final of Euro 2020. This is certainly what would've happened if not for COVID-19.
Bookmark/Search this post with