Oman's national team may have created one of the best corner kick strategies ever seen on a soccer field. Oman defeated Vietnam 3-1 on Tuesday with a game that featured a bicycle kick, an Olimpico goal and a horrendous VAR decision.
Let's start with Oman's evil corner kick routine that resulted in the team's second goal. Mohsin Al-Khaldi is blessed with the talent of curling in shots on goal from anywhere on the field, even off a corner kick. Oman devised the strategy to put anywhere from four to six players all right in front of Vietnam's 21-year-old goalkeeper. This was the keeper's debut for the national team.
With the Vietnamese defenders adding on to the dog-pile in the six-yard box it looked like a bunch of sardines all crammed together.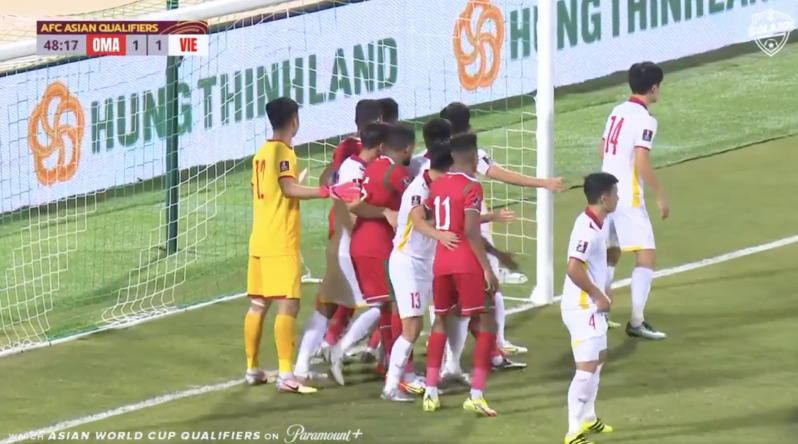 When the kick was taken the Oman players would cause as much discomfort and distractions for Vietnam's goalkeeper as possible. The Vietnamese goalkeeper couldn't even locate the ball before it hit off his head into his own goal.
Own goal or a goal straight from the corner pic.twitter.com/ow9bNeUJQX
Oman took six corner kicks during Tuesday's game and implemented this strategy multiple times. This is every goalkeeper's nightmare.
Oman Bicycle Kick
Moments before halftime with Oman trailing 1-0, Issam Al Sabhi scored a fantastic bicycle kick to tie the game. The exquisite piece of skill was just the spark Oman needed to come roaring back to life.
ISSAM AL SABHI, TAKE A BOW pic.twitter.com/aJdicH1ja6
Worst VAR Call Ever?
In the 59th minute a questionable penalty kick was given to Oman for an extremely soft call. Vietnam defender Do Duy Manh went up for a header and one of his hands accidentally caught the face of an opposing player. Manh had no chance of knowing an Oman player was behind him and had no intention of hitting him.
The referee looked at the video for several minutes and decided to point to the spot. The commentator was lost for words.
They went to VAR and called this a penalty

— CBS Sports Golazo ⚽️ (@CBSSportsGolazo) October 12, 2021
Oman now sits third in its group just above Japan on tiebreakers. If qualifying were to end today, then Oman would play Lebanon to decide which team would advance to the inter-confederation play-offs. Oman has never qualified for a World Cup before.
Bookmark/Search this post with