June 3, 2020: Megan Rapinoe is sitting out the NWSL Challenge Cup? That's OK, that'll give rising stars a chance to shine!
July 22, 2020: I would sell my soul to see Rapinoe cross the ball.
The Challenge Cup is reaching a crescendo of sorts in Utah, but after being subjected to our seventh consecutive scoreless half of knockout play during Wednsday's Houston Dash-Portland Thorns semifinal, it's probably time to start asking questions of the conductor.
There are plenty of reasonable explanations for the lack of goals: These teams had no preseason, there are some huge absences, the heat is insufferable and the quarterfinals marked a fifth game in 20 days for many. 
But this is an entertainment business, and I demand more bread, more circuses and less crossing.
There's been a distinct lack of variation in the final third at the Challenge Cup, with CBS commentator Lori Lindsey — herself an accomplished midfield playmaker during her own playing days — lamenting the lack of poise in the final third. 
We've seen a lot of early crosses dinked high in the area, and defenders have been eating them up.
The most ridiculous example was Portland's massive upset of North Carolina. The Courage attempted 33 crosses and completed only two of them. This is the definition of insanity.
The OL Reign are also out of the competition after scoring one goal in five games. If the hiring of Farid Benstiti wasn't already concerning enough, the Reign's play in the final third should ring some alarm bells.
The Reign launched 27 crosses in their defeat to Chicago, hitting on four of them.
But the Red Stars weren't any better, with one successful cross (that didn't enter the area) from 19 attempts.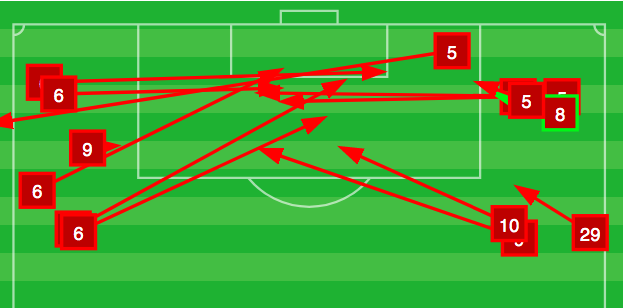 We finally saw a goal Wednesday with Houston's Rachel Daly converting following a corner kick, but the Dash also posted knockout round lows in both passes completed and pass accuracy (52.6%!). 
The NWSL has never been the most technical league (I don't feel qualified to say that, but Alex Morgan, Carli Lloyd, Lindsey Horan, Crystal Dunn and Sam Kerr are), but we'd certainly appreciate more wide players being actively encouraged to take on defenders one-on-one. 
Now watch Julie Ertz score a brace off crosses in Wednesday night's semifinal between Chicago and Sky Blue.
Bookmark/Search this post with