FIFA believes that the USMNT is better than Mexico for the first time since July 2015. The latest FIFA rankings were released on Friday, with the Americans (12) sitting two spots above their southern neighbor (14). Some Swiss cheese in the middle created a lovely Concacaf sandwich.
Latest FIFA Rankings — Nov. 2021
Belgium hold off Brazil to stay top ✋
The Netherlands return to the top 10
#WCQ pace-setters Canada soar

— FIFA.com (@FIFAcom) November 19, 2021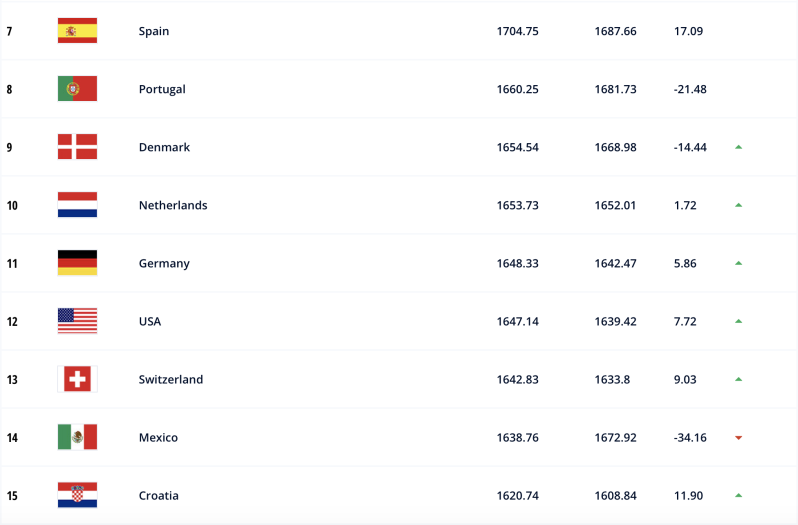 The USMNT has some serious competition ahead to crack the top 10 like it did earlier this summer. While the Americans aren't among the S-tier teams, fans will feel good seeing a new team on top of Concacaf.
Taylor Swift's "Bad Blood" and Fetty Wap's "Trap Queen" were at the top of the music charts the last time the USMNT sat above Mexico in the FIFA rankings. Being ahead of Mexico is exciting, but those July 2015 rankings weren't too impressive as the U.S. was ranked 34 with Mexico at 40.
FIFA's latest rankings dethrone Mexico from the top of Concacaf for the first time since January 2017, when Costa Rica had an interim kingship.
Canada Reaches Highest Ranking Since 1996
The Canucks have firmly cemented themselves as a problem for the rest of Concacaf. Canada is a real contender as its 13-2-4 record this calendar year shows. 
Alphonso Davies and company started 2021 ranked No. 74. FIFA now has the American's northern neighbors ranked No. 40.
This is tied for the highest-ever ranking for Canada since December 1996. Outscoring opponents 55-11 this year might have something to do with the big jump. Canada is only going one direction and that's up.
Why Do These Rankings Matter?
FIFA's rankings decide the seeding at the World Cup. The top seven ranked teams — and the host Qatar — will be the highest seed in their respective group at the World Cup. 
For a quick example, let's pretend that the USMNT was ranked No. 7 in the world right now. This would mean that if the World Cup was about to take place the Americans wouldn't have to worry about being put in the same group with Belgium, Brazil, France, England, Argentina, Italy, Spain or Qatar.
The likelihood of the USMNT moving up to No. 7 is slim, but there's some clear opportunities to crack the top 10.
USMNT up 1 to No. 12 in the FIFA world rankings. Mexico down 5 to No. 14. US would have to rise 5 spots to be a top-seeded team at World Cup 2022. Would certainly help if Italy and Portugal didn't qualify.https://t.co/gkgM62PSJs pic.twitter.com/UPf59aBxEJ
The highest ranking ever for the USMNT was No. 4 in 2006.
Bookmark/Search this post with