U.S. Soccer could have two new venues to call home in the coming years as Indianapolis and Hawaii are preparing to construct new stadiums. 
In Indianapolis the $1 billion Eleven Park is set to break ground in May 2023 which will include a 20,000-seat soccer stadium for USL Championship side Indy Eleven. There are also ambitions to bring a Major League Soccer team to the city.
Over 4,000 miles away in Hawaii, another stadium is being constructed with hopes of hosting U.S. Soccer matches in the future. Aloha Stadium just outside Honolulu is due for an update and the new stadium is expected to be able to hold 35,000 people.
Let's look at the renderings of each stadium.
Eleven Park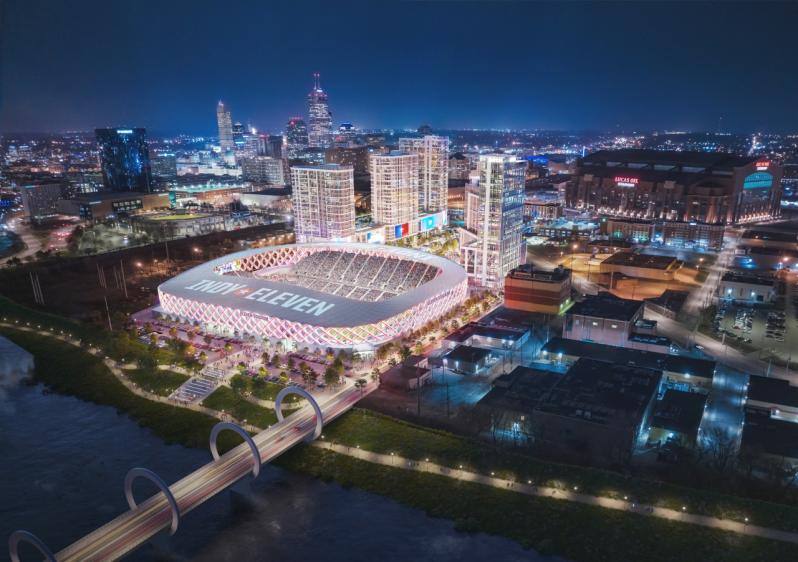 USL club Indy Eleven has released a first look at the new $1 billion "Eleven Park" near downtown Indianapolis.

— Front Office Sports (@FOS) February 17, 2023
Eleven Park will be much more than just a stadium. While the new 20,000 seat home for Indy Eleven will be the big attraction, there are also plans to construct over 600 apartments, 205,000 square feet of office space, over 197,000 square feet for retail space and restaurants, a hotel, public plazas with green space and public parking garages. 
The idea is to completely transform the southwest quadrant of downtown Indianapolis.
Ersal Ozdemir, the majority owner of Indy Eleven FC, says if the stadium results in a new MLS team he would be for it according to Inside Indiana Business.
"With or without MLS, we have an excellent league that we're growing; we've added a women's team recently on top of it," he said. "So, we're focusing on a great, transformational riverfront development that is going to have a large impact to the city. If MLS works out in the long term, we'll be open to it."
The MLS expansion fee has skyrocketed with few cities able to afford it. One of the biggest hurdles for cities is the construction of a new stadium. If Indy already has a 20,000-seat stadium then perhaps they could be a dark horse pick for MLS expansion.
The USMNT have only ever played in Indianapolis three times with the last game being in 1988. Indianapolis has hosted the USWNT twice with the last time being in 1998.
A 20,000-seat soccer-specific stadium would surely attract the national teams to a new market. The hardest part will be convincing them not to play in Ohio.
Aloha Stadium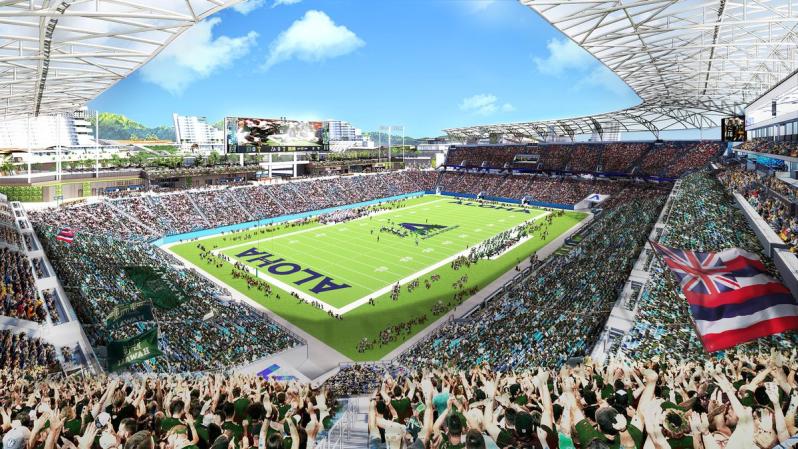 The Aloha Stadium is more of a long shot. 
Like Indy Park, the venue will be more than just a stadium. It will include a surrounding area with an entertainment district and private residence.
Aloha Stadium is due for a revamp after it ceased fan-attended operations in 2020 over safety concerns. The old stadium had a capacity of 50,000 seats; however, the new remodel will be smaller with 35,000.
Aloha Stadium was home for the University of Hawai'i football team and used to host the annual NFL Pro Bowl. The New Aloha Stadium will also host the college's football team on top of some other ambitions.
Hawaii Gov. Josh Green says the new project will cost less than $500 million.
Green said that the new stadium will aspire to host opportunities for U.S. Soccer. The stadium is due to be finished for the 2026 college football season.
The USMNT have never played in Hawaii before. Meanwhile the USWNT were scheduled to play at Aloha Stadium in 2015 but canceled the game due to poor field conditions.
Bookmark/Search this post with