The brand new semi-automated offside technology is being used at the Arab Cup 2021 and it might have just ruled out the goal of the tournament. The Arab Cup offside ruling during the group stage game between United Arab Emirates and Mauritania on Friday has my blood boiling.
With an extremely tight group of UAE, Tunisia, Syria and Mauritania, UAE's Ali Saleh scored a vital bicycle kick goal in the 69th minute to give his side the lead. To the horror of Saleh and everyone in the stadium, the new offside technology determined that one of his atoms was offside.
This goal was ruled offside ❌

— FOX Soccer (@FOXSoccer) December 3, 2021
This new technology uses "limb-tracking data" to automatically notify the VAR assistant if a player has strayed offside. I'm calling BS because I'm zooming in as close as I can and still not seeing Saleh offside here.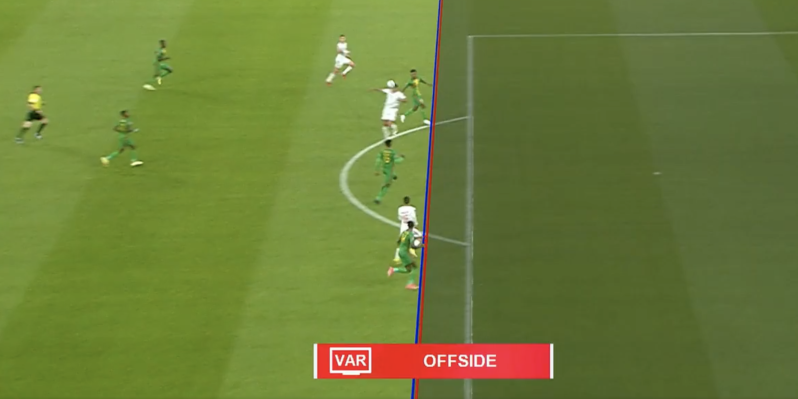 This technology could be used at the 2022 World Cup, and I can't say I'm too thrilled with it so far. One feature of the semi-automated offside technology is that it creates the offside lines rather than leave it up to human error. 
I fear that the average person would have allowed this goal to stand, and that technology could be going too far. Some computer drawing the lines and taking away a beautiful bicycle kick goal leaves an awfully poor taste in the mouth.
The soccer gods saw this unjust ruling and rewarded UAE with a 93rd minute game winner.
United Arab Emirates scores a late winner in stoppage time to defeat Mauritania! pic.twitter.com/z7WP0fumZY
Saleh will have a tough time trying to reclaim that goal of the tournament award. 
Mohammed Anez of Syria appears to be the frontrunner at the moment.
Syria extends their lead to 2️⃣ pic.twitter.com/jKnQ1p8cdu
Bookmark/Search this post with