Portugal and Chile start with a slight advantage as 10 teams battle it out for the remaining three berths at this year's Women's World Cup in the final qualifying playoffs over the next week in New Zealand.
Cameroon, Haiti, Panama, Paraguay, Senegal, Thailand, Taiwan and Papua New Guinea are also involved in the tournament, which will complete the field for the first 32-team Women's World Cup in New Zealand and Australia later this year.
At 22nd in the world, Portugal are the highest-ranked team in the tournament and they await the winners of Saturday's clash between Cameroon and Thailand in Hamilton. Like six of the other teams, Portugal have never played at the World Cup but winger Jessica Silva is convinced they will be able to stamp their ticket to the 2023 edition next Wednesday at the same Waikato Stadium.
"We know that Cameroon and Thailand have both been to the last two Women's World Cups and that it won't be easy," she told FIFA.com. "But we really believe that we will make it. Portugal simply have to be at the World Cup."
Chile made their debut at the last World Cup and they too will play only one competitive match in New Zealand next Wednesday, when they take on the winners of Saturday's game between Haiti and Senegal with a World Cup berth on the line.
The other four teams play a straightforward knockout tournament starting on Sunday when Taiwan take on Paraguay in Hamilton and Papua New Guinea face Panama in Auckland. The winners will meet in Hamilton next Thursday in a game that will decide the final qualifier for the ninth Women's World Cup.
Panama are among the lowest-ranked teams at the tournament and are not alone in hoping that getting to the global showpiece might prove a catalyst for women's football back home.
"Qualifying would be a watershed moment for this group," said Ignacio Quintana, coach of the 57th ranked Canaleras. "We also know that when we have that World Cup ticket, parents are going to trust more and take their daughters to train in football and break that paradigm that sadly still exists a lot in Latin America that only men can play football."
New Zealand are using the tournament as a test event for their co-hosting of the first World Cup in the southern hemisphere, which starts on July 20. Their Football Ferns will play Portugal and Argentina in two of six friendlies surrounding the tournament, allowing all the teams to make the most of the long journey to New Zealand.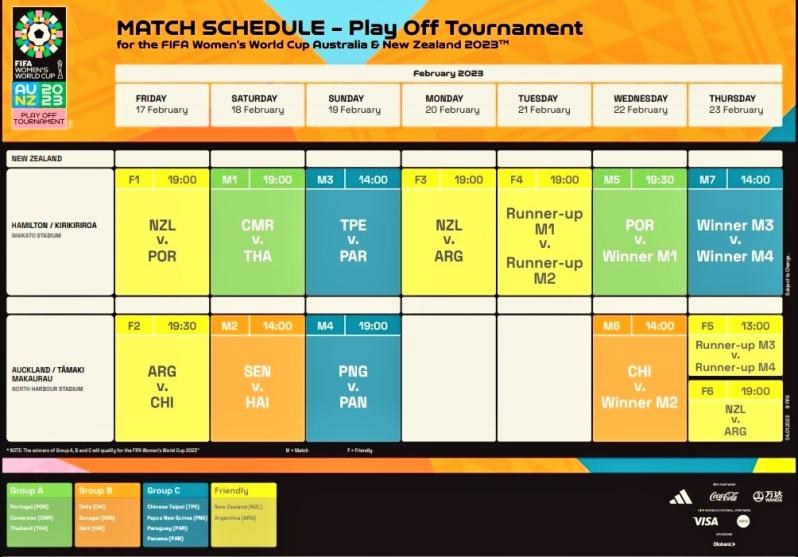 (Reporting by Nick Mulvenney in Sydney, editing by Peter Rutherford)
Bookmark/Search this post with