Soccer is easily one of the world's most physically demanding sports. The game's strenuous mixture of long-distance running, intermittent sprinting, explosive change of direction and physical contact combines to exact a heavy toll on players. To perform at their best, soccer players need to have a balanced diet that provides them with the necessary nutrients and energy.
This is all compounded by a year-round schedule that often requires daily training sessions, multiple matches per week and short windows of recovery. It all adds up to an increased workload that has a major impact on both physical and mental fatigue as well as muscle injury rates.
At the end of the day, it's all about being at your optimum come game time, and your performance will be dependent on how you recover after games, training sessions and periods of high-intensity actions. One food that can help players meet these requirements is peanuts. Peanuts are a nutritious and delicious snack that contains fiber, and most of the fat in peanuts is good fat — 12 grams of the 14 grams total fat are unsaturated. Just one serving of peanuts provides 7 grams of plant-based protein, more than any other nut. These nutrients provide sustained energy that can help soccer players power through long games and training sessions.
Regardless of your competitive level, players typically need 48 to 72 hours to recover after a game. While younger players are less fatigued than professionals given their age, the recovery levels are largely the same because pros have such high levels of conditioning, training and recuperation. Take a look back on our recent article where we dive deep into the recovery process with dietitian nutritionist Leslie Bonci.
The good news is that while you don't have a personal chef or a team of physios and masseuses following you around, there are simple (and delicious) routines you can master to aid your recovery, like making a post-exercise smoothie that compliments all the hard work you've just put in while fueling you for what's to come.
Whenever you're playing, you're damaging muscles and causing oxidative stress on your body. This leads to acute fatigue and a general decline in muscle strength. Peanuts are also a good source of vitamins and minerals such as magnesium, which is essential for maintaining healthy muscles and preventing cramps. If you don't recover properly, you'll find yourself dealing with chronic fatigue, higher injury risk and decreased performance levels.
To counteract those things, you need to prioritize hydration and nutrition. This can be exceptionally difficult when, after a demanding game or practice, you're almost too tired to function. The last thing anyone wants to be doing after a high-intensity activity is even more strenuous work in the kitchen.
That's where performance smoothies are an athlete's best friend. All you need to do is throw the required ingredients in a blender and voilà, you have a delicious mixture of carbohydrates and proteins to help repair muscle damage. It's an effective recovery technique in any soccer player's arsenal.
Without protein intake, you're not replenishing everything you lost while playing. So, it's hugely important that within the first two hours post-exercise, you get the carbohydrates and proteins necessary to stimulate protein synthesis and to improve subsequent muscle function and performance. 
Great ingredients for enhancing the recovery process include peanut butter, milk and spinach while certain fruits and juices (berry, tomato, etc.) are filled with antioxidants to help reduce inflammation.
Here are three easy smoothie recipes that taste delicious while also working to help accelerate muscle strength recovery.
The Best Recovery Smoothies for Soccer Players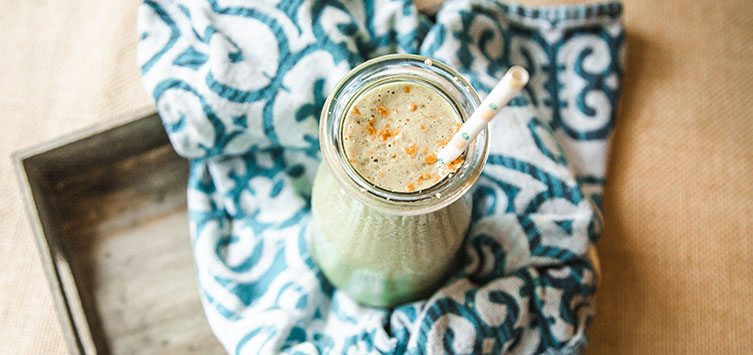 2 cups fresh spinach
1.5 cups soy milk (or milk of preference)
1/4 of frozen banana
1/2 cup frozen pineapple
1/2 cup frozen strawberries
1/4 cup peanut powder
Directions: Blend together and enjoy!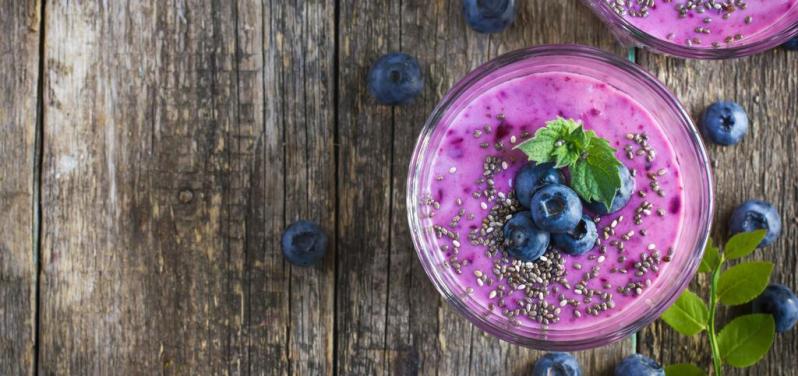 2 cups fresh blueberries
3 tablespoons peanut butter
½ cup 1% low-fat milk
2 cups fat-free vanilla yogurt
½ cup ice
Directions: In a blender, place blueberries, peanut butter and milk. Cover and blend at high speed for 30 seconds. Add frozen yogurt and ice; continue to blend for 30 seconds or until smooth. Pour in three 8oz glasses and serve.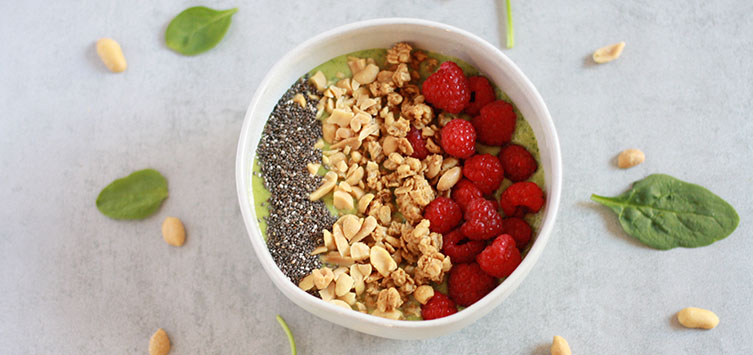 ¾ cup 1% milk (or unsweetened vanilla oat milk)
1 cup fresh spinach leaves (packed)
¾ cup frozen peaches
½ frozen banana
1 Tbsp peanut butter
Toppings:
1/3 cup fresh raspberries
2 Tbsp peanut butter
granola
1 Tbsp chopped peanuts (roasted and salted)
½ Tbsp chia seeds
Directions: Add all ingredients to a blender and puree until smooth. Pour into a bowl and add your favorite toppings.
The relationship between peanuts and soccer is one that has stood the test of time. Peanuts have become a popular snack choice among athletes thanks to their numerous health benefits. From providing sustained energy to aiding in muscle recovery, peanuts offer a range of nutrients that are essential for soccer players. 
Research has shown that consuming peanuts can improve cognitive function and reduce inflammation, two factors that can significantly enhance a player's overall performance. It's no surprise that peanuts have become an integral part of the diets of many professional and amateur players worldwide. If you're looking to take your soccer game to the next level, consider adding peanuts to your diet and reap the benefits of this versatile and tasty snack.
Additional Shake/Smoothie Recipes
Power Packed Peanut & Chocolate Covered Cherry Smoothie
Chocolate Peanut Butter Banana Smoothie
Pumpkin Peanut Butter Smoothie
Candied Apple Peanut Butter Smoothie
Chocolate, Peanut Butter, Banana Smoothie